Planning your hiking route on your computer
Planning your own hiking route can be a rewarding experience. It helps you discover new places. Planning your hiking route on your computer provides you with the tools to easily determine and review your route with the few clicks of your mouse.
There are different elements that need to come together to plan a successful hike. Group size, level of experience, forecast weather conditions, equipment required, food and hydration, shelter, clothing and most importantly 'knowing where you intend to go'. When route planning, there are a number of tools available. I always pull out my hard copy topographical maps and plan my intended route directly on the map. I calculate bearings, distances and read the contours to better understand the terrain.
In addition to hard copy maps, I also utilise mapping software on my computer when planning all my hikes. With the right software, route planning is as simple as clicking your mouse then drawing your intended route. The software will calculate distances, elevations, compass bearings, and estimated travel time. It really is that easy.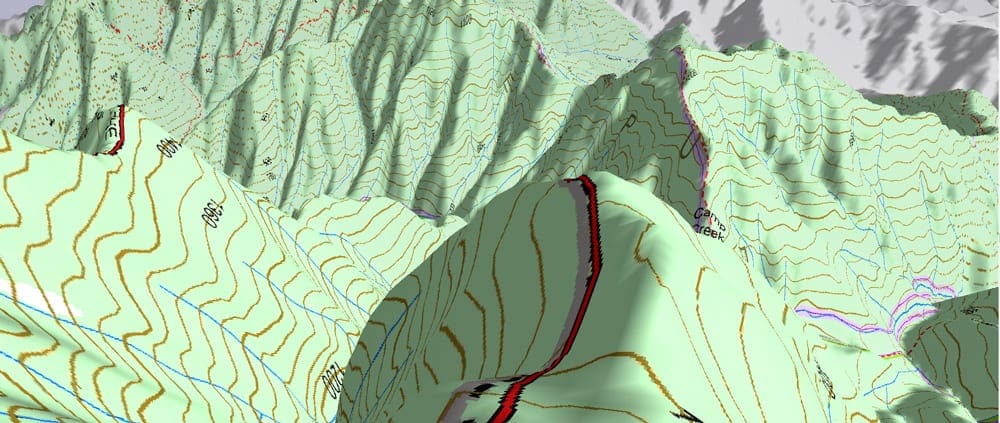 3D Visualisation
Some mapping applications will provide 3D visualisation of your route. Viewing in 3D is a powerful aide to planning your route, bringing maps to life within a continuous virtual landscape. Pan, zoom and fly through the map or change the lighting/shadows to simulate the effect of the sun at different times of the day. Select your camera angle, height and position, record, play back, print or export your own custom 3D journey. Visualising your route in this way allows you to see the steepness of the terrain and ensure that the route you have planned does not see you hiking off the edge of a cliff.
Printing your route
Mapping software will allow you to print full colour personalised maps at a scale of your choice. Personalise the map with water sources, camp sites, routes, marks and notes. The added benefit of displaying coordinates allow you to plot your route and use the printed output in the same way you would a full size topo map. As a safety measure I always print a map with this information and leave it in my car, just in case something does not go to plan.
Route cards
Mapping software allows you to create route cards and distribute them to your hiking party and emergency contacts with all the necessary information about the trail. Route cards can also be emailed or embedded to a website for ease of sharing.
Transferring to your GPS
Mapping software makes route and waypoint programming fast, easy and accurate. No more hand-keying coordinates into your GPS. With a few simple steps you can send a complicated route or a set of marks to your handheld GPS. When you return from your hike, you can import any marks, tracks, etc., that you created in your GPS, view them on the PC and file them for future references. This is how I have prepared and provided all of the GPX files that you find on my site. It is important to note that you should check that any software you purchase is compatible with your particular GPS unit.
Plan your route length based on the size and experience of your group, the terrain, weather and the time you have available.
---
Screenshots courtesy of Memory-Map