Field tested – 13/05/2019
Field test and review
Heading out on your next hiking adventure can reward you in more ways than you may anticipate. There are so many benefits to be gained by strapping on your boots and heading outdoors. On the flip-side, your hiking experiences can be nothing short of a tiresome, unenjoyable chore if you are not adequately prepared. During your hikes, you rely heavily on your clothing and equipment to keep you warm, dry and provide comfort where Mother Nature may appear to have forgotten to. One of the most important ways to maintain your comfort on the trail is to invest in the best hiking boots for you and your adventure.
Unfortunately, choosing the right footwear is not always as easy as it may seem or ought to be. Personal considerations will include how strong your ankles are, what type of footwear you're used to and the shape and size of your feet. Our feet come in all sorts of odd shapes and sizes, but unfortunately footwear doesn't. It's not uncommon for your feet to be slightly different sizes, even up to one full size, which you need to allow for when getting the ideal fit.
For hiking, there are three common footwear styles that you will need to choose from; hiking shoes (such as your typical runner of cross-trainer), mid-height hiking boots and full-height trekking boots.
Hiking Shoes
These are lightweight, comfortable and flexible and will often feel like your favourite pair of cross-trainers or walking shoes. They won't offer the same level of protection and ankle support of a more specialised boot, but when that's not required, they can be much more comfortable. When I started hiking, I loved the comfort offered by this style of footwear and thought they could be worn on any terrain. As my adventures and the terrain became more challenging, I soon realised that they were not the best choice in every situation. I have been asked a lot lately to provide feedback to fellow hikers on the footwear they were planning on purchasing, my first question was always 'what style of hike are you undertaking?' If you are heading out on a well-formed trail for a day or half-day hike and that is all you plan to do, then this style of footwear might be the right fit for you. If your adventures are more 'adventurous' then you really need to consider something with greater support.
Mid-height Hiking Boots
This is my favourite style of boot. A mid-height hiking boot is basically a sturdy, light hiking shoe with a slightly higher collar to cover your ankle and lower calf area. A common myth is that ankle support from a boot will stop you rolling your ankles, sadly this is untrue. While it is still possible to roll your ankle, this extra support can help you feel more stable when the terrain gets rough and help hold your ankles together when the load gets heavier. Confidence is key when you are scrambling along a rocky ridge or hopping over rocky terrain and your confidence will be enhanced by knowing your boots will support you.
Full-height Trekking Boots
Things are starting to get serious if you are looking at this style of boot. Full-height trekking boots, as you could probably guess, have a higher collar than a mid-height boot and therefore provide more support (sorry, they still won't stop you rolling your ankle, but they can help!). They also sport a much stiffer sole, stronger more rigid upper, greater toe protection and usually a few extra lacing rungs that give you a provide greater fit control. From a design perspective, lightweight is out the window and the focus is on protection, support and longevity. My full-height boots weight in at 700 grams each and after a few days of trekking with a fully laden pack, they certainly feel like they are 2 kilograms each.
There are several factors that will determine the best hiking footwear for you; the type of terrain you'll be hiking through, the length of the hike and how much weight you will be carrying. I own all the above and select the style of footwear that is appropriate to terrain, my pack weight and length of the hike.
Recently I was contacted by the marketing specialist at Decathlon, a company that has been retailing outdoor gear since 1976 and now have over 1500 stores in 55 countries. I was asked if I was interested in field-testing a hiking called the Quechua MH500 Men's Mid Waterproof Mountain Hiking Boot. Quite a mouthful so I'll just refer to them now as the Quechua MH500. Despite the number of stores, I must be honest in saying I had never heard the name or this brand of outdoor gear. So, I did what most of us do and jumped online to find out more. Quechua is a mountain sports brand founded in 1997 in France, dealing with hiking, trail running, adventure racing, climbing and mountaineering apparel and equipment and is sold in every store of Decathlon Group.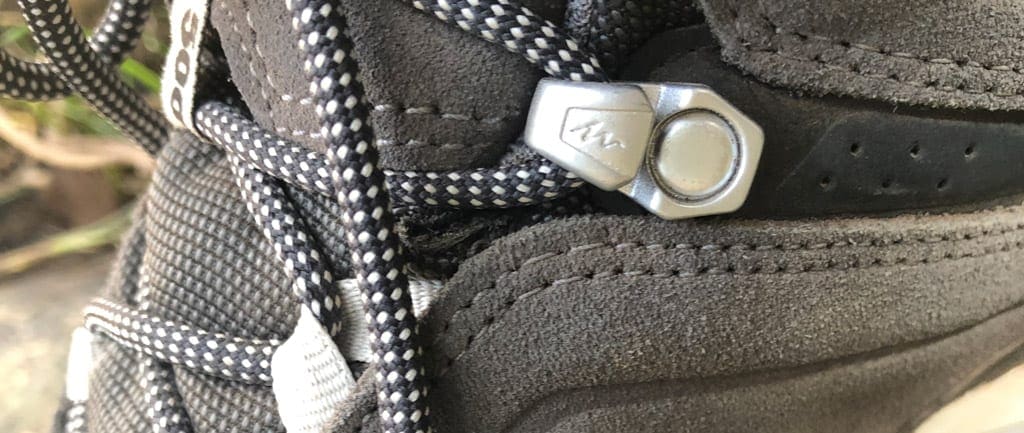 Watching the video on the Quechua website impressed me a lot. There are a lot of manufacturers out there who produce and peddle products for the hiking market, sadly, I can almost guarantee the people designing and producing these products have never stepped foot on the trail. Quechua are so very different. Their team design on the trail, they field-test on the trail, they even make changes to their gear on the trail (using a sewing machine in their vehicle back at the trail head), then they head back out again to see if the modifications work. They also willingly engage field-testers, like me to push their gear to the limits. OK, that's enough about the companies, sorry, I am just I'm pressed by their methods. Let's get on with the review.
A few years ago, I was convinced I needed to invest in a serious hiking boot and from all accounts this meant I had to spend serious money. So, I headed into my local outdoor store and departed with well over $450 for a pair of boots. Needless to say, after eight months trying to get comfortable in these boots, they are now sitting on my shelf as I just don't have the heart to throw them out. They are still in excellent condition; they were just not worth the money I spent on them and made every hike less enjoyable. The moral of this story is you do not have to spend huge amounts of money for a quality boot. The Quechua MH500 perform really well on price, at only $139 they are a truly affordable boot for intermediate hikers.
When I purchased my 'expensive boots' (OK, I'll name them, the ASOLO Fugitive GTX) I remember commenting that the were not the most aesthetically pleasing boot I had seen. The guy fitting them commented that you should never purchase a boot based on the appearance, it is all about how they perform, not how they look. Yeah, I kind of get that but let's be honest, when you put something on your feet, you want it to look good. When I received the Quechua MH500 and opened the box, I was pleased that the designers had given a lot of thought to the aesthetics, they are a great looking boot in my opinion.
I've been testing the Quechua MH500 Boot on all my hikes over the past month. They have kept me dry on creek crossings and muddy trails, gave me confidence scrambling along rocky ledges and have provided excellent support when traversing rocky, uneven terrain. When heading off trail, the mid-height collar has prevented sticks from jabbing painfully into my lower leg (if you wear hiking shoes you will know how much this hurts) and my ankles have always felt well supported. I should mention that I have not yet tested these boots on an overnight hike so can't comment on how well they perform under heavier pack weight but given their performance so far, with a field-test load of 12kg, I am confident they will perform well.
Whenever I am field-testing hiking boots/shoes, I have a criteria that I use to assess the overall performance of the product. There are many aspects to the anatomy of hiking footwear that can be assessed, but to me the important ones are:
Traction
Impact protection
Cushioning
Waterproofing
Anatomic design (how well it forms to your feet)
Weight
Price
Aesthetics
How well did the Quechua MH500 perform?
Traction
CrossContact is the Decathlon label that ensures their soles have good grip. To benefit from this the shoe must pass laboratory tests to evaluate the grip rating on different surfaces (Smooth, Rough, Dry, Wet). Laboratory tests are one thing, to me where it matters is on the trail and after hiking in extremely varied terrain and weather conditions, I found the Quechua MH500 to be excellent on both dry and slippery ground.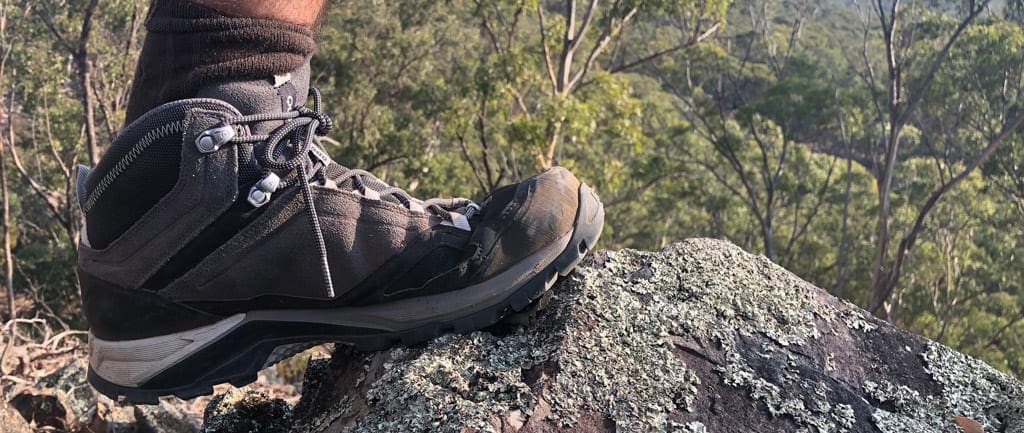 Impact protection
When walking along a well-formed trail, solid impact protection isn't something you should really need to rely on. It's when you are scrambling up a rock face or ascending a rocky trail that poor impact protection will quickly become evident. As much as I could (without injuring myself on purpose), I kicked and scuffed my toes on rock faces to test the strength and quality of the stone guard. The Quechua MH500 rubber stone guard seemed to be durable and provided my feet with efficient protection. Following 100km of field-testing (and you know I enjoy challenging terrain) the boots have sustained very minimal wear. The collar, upper, outer, midsole, outsole, toe box, rand and toe cap still look new.
I will continue to test impact protection and wear on future hikes and will update this review accordingly as durability cannot really be determined following these five or six outings alone.
Cushioning
It goes without saying that when you are hiking, you spend a lot of time on your feet. Cushioning is paramount in ensuring your hiking experience is an enjoyable one. Cushioning is usually made from EVA or Polyurethane and sits below the innersole of your boot. Cushioning adds shock absorbency and reduces impact on rough terrain. By the end of a long day, wearing my expensive ASOLO boots, my feet were seriously aching and all I wanted to do was throw them off. Not so with the Quechua MH500 thanks to its EVA midsole. After eight hours on the trail, my feet felt like they could keep on going for hours. I always thought that aching feet were just part and parcel of a day on the trail, but I now know this is simply not the case. It is part and parcel of poor boot design.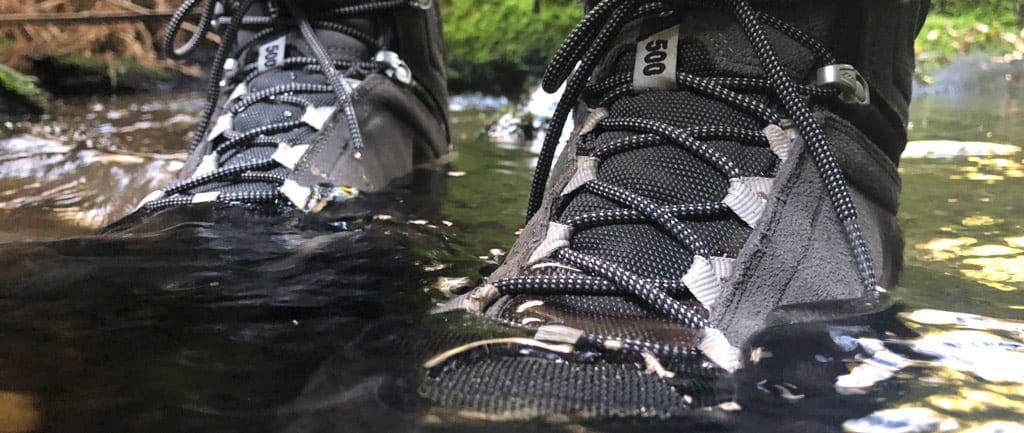 Waterproofing
Waterproofing is an interesting term. In my opinion it should be called water-resistance as I have never worn a hiking boot that keeps 100% of the water out. Right out of the box they may be able to achieve this thanks to a factory applied membrane but after six months of wear I have always found the water starts seeping in. A boot's waterproofing is often undermined by water getting in from the top of the shoe. To keep your feet dry for longer, it is a good idea to wear waterproof gaiters to protect the top part of the boots and prevent water, pebbles, sand, etc. from getting inside. Best advice I can offer is to continue waterproofing your boot every few months to help keep your feet dry to restore the original water repellent properties and prevent staining the outer surface.
Quechua claim to have tested their waterproof membrane on a 12km hike in water up to the middle of the upper. I was keen to replicate this but unfortunately none of the hikes I planned were solely in the river for the entire length. Best I could achieve was to walk up the middle of a flowing creek for ten minutes with the booth submerged up the middle of the upper. OK, I know it is not the same, but I am pleased to say that I emerged from the creek with completely dry feet.
One problem that can occur when a boot has been waterproofed is that is hinders the boots ability to breathe. This results in your feet being trapped in a sealed container and while the membrane might be doing a great job at keeping the moisture out, it also prevents perspiration from escaping. If you are like me and hike with 'hot feet' you will understand how counter productive it is to be wearing anything waterproof. I completed a 28km hike in 27-degree heat and by the end of the day was pleased that my feet were drier than they generally are.
Anatomic design
If you are investing in a new pair of hiking boots, I always recommend having them fitted by a professional. Everyone feet are different, and every booth is different, so it is important that you choose one that fits you. Or is it? Quechua have developed the EVOFIT concept, meaning the boots are meant to adapt to your feet. To me this implies that anyone can buy this boot and after a few hikes will feel completely comfortable in them. While I can't comment on the experience of others, I can say that from the moment I put on the Quechua MH500 they felt comfortable and secure albeit a little tight across the toe box thanks to my wider feet. I was concerned that they would be too tight for a full day on the trail but was pleased to note that after my second hike they seemed to fit my feet perfectly.
Weight
Weight is an important factor given the knowledge that you will be lifting up your foot 1000's of times on a single day hike. At 460g per boot (in size UK8, EU42) I would consider these to be lightweight boot and my feet were truly grateful at the end of each day. Almost half the weight of my previously mentioned ASOLO boots which weigh in at 700g per boot. Agghhhh.
Price
Well what can I say here? If you have been looking for new hiking boots you will know some are not cheap. The Quechua MH500 perform well on price. At only $139 they are a truly affordable boot for intermediate hikers.
Aesthetics
As mentioned earlier, never buy a boot based on how they look. That being said, these are a great looking boot and I personally like the design so much I wear these boots even when I am not hiking.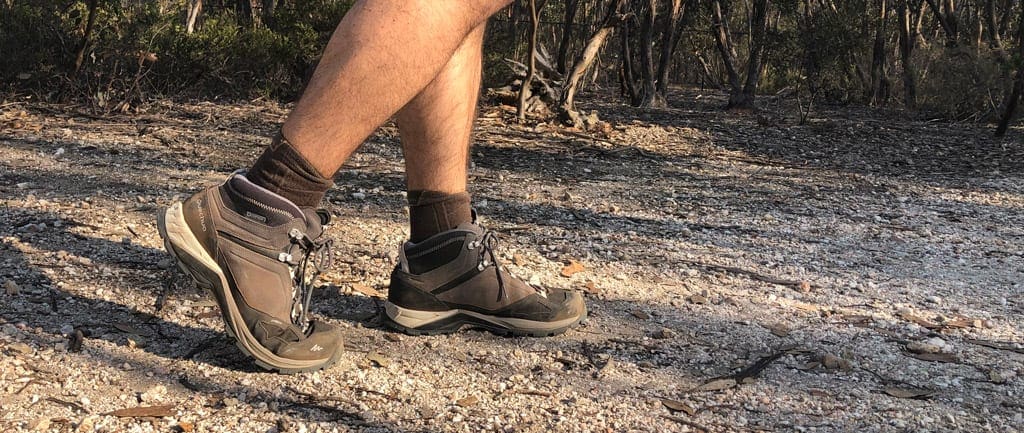 Conclusion
I am really pleased I had the opportunity to field-test the Quechua MH500 Men's Mid Waterproof Mountain Hiking Boots. I have worn a lot of different boots over the years and it is evident to me that Quechua, the guys who designed and manufactured these boots, have really done their homework. For the money, these are an excellent mid-height hiking boot that should see you comfortably and confidently traverse thousands of kilometres. Quechua state that these boots are made for mountain hiking, in all weathers, on technical trails, for intermediate hikers. I disagree, I believe these boots are for anyone (beginner through to experienced) who is looking for an inexpensive, quality product.
Buy direct from Decathlon for $179 per pair
Product Specifications
Material
Outer sole: 50.0% Ethylene Vinyl Acetate (EVA)
Outer sole: 50.0% Rubber – Nitril Butadiene Rubber (NBR)
Upper: 70.0% Polyamide (PA)
Upper: 30.0% Leather – Bovine – Split
Upper: 0.0% Polyurethane (PU)
Lining and sock: 100.0% Polyester (PES)
Weight: 460g per boot (in size UK8, EU42)
---
Field Tested by
Darren Edwards > www.trailhiking.com.au
As a field-tester, the reviews I prepare are based on my own on-trail experiences and represent an unbiased account of the gear I use and trust. Some reviewers will not bother to take gear into the field and will search the internet for existing reviews before writing a comparative account. If you are a retailer or manufacturer and would like me to field-test your gear please get in touch.