Field test and review
The clothing you choose for your outdoor adventures is vitally important as it is your first line of protection from the elements including cold, wind, rain, sun, insects, snakes and the scrub. Several lightweight, adjustable layers is preferable to a few layers of thick fabric. Adjust zippers and layers to minimize sweating during exercise and be sure to add layers before you feel cold at rest stops. When choosing your clothing for a specific trip make allowances for dealing with the expected terrain and the worst weather conditions that may be encountered. In alpine regions be prepared for rapid change to blizzard conditions in any season.
There are a range of different articles of clothing you may need for your hikes, from head to toe, we really are spoilt for choice. In this review I want to focus specifically on leg-wear as in my opinion our legs tend to be exposed to the elements more than any other part of our anatomy. They are exposed to wind, rain, heat and cold, will brush against undergrowth, are exposed when climbing, kneeling and rock scrambling. We rely on our legs for a lot of things while hiking so it is important to keep them protected.
When undertaking any hike, I prefer to always cover my legs completely. During warmer weather, a lot of hikers will choose to wear shorts to regulate their body temperature, but you will always find me in a pair of hiking pants. I do this for the reasons mentioned above as well as add a bit more protection against snake bites should I accidentally disturb one of these friendly critters on the trail. When I first started hiking, my pants were quite thick and heavy but these days I opt for the lightest I can find for both comfort and temperature regulation.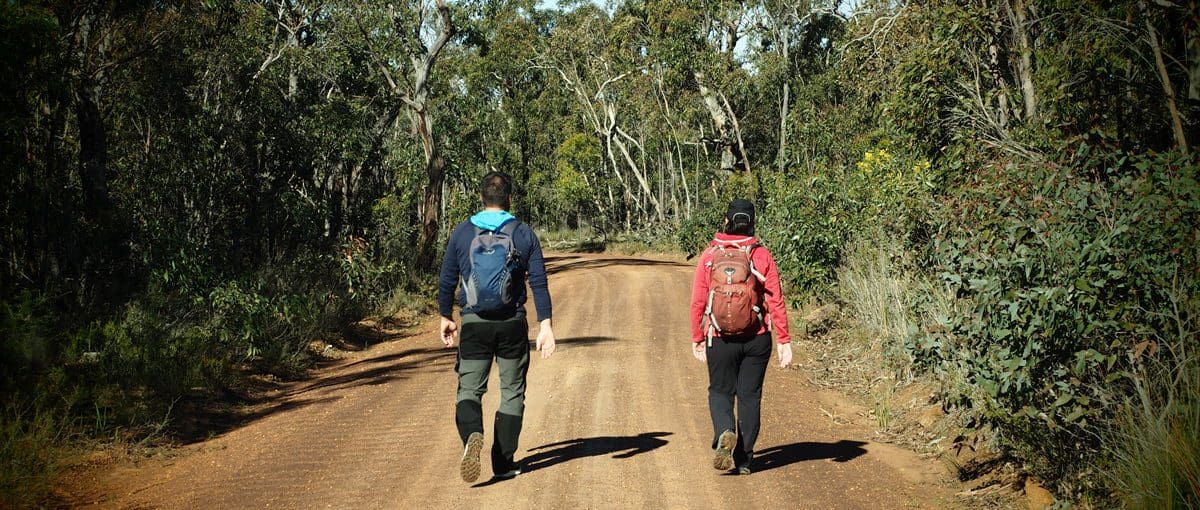 A few months ago, I was contacted by Fjällräven, a long-established Swedish brand, and was asked if I was interested in field testing their Keb trousers. Although Fjällräven is known for offering technically advanced trekking gear, they are relatively new to Australia, so this was the first time I have used any of their gear.
Fjällräven market the Keb Trousers as 'technically advanced trekking trousers with optimised fit and carefully planned details. Intended for alpine trekking that requires climbing'.
Upon receiving the Keb Trousers, the first thing I noticed was the weight. Compared to my regular hiking pants, these felt quite heavy in my hands. Placing them on the scales, I was quite surprised to see that the weighed in at 625 grams and I wondered in this age of light weight hiking gear, how these trousers would appeal to the general day or overnight hiker.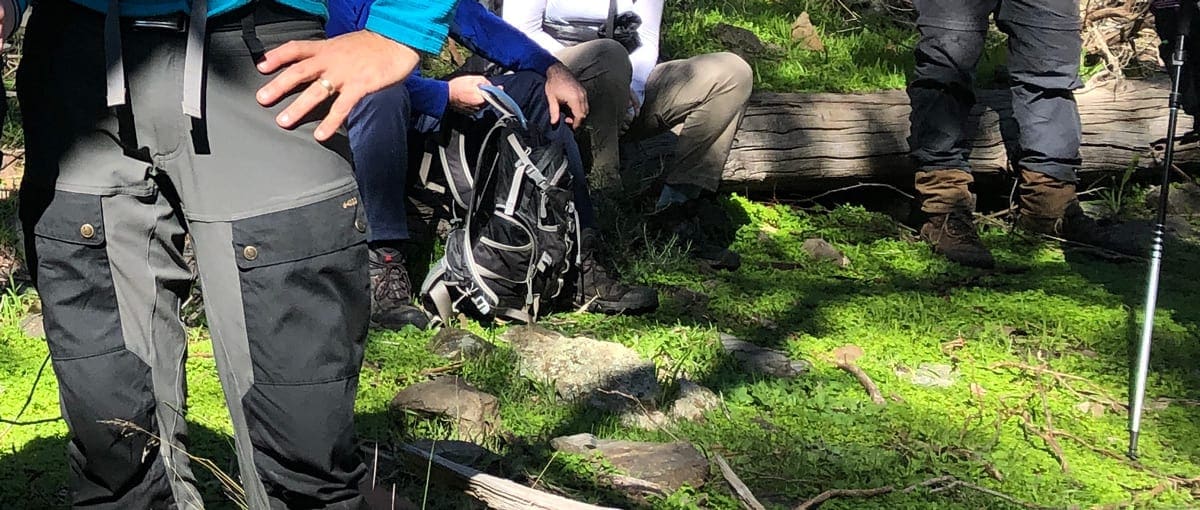 On closer inspection, it was evident that two fabrics have been used to construct these trousers.  The front panel (to the upper thigh) features Fjällräven's technically advanced G-1000® Eco fabric which is a durable polycotton material (A fabric made from a blend of recycled polyester and organic cotton) while the waistband and rear leg panel is made from a lighter weight stretch fabric called Polydamide (a fabric, also known as nylon, a manmade polymer).  G-1000® Eco fabric is also used on the rear (backside), front of the legs, knees and on the inside bottom of the legs, where there is also a second layer of fabric for reinforcement against wear from hiking boots. The use of multiple fabrics creates a patchwork design that looks technical in appearance. The more durable fabric has been used in all the right places where abrasion is likely to take place and I was keen to see how this combination would perform.
I put the trousers on for the first time and strangely, all my concerns about the weight of the fabric vanished. The cut of the trousers fit really well which made the trousers feel quite lightweight to wear.
At the waist there is a single brass button closure and six belt loops. The two front belt loops also have reinforced gear loops protruding past the waistline for quickly securing any gear. These are great for securing gloves or any gear you need to easily access. The front of the trousers has two regular pockets directly below the waistline and a further two pockets, reinforced using G-1000® Eco fabric, located on the thigh. Both pockets can be secured with a press-stud flap which one has an additional zipper for securing more valuable items (compass, gps etc). Both pockets are quite large, providing plenty of storage space. On one of my hikes we were faced with a few small sections of free climbing and I did have to remove any gear from these front pockets to provide me with greater freedom on the rock face and better protection for my gear. Maybe these pockets would be better if located on the outside of the leg.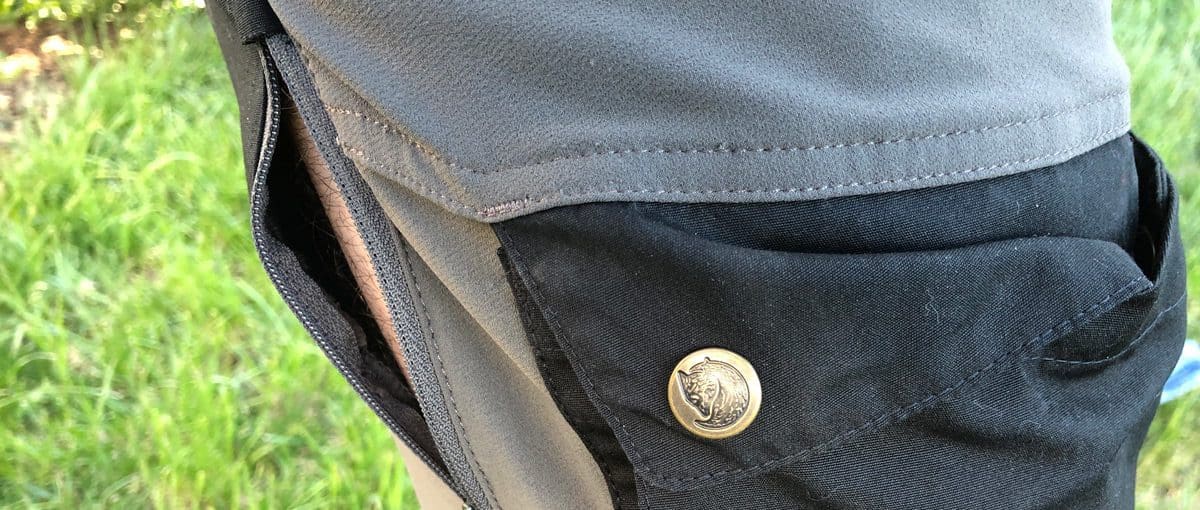 Adjacent to each thigh pocket, on the outside of the leg, there is a long venting zip. Given the weight of the fabric, I feel these are a necessary addition as they provided necessary thermal control. On my first few outings with the Keb Trousers the forecast weather was in the low 20s and even at this temperature I needed to open the ventilation zip in order to prevent my legs from perspiring. This made me revisit the market for these trousers as in my opinion they certainly would not be suited to all climates. Recalling that these trousers have been designed for alpine trekking it made complete sense that I would feel the heat on a non-alpine hike.
Further down the legs there is an additional ventilation zip that runs from just below the knee to the ankle. The additional ventilation that these zips provide should serve well, even in alpine conditions, when the weather may not be as cold as you had expected.
Despite the heavy appearance of the Keb Trousers, they offer a surprising amount of movement. I have worn these trousers while walking, rock scrambling and climbing and in all instances, I did not feel restricted at all.  The reinforced, pre-shaped knees and the combination of stretch fabrics ensures the Keb Trousers allow complete freedom even when bending, kneeling and stretching.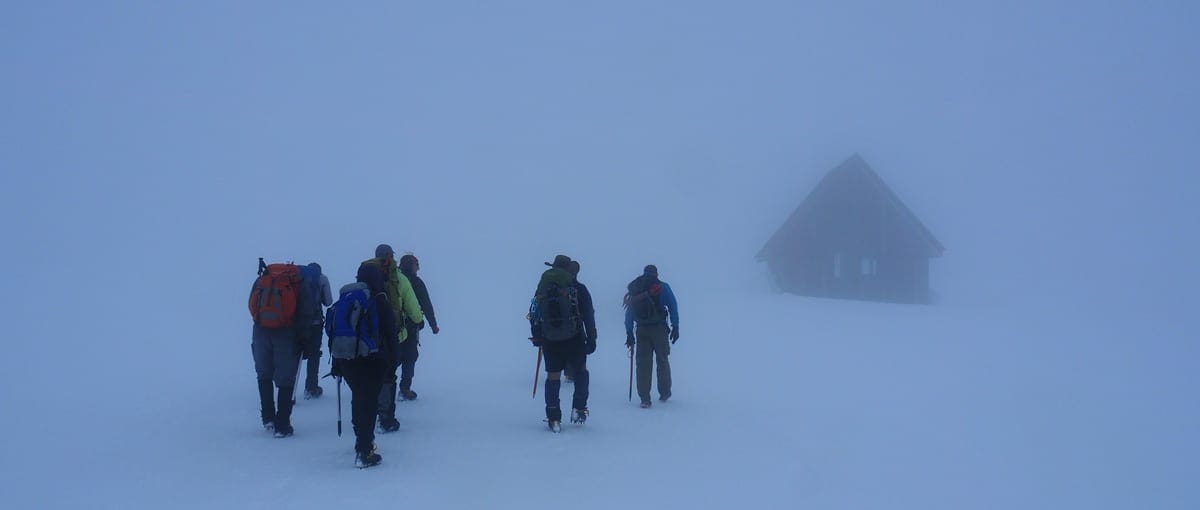 I want to talk a bit about the G-1000® Eco fabric given that it is made from a combination of cotton (35%) and artificial fibres. When I first discovered this, I was somewhat concerned as I have always believed and advocated that cotton should not be worn on outdoor adventures.  Clothing keeps you warm by trapping warm air near your skin. When cotton gets wet, it ceases to insulate you because all the air pockets in the fabric fill up with water. If the air is colder than your body temperature, you'll feel cold because your cotton clothing is saturated and no longer providing any insulation.
The way Fjällräven work around this is by applying a wax, made from high-quality paraffin wax and bees wax, to the surface of the trousers. They call this Greenland Wax. The intent behind this is that you simply regulate the wax to suit different weather conditions and activities. Adding more wax increases the fabric's water and wind resistance as well as the durability and lifetime of the garment. In warmer conditions, the wax can be easily washed out for cooler, more breathable clothing. To apply more wax, you simply rub the way stick along the fibres and use an iron or hairdryer to melt the way into the fabric. I have seen a lot of different gear that hikers use when on my hikes and I do wonder how many people will be prepared to maintain their trousers on this way. But remembering again the intended market for the Keb Trousers and if you are serious about alpine adventures then you will also be serious about maintaining your gear.
The downside to the use of any water-resistant fabrics is potentially a loss of breathability.  This is certainly the case, and as mentioned earlier if you are hiking in warmer weather or working hard you may start to feel moisture build up inside the trouser.  Just unzip a section of the leg and you immediately feel the difference. Just be warned, there is no internal messing under the zip, so opening them up will expose parts of your leg. Another small piece of advice, if you are traversing areas of dense bush, it is a good idea to temporarily close the zips to prevent your trousers from snagging on every branch you pass. Obviously, if you use these trousers for their intended purpose, this would not be an issue once you are above the tree line.
Out of the box, as a new pair of trousers, the fabric already had the wax applied so I found it to be highly water resistant. The lower leg of the trousers has been made from the G-1000® Eco fabric. The addition of an ankle level fastener with three press studs (to accommodate different levels of fit) and lace loop allow you to close the angle of the leg and fasten the trousers to your boot, turning the lower leg into a pair of ready-made gaiters. This is ideal for traversing areas with low damp undergrowth, as additional snake protection, keeping you dry on river crossings and of course, use in heavily snowed alpine environments.
My thoughts
I love the aesthetic of the design, although it may not appeal to everyone. To me the Keb Trousers look technical and that is what they have been designed for. The trousers will not suit every adventure that you undertake and in my experiences with them are better suited to cooler, alpine environments. I would happily wear them in temperatures up to the low 20s, knowing that the four ventilation zips will provide me with the temperature control I need. I love the integrated gaiter design and if I am ever undertaking a hike where gaiters are required, I would happily wear these trousers instead (temperature permitting of course).
The construction of the Keb Trousers is solid, with double stitching in areas where durability is needed most.  I do question the use of cotton in outdoor gear but Fjällräven provide a wax product you can apply. There are ample pockets for storage and plenty of zips for ventilation. The combination of fabrics provides durability, flexibility and protection from the elements where it is needed most, resulting in a garment you will be happy to wear on a general cool weather hike, while rock scrambling, climbing or in alpine conditions.
I am still coming to terms with the retail price of $349.95 but given these trousers have been engineered to appeal to the mountaineers among us, this price is not that excessive.
I look forward to wearing my Keb Trousers on more adventures and will update this review when I can better comment on long term durability.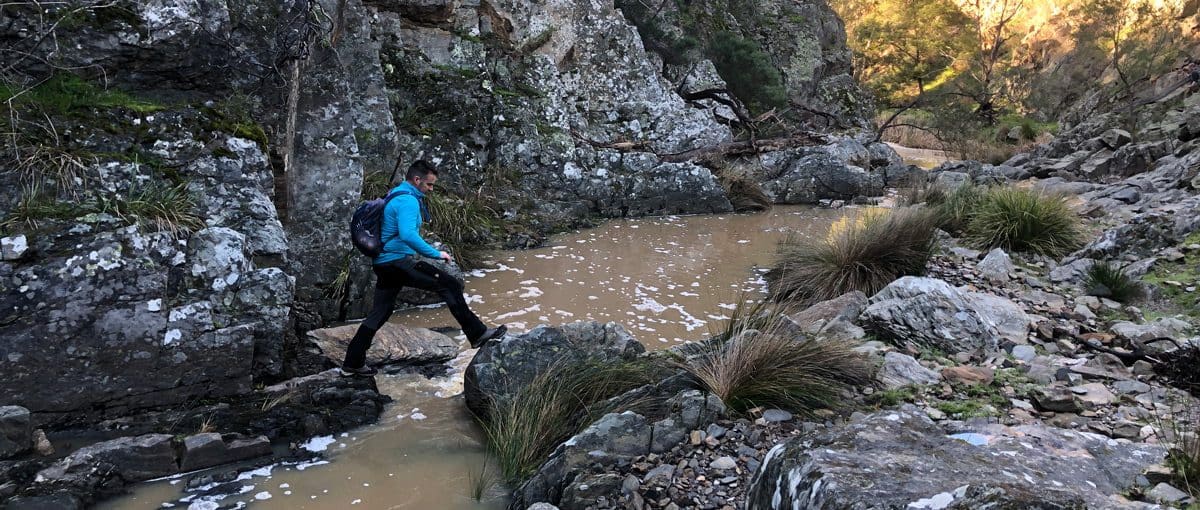 Product description
(from Fjällräven website)
Technically advanced trekking trousers with optimised fit and carefully planned details. Intended for alpine trekking that requires climbing – where mobility is just as important as durability and protection from sharp stones, etc. For this purpose, the rear and knees are pre-shaped and have extra strong seams. The trousers also have durable G-1000® Eco at the rear, front of the legs, the knees and on the inside bottom of the legs, where there is also a second layer of fabric for reinforcement against wear from hiking boots. The seam on the inside of the thigh has been moved and replaced by a connecting fabric panel to reduce the risk of chafing and wear. A zippered ventilation opening from knee to hip and along the calf releases excess heat. The trouser fly is also extended to enable extra ventilation. Two leg pockets with pocket cover flap, one with a zip and one with a mesh pocket inside for bits and bobs. High hand pockets hold their contents even when sitting down. Strap adjustment with button fastening at trouser end plus hook to secure to ski boot or hiking boot.
Tech Specs
Weight: 625g (regular men's)
Mid waist design
Reinforced
Pre-shaped knees
Material: G-1000® | Stretch
Trouser length: Long pants
Leg endings: Fixed length | Adjustable leg endings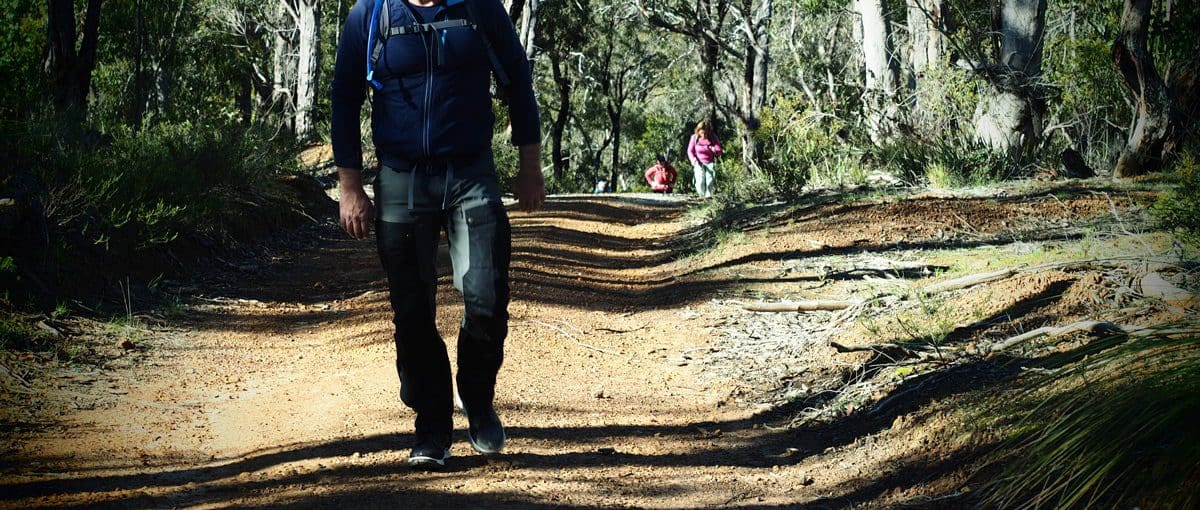 About Fjällräven
(from Fjällräven website)
Our core mission and driving force has always been, and always will be, to enable and inspire more people to spend time in nature. We want our products to help you feel secure and at home in the outdoors, now and in the future. We want them to be with you on your most memorable journeys and adventures. So, we develop and create in a thoughtful manner and design for lifetimes of wear. We don't chase short-term goals, follow trends or compromise on quality. Our future and the future of nature are intertwined.
Being the best at outdoor equipment, in harmony with the environment, means we always look for more innovative and sustainable solutions. This includes using recycled and organic materials, PFC-free impregnation and developing products that can be worn and loved for generations.
Buy direct from Fjall Raven: RRP $349.95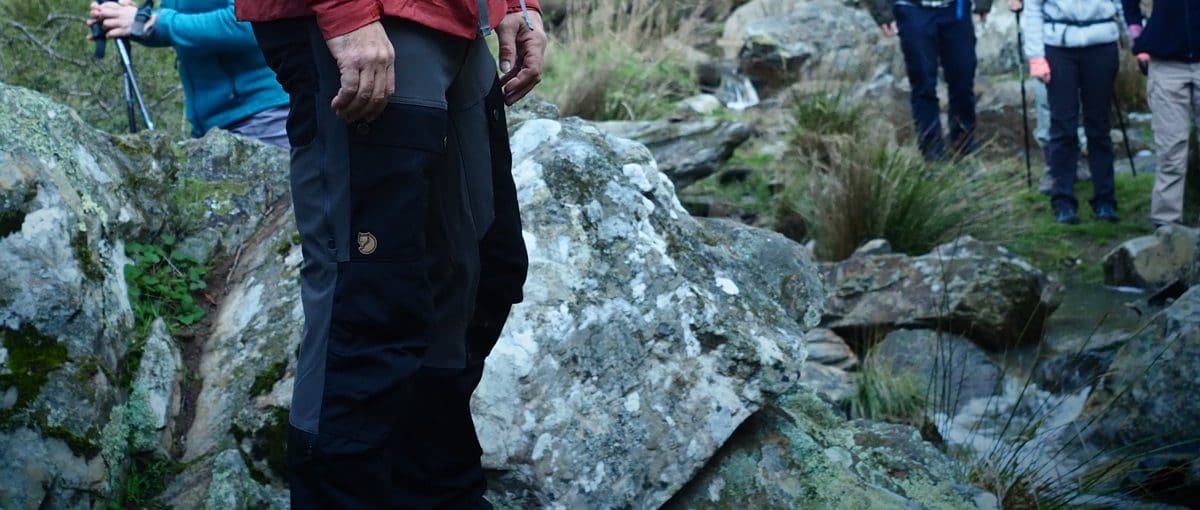 Field tested – 18/10/2019
Field Tested by Darren Edwards > www.trailhiking.com.au
My reviews are based on my own on-trail field tests and I provide an unbiased account of the gear I use. Often, reviewers won't take gear into the field but search online for existing reviews and collate them to form a conclusion. If you're a retailer or manufacturer, I'd love to field-test your gear. If you are keen to hear how your gear performs, please get in touch.