Field test and review
Field tested – 10/12/2019
Like most people, I started my hiking life by venturing out onto the trail for short, half-day hikes (less than 10km), into the local bush. As my love for hiking and confidence grew, I extended my trips to full-day hikes, often covering more than 25km and spending around eight hours on the trail. I loved these longer hikes as they provided more time to disconnect from the world around me and experience more of the benefits that being in nature provides.
At the end of these longer hikes, I felt elated and refreshed, and ready to face returning to the real world.  Some part of me however, felt disappointed that I couldn't stay out just a little bit longer so one day I went out and purchased a 3kg tent, stuffed my overnight pack with all the essentials and headed out into the bush for my first overnight hike. Longs story short, I absolutely loved it and despite feeling exhausted and sore (from the 18kg pack I was carrying) I decided I loved this style of hiking and was totally hooked on overnight hiking.
At the time, I had two young boys (they are in their teens now) and I was desperate to take them on my next overnight adventure so that they could see how brilliant overnight hiking can be.  They were only young, 4 and 5, so dad ended up carrying most of the load and by the time we reached our overnight campsite I was carrying my pack on my back and had their two smaller packs strapped to the front of me. If you haven't been overnight hiking with your kids, you must give it a go.
On returning home and unpacking our packs, I decided to weigh all the gear that we had. Not surprisingly, my three kg tent was the heaviest item in my pack. It was then that I started researching ultralight hiking tents. Ouch, who can afford to pay $800 for a tent, even it if does weigh less than 2kg. I must confess, I do own one of those expensive tents now though.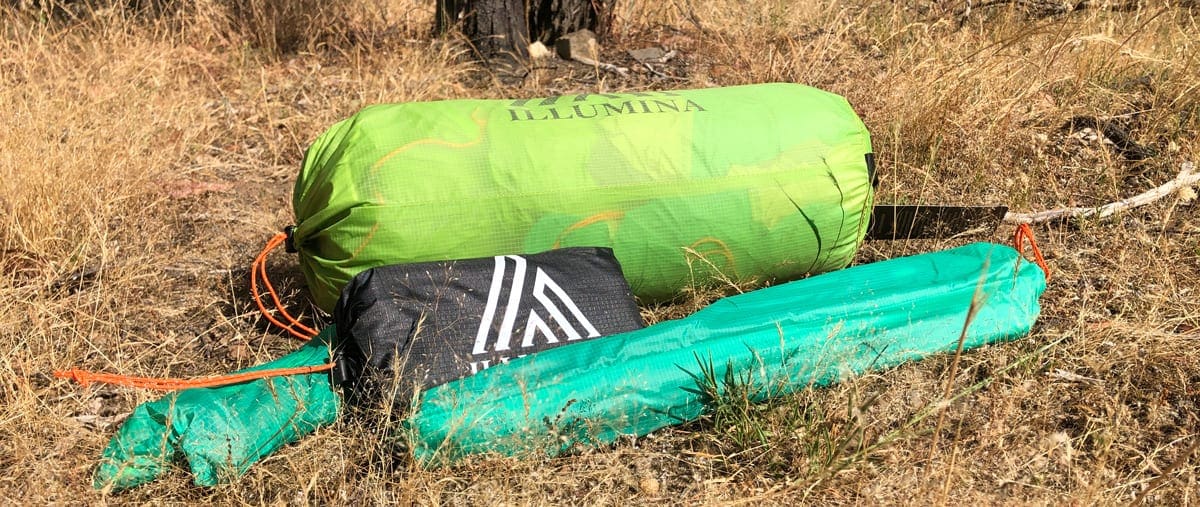 This brings me to the field test of the  Illumina X Ultralight Hiking Tent.
I was recently contacted by an Australian online camping gear store, Novapro Sports who introduced me to their range of hiking gear and tents. I was particularly interested in their ultralight range (for the very reason I mentioned above). If you are new to overnight hiking, apart from your water bladder, your tent and sleeping bag will quite possibly be the heaviest items in your pack so you want to do all you can, within your budget, to reduce the weight of these two items. Up until recently, reducing pack weight has always come with a hefty price tag so I was somewhat excited to see that the Illumina X weights only 1.3kg and carries a price tag of only $249. For a 4 season, two-man tent, that is a great deal in my opinion. I do have a few cheaper two-man tents that I used when I first started hiking overnight but they also weighted close to 3kg and were only 3 season tents. They might be ok for the occasional overnight hike but if you get serious about it and eventually start undertaking multi-day adventures, the additional kilograms will fill you with regret at the end of each day.
A few days after chatting with Novapro Sports, I received an Illumina X Ultralight Hiking Tent to field test. I hadn't been on an overnight hike for a few months so was excited about this opportunity.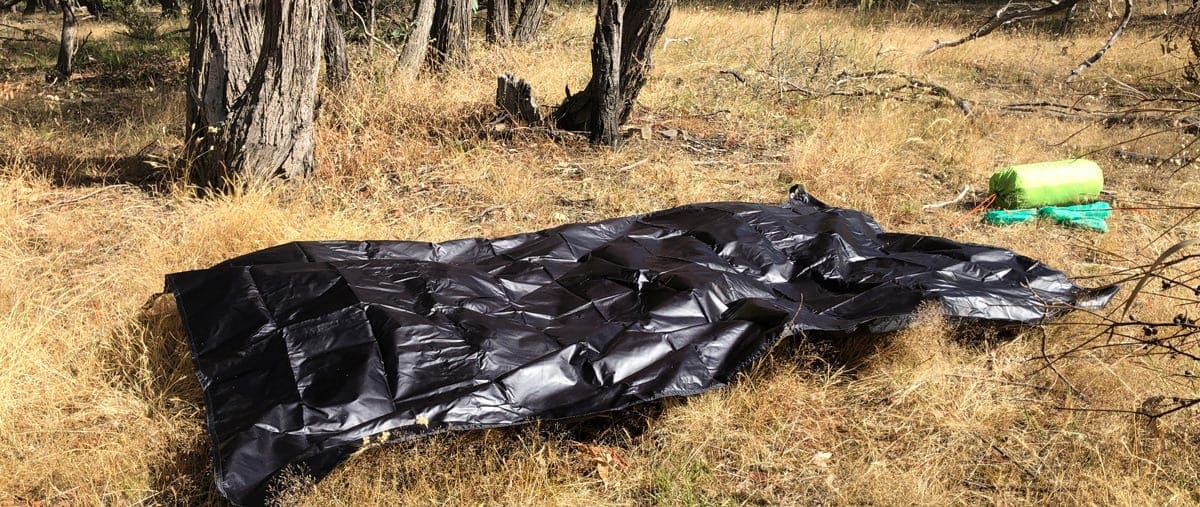 Unpacking the parcel, the first thing that struck me about the Illumina X was how compact and light it was when packed. At around 40cm long and 13cm wide this would easily fit into my overnight pack in the nylon bag it came in. If I was heading out on a multi-day hike, I would generally separate the poles from the tent so that I can use a stuff sack to further compress the tent. The day I received it, we had family members drop in for dinner. When I showed them the tent, they all thought I was joking. "Really, it packs down that small?"
The first question they asked, "you can't be serious?".
The following weekend, I packed up all my gear and headed out to one of my favourite overnight hiking spots. The tent packed easily into my overnight pack and I could hardly even feel the 1.3km that it added to my overall pack weight. On the first day I walked close to 17km and arrived at my campsite feeling like I could still walk another 10km.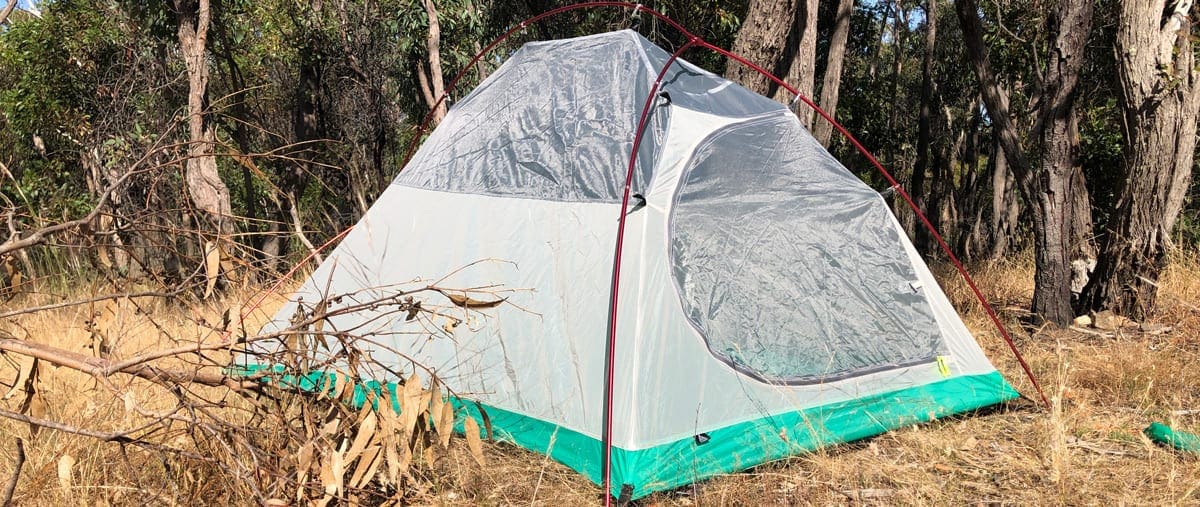 Arriving at camp, it was time to setup the Illumia X tent and have a good look at the features that it offers. I must be honest; this wasn't the first time I had the tent out of its bag. I did set it up in the back yard at home to familiarise myself with the design and understand how to erect the tent. I recommend always doing this with any tent. That may seem obvious, but I have seen people arrive at the trail head, open their car boot and take a brand-new tent out of the box.
Illimuna X Structure
This is freestanding, double-wall tent with a waterproof outer layer (rating of 8000mm). Freestanding means that you don't necessarily need to peg the tent into the ground or use guy-lines. This is a great feature in light winds and when used as a three-season tent. In stronger winds or when being used as a four-season tent, I would recommend the use of both guy-lines and pegs. On my first night out, I was subject to winds in excess of 45km per hour and the tent did seem vulnerable to side on winds. But I guess what tent wouldn't be. On reading the website again after my hike I saw that the tent is rated to 30-40km/h winds so I was impressed that it performed as well as it did.
The design of the pole system is quite interesting. It uses an interlocking aluminium y-pole configuration which saves on pole weight. For the technically inclined, the poles are manufactured from 7001-T6 Aviation Aluminium and are 8.5mm in diameter. Most tents will have a two-pole configuration that cross over from opposing corners of the tent and are secured in the centre, over the highest point. The y-pole configuration allows one central pole to span the length of the tent from a more elevated starting point. This produces high sidewalls which NovaPro Sports refer to as 'high bucket walls'. The result is a lot more headroom inside the tent, which is always a bonus, especially when it is raining when you arrive at camp and you need to retire to the tent earlier than expected.
With the movement of the tent during high winds, I did wonder how well it would perform as a 4-season tent (4-season generally meaning camping in the snow). I expect the structure would be stable during light snow, but I would probably not rely on this tent for a serious snow hike in the Alps in the middle of winter.  On reading the Novapro Sports website, following my overnight hike, I did note that they rate this tent as being suitable for mild snow conditions.
Assembled Size
The official assembled size of the Illumina X is 210cm (length) by 125cm (width) by (100cm (height). The vestibule, located at the front (wider end) of the tent, adds an additional 60cm to the overall length. To me, the size of the vestibule is an important consideration when choosing an over night hiking tent. Vestibules are used for storing packs, smelly boots and other gear during the night. They are also used when cooking so are great during inclement weather when you are forced to retreat to your tent or in the early morning when you decide to eat breakfast before breaking camp. At 60cm, I found the size of the vestibule more than adequate for all of these uses.
In terms of functional space inside the tent. If you are new to the tent world, a 2-man tent is often a misconception. Yeah, you can get two people inside they tent but you will generally need to be well acquainted as the sleeping arrangements will always be close. I have always considered a 2-man tent to be suitable for one person and a 3-man tent suitable for 2. If you are car camping, space inside the tent may not be a priority but when you want to also stow your overnight pack inside your tent then you will need a little extra room. So, considering this, I found the tent to be adequately roomy with just me and my gear inside it. If I were to sleep in this tent with another person, they would have to be my wife or one of my boys, although they are getting taller than me now (just not as broad).
Construction
The design of this tent is a two-layer tent, meaning an outer (waterproof layer) and an inner (breathable mesh). The inner mesh starts approximately halfway up the walls and continues over the ceiling. Most of my tents have a full mesh inner and these are generally three-season tents. My four-season tent has a solid wall inner to help keep more of the heat in during winter hikes. If I use this tent in warmer weather, I fund a lot of condensation builds up as the tent can't breathe adequately. I found the balance of mesh and solid walls to be a really good balance for a tent you could use in all seasons. On the cold, windy night that I experienced, any wind entering under the fly was not blown directly on to me and when the sun came up in the early morning, there was plenty of ventilation to keep the tent cool. I used my three-season tent on a winter hike (before buying my four-season tent) and the full mesh inner left me sleep deprived from the icy air blowing across me all night.
The tent fly and lower part of the inner 'bucket' walls are constructed using a 360T 20D Ripstop Nylon while the upper inner uses a B3 Breathable Mesh. The weave of this mesh is quite tight and didn't allow a single mosquito or bug to get in.
The floor of the tent is also constructed using the same 360T 20D Ripstop Nylon. I question the strength of this for hiking on rough or rocky terrain as it seemed too thin to lay onto the ground and put all my weight and gear upon it. Even though it is 'rip stop' I was thankful that the tent also comes with a footprint (ground sheet) that has been custom cut to the floor of the tent. The footprint, if used, adds an additional 230g of weight to your pack but in my opinion, I would be unlikely to use the tent without it. In fact, I have a footprint for all my tents because tent floors will always be prone to punctures. So, if you want to extend the life of your tent, you should make every effort to protect it. Even if this does mean carrying a bit more weight.
Ease of setup
Once I got my head around the different pole structure, the tent was an absolute breeze to setup. The setup process is the same as it is for most tents on the market. Simply lay the tent flat, assemble the poles and insert them into the pole locators on all four corners of the tent. Then simply clip the inner to the poles using the lightweight plastic clips. The clips are transparent which did have me looking at them twice and tentatively clipping them to the tent poles. At first glance, they reminded me of coat hanger material, the ones you see in retail clothing stores. I am probably just so used to the standard black clips which for some reason look more robust. I did check the bag for spares but there were none so obviously Novapro Sports think they will be OK. I am interested to see how these go over many uses.
Once the inner was secured to the poles, the fly was thrown over the top and secured to all four corners of the tent using black plastic buckles (yay, they were black this time). There is also a number of additional tie-down points on the fly for securing the structure to the ground.
Durability
I typically always field test gear on at least four outings in order to more accurately comment on product durability. This review has been written after my first overnight hike as I was keen to share this tent with you. What I can say though is that with the double stitching throughout, sealed seams, quality clips, lightweight aluminium pegs, sturdy poles and fixings, I expect this tent to perform well. I would like to test the durability of the floor for you, but I am not going to risk a perfectly good tent and will always be using the footprint.
Don't despair though, I will certainly be using this tent again (and again and again) so will be sure to update this review in a few months so that I can let you know how well it stands up to the elements.
Wrapping up
I am thrilled to have field test the Illumina X Ultralight Hiking Tent. The tent was quick to setup, a breeze to pack down, roomy for one person and all my gears, the design seems well thought out, the construction is solid and best of all, the price, for this 4 season tent places it in the truly affordable bracket.
Al lot of people contact me for advice on the best tent to buy when getting started on overnight hikes and with so many emerging on the market at higher price points, I always find it difficult to know what to suggest. Mostly because some of the known brands are at the higher end of the price spectrum. For the price, weight and additional features that this tent offers I do believe it will make a great addition to your hiking kit.
If you are heading out on an overnight or multi-day hike and are looking for a new tent, I highly recommend checking this one out.
---
Field Tested by
Darren Edwards > www.trailhiking.com.au
As a field-tester, the reviews I prepare are based on my own on-trail experiences and represent an unbiased account of the gear I use and trust. Some reviewers will not bother to take gear into the field and will search the internet for existing reviews before writing a comparative account. If you are a retailer or manufacturer and would like me to field-test your gear please get in touch.