Field test and review
If you have read any of my other gear reviews you will see that I mainly focus on gear that it best suited to hiking. Hiking gear tends to be light weight and packable so that it can be easily worn or carried on the trail. So, you might be wondering why I am reviewing a camping tent that weights 4.2kg and packs down to 77x10cm when clearly there is no way this is going to fit inside your pack.
In my experience, there are two scenarios where a camping tent (as opposed to a lightweight and often expensive hiking tent) represent practical additions to your hiking kit.
1 – You plan to setup a base camp close to your vehicle to undertake a series of day hikes
This scenario is pretty simple, you require a tent at your base camp for sleeping in. Weight and pack size are not really a consideration as you are likely to be close to your vehicle so can carry as much gear as you need.
2 – You plan a long drive to the trailhead of an overnight or multi-day hike
When undertaking an overnight or multi-day hike, weight and pack size quickly become an important consideration. Other than your sleeping bag, your tent is likely to represent the largest item in your pack. You will want to select a tent that has been designed for trekking as it will be lightweight and extremely packable. My 3-person trekking tent is only 1.6kg and packs down small enough to hold in the palm of one hand. Back to my earlier comment, why am I reviewing a camping tent that weights 4.2kg and packs down to 77x10cm.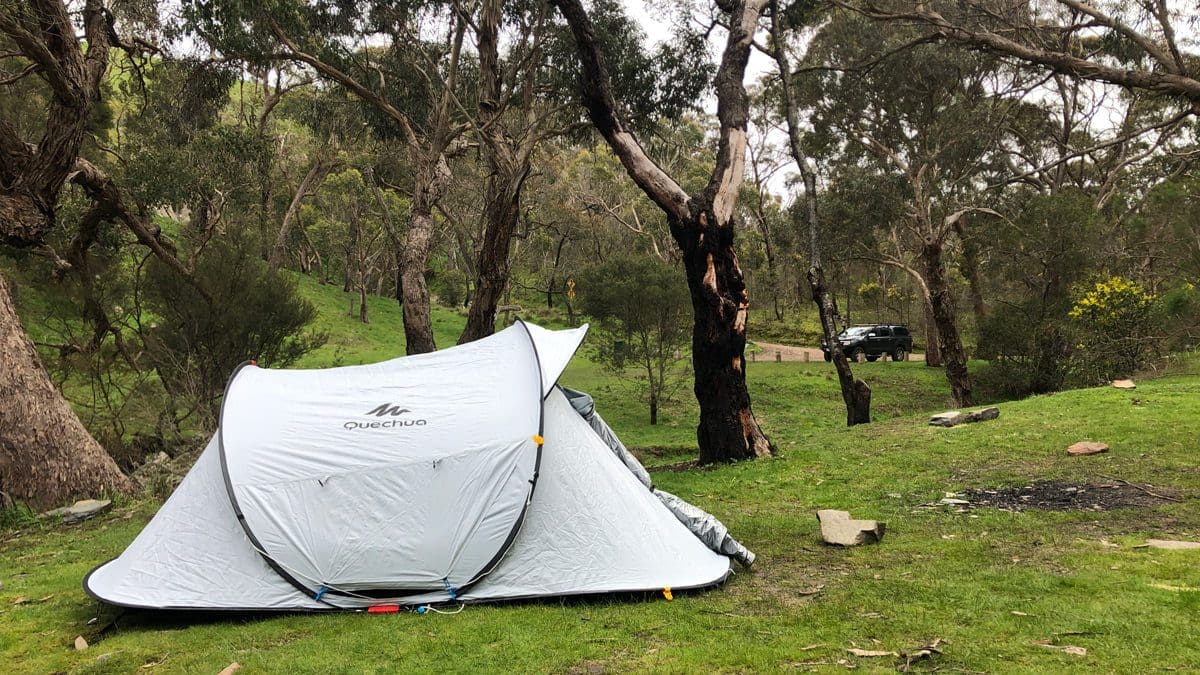 Let me paint a picture for you
You have been planning an overnight hike in an area that is at least a four-hour drive from your home town. There is a long weekend approaching which provides the perfect opportunity for you to undertake this adventure. When planning logistics, you determine that you will need to get started on the trail at 8:00am on Saturday morning as you will be hiking for eight hours each day and wish to be at your campsite by no later than 4:00pm.
You have decided that rather than drive up super early on the Saturday morning (and be tired after the drive), you will leave following work on Friday and get a reasonable sleep at the trailhead the night before the hike. You have a four-hour drive to the trailhead (five hours in peak traffic) and can't leave any earlier than 6:00pm on the Friday night. Doing the math, you are likely to arrive at the trailhead close to 11:00pm on Friday.
You own one tent, your lightweight hiking tent, which you have left out of your overnight pack as you plan to sleep in that on the Friday night. Great idea. So, you arrive, all prepared, fossick around in the dark (or under torch light) for twenty minutes trying to find a suitable site and set up your tent. Climbing into bed, you have a restful sleep before the big day.
On waking in the morning, you realise to your dismay that it has rained (or there was a heavy dew) during the night and your hiking tent is now damp and soggy. Great, so you are starting your days on the trail with an already wet tent. Even it if your tent isn't wet, you will have to pack it up and stow it back in your overnight pack (usually at the bottom), all your gear has to come back out to be able to achieve this. Sounding familiar?
Whenever I am driving to a trailhead, late in the evening, to commence an overnight hike the following day, I will always carry two tents with me. I pack my overnight pack at home, with all my gear, and I do not access it again until I am on the trail. I will take separate bedding, clothes, food and a tent for the camp at the trailhead the night before. Separating my gear this way means that none of the gear I am carrying in my pack is compromised by simply getting to the hike. I have seen so many fellow hikers start out with wet gear that I recommend this approach to everyone I hike with.
Even with two tents, there is still room for improvement. I have often arrived late on the Friday night and it is already raining, or I am so tired I just can't be bothered taking twenty minutes to establish camp, but I still do, even in the rain. I have seen people simply sleep in their car for these reasons and believe me, they pay for this the following day.
I was delighted when I was asked by Decathlon recently to field-test the Quechua 2 Seconds Pop-Up Fresh & Black Camping Tent. What an excellent idea; quick to pitch, free-standing tent (place it wherever you like, and if there's no wind there's no need for pegs). I couldn't wait to test this out as I could already see the advantages it presented.
2 Second Setup?
I guess this product name is kind of like the $2 Shop. It is not really advertising reality but is a good hook to get you in. Or maybe it is just my age as it took me 2 seconds just to find the zip on the bag. In all seriousness, this product name simply makes you aware that this is a rapid pitch tent. It is a little bit hard to demonstrate in words how quick this tent is to pitch so check out the video below so you can see for yourself.
So, now for the tent review. Apart from the obvious quick-pitch benefit, the Quechua 2 Seconds Pop-Up Fresh & Black Camping Tent provides the following;
Size
As mentioned earlier, this is by no means a compact, lightweight hiking tent but for base camping, close to your vehicle, it certainly is practical. Weighing in at 4.2kg it packs down into a circular disc that is 77x10cm. When fully erected, the three-person tent exposes a floor area of 185x210cm which is able to easily to accommodate two adults and your gear. You could squeeze thee adults into the space (without much gear) but it would be a cosy night sleep so make sure you know each other well. The head space of 104cm allows you to comfortably sit inside the tent while getting ready for bed or getting dressed (or whatever reason you have for sitting up).
Ease of Pitching
If you have been camping before you will know that pitching a tent is the most time-consuming aspect of any campsite setup. Take the tent out of the bag, separate the flay and tent, orientate them correctly, assemble the poles, thread the poles into the tent and secure them in place. then last, if not least, peg the tent to the ground. For a seasoned camper, this process can take 10-15 minutes in daylight and fine weather. So, back to my scenario above and this process can become tiresome late at night, in the dark, not to mention the hindrance of bad weather.
After pulling the Quechua 2 Seconds Pop-Up Fresh & Black Camping Tent out of the bag, I undid the holding clasps (that prevent it popping open by itself), gave it a gentle shake and presto, it simple snapped into place, fully assembled and ready to place on the site of my choice. If there is not much wind around you don't even need to use pegs to secure the tent in place as it is completely free-standing. If there is a bit of wind or you plan to use the tent for more than one night, I would recommend the use of the eight (supplied) pegs. You will easily find the pegs, neatly stored in an integrated pocket inside the main pack.
The Quechua 2 Seconds Pop-Up Fresh & Black Camping Tent comes pre-assembled with an inner and outer (fly). They are a lot closer together than a standard tent so if rain is forecast, I would recommend the use of the pegs to keep the tent tight and the inner and outer away from each other. If the two layers of fabric get wet and touch, this is where rain can start to seep into any tent.
Packing the tent away is not quite as simple as setting it up, at least not on the first attempt. If you have ever used a pop-up product before you will know that sometimes you get it first go, while other times, no amount of instruction reading, pushing and folding seems to produce the desired results. I must admit, it took me a few attempts but now I can pack the tent away in a few seconds like a seasoned pro. So, don't give up and simply shove it in the boot of your car. The key to pack up is to tie the front door back, out of the way. get inside the tent and grab hold of the two red clasps located at the rear of the tent. Then simply exit the tent. When you are outside, secure the clasps to their mates located at the right of the front door. The rest is a case of following the instructions, conveniently located inside the carry bag.
Quality
For some reason, I had developed the assumption that pop up tents were quick, cheap and sometimes nasty products that were more of a novelty than a well-made item. Given the price tag of $219 for this tent, my expectations were somewhat greater. I am pleased to say I have not been disappointed. The outer shell is waterproof under reasonably heavy showers and has been tested to 200mm of water per hour, per square metre. That's the equivalent of a tropical downpour. I live in Victoria which is not so tropical so was unfortunately not able to replicate this test but I did manage to get the tent suitably wet and everything inside remained dry.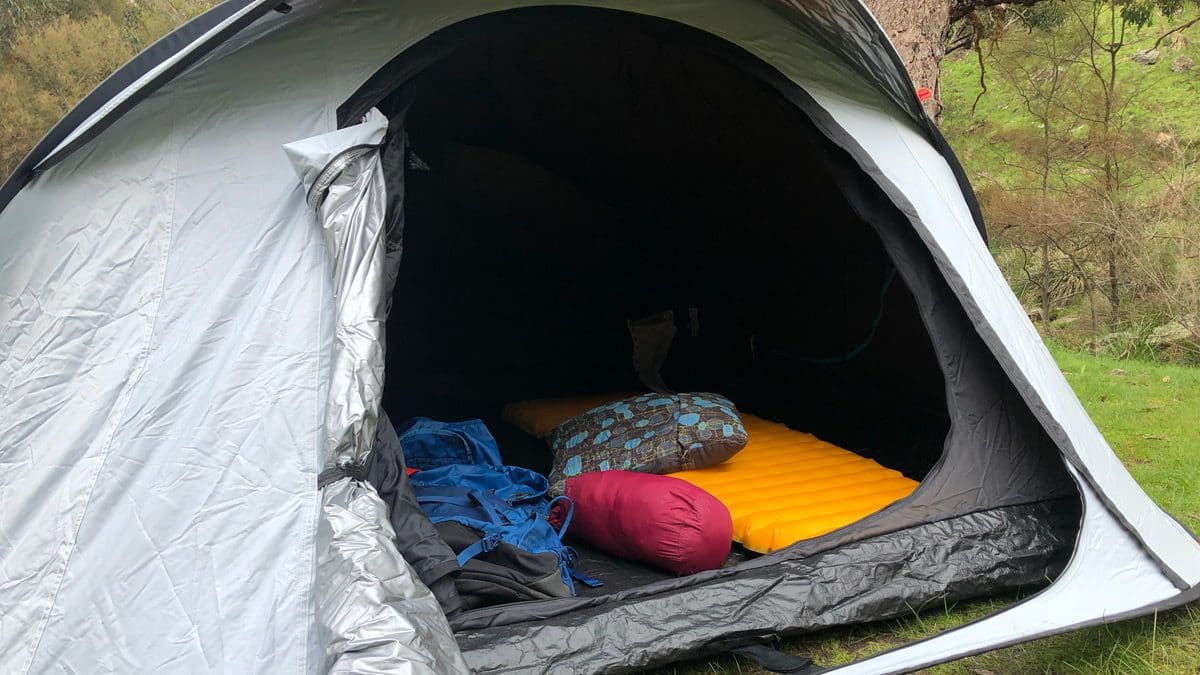 With the tent pegged in place, I exposed the tent to 40-45km per hour winds while I was sitting inside and while the tent did bend, twist and lose shape (as you would expect), it popped right back up when the wind gusts relented. I must admit that when the tent outer was wet, and these wind gusts arrived, I was not able to prevent the wet fly from touching the inner. As long as I did not touch the inner from within the tent the waterproofing seemed to hold.
Access and Ventilation
The Quechua 2 Seconds Pop-Up Fresh & Black Camping Tent has been designed with one large access door at the front (high side) of the tent. Apart from a small shade over the entry, there is no real vestibule at the front of the tent, only a small one, large enough to stow small items of gear. This can prove problematic when it rains as there is nowhere dry for cooking or gear storage (thankfully your smelly hiking boots will just fit) and as soon as you open the access zip, the internal front section of the tent is exposed to the elements. This would be a real problem for a hiking tent however we have to remember that this tent is going to be used for base camping, so it is likely you have somewhere else to cook and store your smelly gear.
Speaking of smelly gear, let's talk about the ventilation of this tent. In addition to the obvious front door, both sides of the tent have large ventilation windows, through the mesh inner and solid outer, that can be pegged out or rolled up out of the way for greater air flow through the tent. There is also a small vent located at the top rear of the tent. This is protected from the elements and allows fresh air to easily circulate. On warmer days, or when more ventilation is required, I found a great addition at the rear of the tent. There is a cord suspended from the top of the tent that when pulled, retracts the external fly to expose the full mesh rear of the tent to any breeze. The weave of the mesh is one huge plus for this tent as it is finer than most I have seen and will prevent little nasties such as mosquitoes, sand flies and midges from dining on you while you sleep. For all the leach haters out there, I am not sure they can get through the mesh, but one did manage to get in somewhere (I am guessing the large front door).
If you are looking for more external gear storage, you can easily access the narrow void between the tent and fly along both sides and the rear of the tent. The rear has a short zipper to allow easy access.
Fresh and Black
If you have camped before you will know that typically, as soon as the sun comes up your tent will start glowing inside as though someone turned all the bedroom lights on. If you plan a sleep in after a long hike the previous day, this can become quite a challenge. If the light is not enough to wake you, the rising sun will soon warm your tent to the point where you have no option but to get outside where it is cooler. The Quechua 2 Seconds Pop-Up Fresh & Black Camping Tent has a unique Fresh and Black design. The Fresh aspect of the design reduces heat while the Black keep you in the dark. This is achieved through the use of four layers in one piece of fabric. Layers one and two work together to reflect the light, layer three absorbs the light and layer four, the last internal layer, protects you from the heat. Quechua claim that their technology reduces heat inside the tent by up to 17 degrees compared to a conventional tent and provides 99.9% obscurity.  In my testing I didn't really experience weather warm enough to verify the 17 degrees claim but I can say that the morning light did not wake me as it usually would and the privacy this tent offers is unlike any tent I have ever used.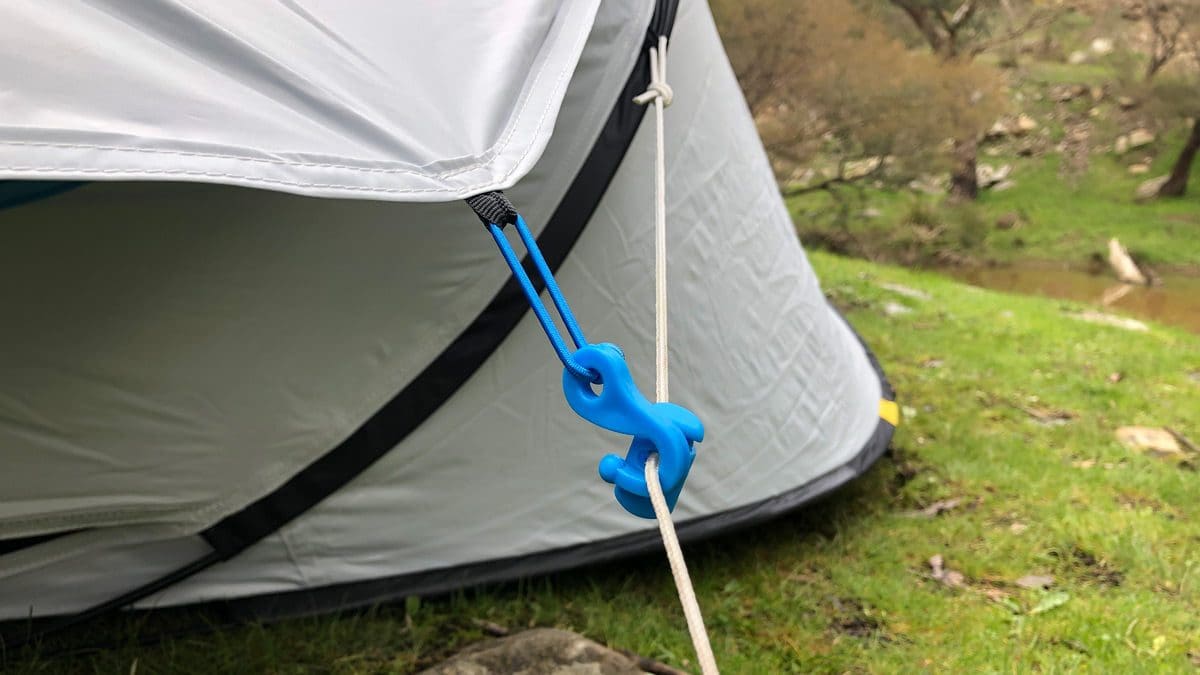 Durability
All the clips, loops, seams, fabric, mesh etc appear to be quality designed and built. The floor of the tent is of solid construction and will easily withstand knocks and scrapes from twigs and stones on the ground. It is difficult to comment on durability after only a few nights camping in this tent, but I will monitor this over continued use and will report back if anything breaks.
Conclusion
I am the first to admit, I am pleasantly surprised. This tent is not a novelty item and in my opinion is a product that has been well designed by people who clearly love adventure and have an appreciation for the challenges us outdoor types face when base camping. As mentioned earlier, this is not a hiking tent and is best suited to base camping near your vehicle. If you are looking for a new tent for your weekend adventures or a secondary tent for camping at the trail head of your multi-day hikes, check out the Quechua 2 Seconds Pop-Up Fresh & Black Camping Tent. Mine is always in my car now, just in case.
Tech Specs
Easy to assemble/disassemble: Free standing structure. 2 Second pitching. Guided folding system: Easy
Capacity: Room 185 X 210 cm. Maximum useful height: 104 cm.
Waterproof: Test under a shower of 200 mm of water/hour/sqm (tropical rain) and field tests.
Darkness: Patented FRESH & BLACK outer fabric: 99% dark even in full daylight.
Easy to transport: Size of the bag: 77×10 cm / 46.6 L. Weight: 4.2 kg.
Durability: Wind resistant 50 km/h (Force 6): certified in wind tunnel with turntable.
Heat reduction: Flysheet, mechanical ventilations and Fresh and Black fabric to sleep well.
For more information on the 3-person tent visit Decathlon.
Buy direct from Decathlon for $219 (for 3 person tent)
---
Field Tested by
Darren Edwards > www.trailhiking.com.au
As a field-tester, the reviews I prepare are based on my own on-trail experiences and represent an unbiased account of the gear I use and trust. Some reviewers will not bother to take gear into the field and will search the internet for existing reviews before writing a comparative account. If you are a retailer or manufacturer and would like me to field-test your gear please get in touch.