Field tested – 08/09/2019
Field test and review
Puffer (or padded) jackets seem to be all the rage. Whether you are purchasing one for hiking or just daily wear, they are an item of clothing that will keep you warm on your outdoor adventures. Don't be fooled into thinking that all puffer jackets are made equal, they come in varying styles, are made from different fabrics, some are water repellent, have different fill types (down or synthetic) and above all, have different thermal insulation properties.
Recently I was send a Quechua Forclaz Trek 100 Jacket from Decathlon to field test and review. It arrived towards the end of winter so what better time to test this jacket on the trail. I have worn this jacket during cold winter hikes (5 degrees C) as well as typical spring days (around 15 degrees C) and certainly have my preference for the type of weather I would wear this in. First, let's talk about the features of this jacket.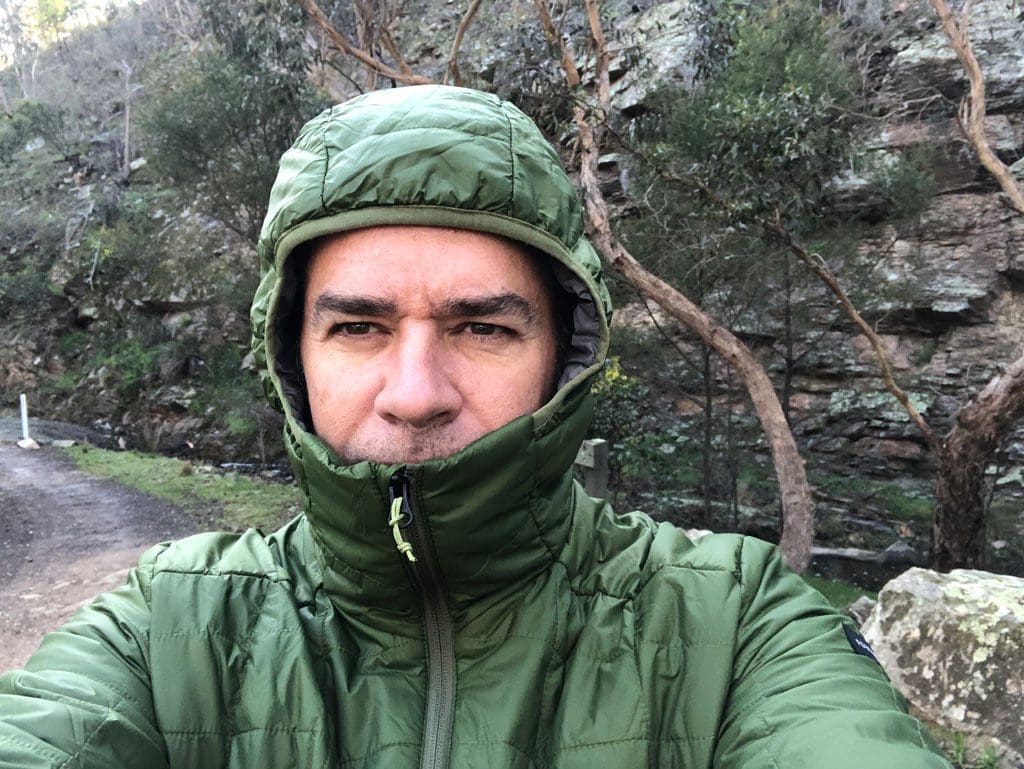 Design and Durability
The jacket is made from polyamide canvas (nylon) which has been sewn into a series of square cells to retain the internal wadding (filling). The fabric seems to resist light abrasion from the occasional scrape against rocks and bushes. Unlike most padded jackets, the Trek 100 comes with an integrated hood which I found really useful in blocking out the crisp winter wind and keeping my head warm while I hiked. The cuffs at the end of each sleeve have been elasticated to further aid in keeping your body warmth in. The waist band also has an elastic cord to perform the same function. When zipping the jacket closed, the inside zip flap prevents warm air from escaping and cool air from entering. A nice feature is the ability to pull the zip closed, right up past the collar and over my chin. Keeping warm air inside you jacket is one of the keys to successful insulation and this jacket seems to have all bases covered.
Thermal Properties
Thermal insulation is one of the main reasons people invest in padded jackets. According to Decathlon's website, this jacket has been certified for a comfort temperature of -6 during a standardised test in a thermal chamber. The jacket is not down but consists of a 100% polyester wadding (70% recycled) at 100g/sqm on the body and 80g/sqm on the sleeves and hood. This means the jacket is thin in design while still maintaining high insulation. While I didn't test this jacket at -6 degrees, I did wear it on a few hikes that were in the range of +5-7 degrees and under these conditions I found the insulation to be adequate while moving. When stopping for breaks the jacket didn't keep me as warm as I expected on these cool days so I would recommend wearing mid and/or base layers to aid in the insulation process.
Pack Size and Weight
Given the thin qualities of the wadding, the Trek 100 Jacket weighs 370g (large size) and is highly compressible, packing down neatly into its left-hand pocket. This pocket has a double zip puller. All of the zips on this jacket come equipped with zip pullers which allow you to easily locate and manage the zip while wearing gloves. If you have bulky gloves you may find the zip pulls a little small so one suggestion for improvement would be to increase the length of them slightly.
Water Repellent
I never expect padded (puffer) jackets to be water proof and I recommend wearing a waterproof outer layer if you know rain is eminent. The Trek 100 Jacket has a surface-treated outer layer that prevents light showers from saturating the jacket. This is really useful if a light shower passes as you won't have to stop to pull out your waterproof jacket. In my testing, light rain seemed to run-off the surface and not absorb into the wadding. It is important to note that the surface-treatment may deteriorate with use but can be reactivated.
Environmental Impact
With the environment being such a hot topic (as it rightfully should), I believe it is important to always look for hiking gear that lowers the impact on our environment. The use of synthetic wadding (versus down) in this jacket has an obvious impact on ducks and geese but this jacket takes things a step further. The following extract is straight from Decathlon's website as I wont confess to being an expert in manufacturing techniques.
100% polyester wadding (70% recycled)
The fabric we use reduces CO2 emissions by 40%. The fabric used is innovative because it mixes a self-dyed black thread and an undyed thread. Compared to conventional dyeing, this process makes it possible to reduce: fine particle emissions by 66% (PM2.5) eutrophication of fresh water by 74% eutrophication of marine water by 68%
On the Trek 100 black and blue models, the outer fabric uses a clean dying process known as dope dying (the thread is self-dyed), reducing CO2 emissions by 36%. More information can be found here.
Conclusion
I really enjoyed testing the Quechua Forclaz Trek 100 Jacket. For its weight, packable size and thermal insulation properties I am happy to recommend this jacket for every day wear as well as hiking during cooler days. It is a great spring jacket that will keep you warm and comfortable in temperatures above 10 degrees C.
Buy direct from Decathlon for $69.00
---
Field Tested by
Darren Edwards > www.trailhiking.com.au
As a field-tester, the reviews I prepare are based on my own on-trail experiences and represent an unbiased account of the gear I use and trust. Some reviewers will not bother to take gear into the field and will search the internet for existing reviews before writing a comparative account. If you are a retailer or manufacturer and would like me to field-test your gear please get in touch.