Field test and review – SCARPA Ribelle Run
Footwear for hiking or any outdoor adventure serves a basic purpose. They protect your feet from damage and provide grip. You may have other considerations, such as personal preference, terrain, trip duration, weather, keeping your feet dry and ankle support. Durability, cost, and weight will also come into the equation.
How to Choose the Right Footwear
There's a lot to consider and there is quite an art to choosing the right footwear so I won't go into detail in this review.
For me, a key consideration is the length of the trail and the environment I'll be hiking in. A day hike on a well-constructed, grade 3 walking track is considerably different from carrying a 15kg backpack for two weeks through the bogs of Tasmania or rocky ridge lines of the Larapinta Trail.
Personal considerations might include how strong your ankles are, what type of footwear you're used to and the shape and size of your feet. People's feet come in all sorts of odd shapes and sizes, but unfortunately footwear doesn't. It's not uncommon for feet to be slightly different sizes, even up to one full size, which you need to allow for when getting an ideal fit.
For me, and many hikers, the answer is often a range of footwear types to cover diverse activities.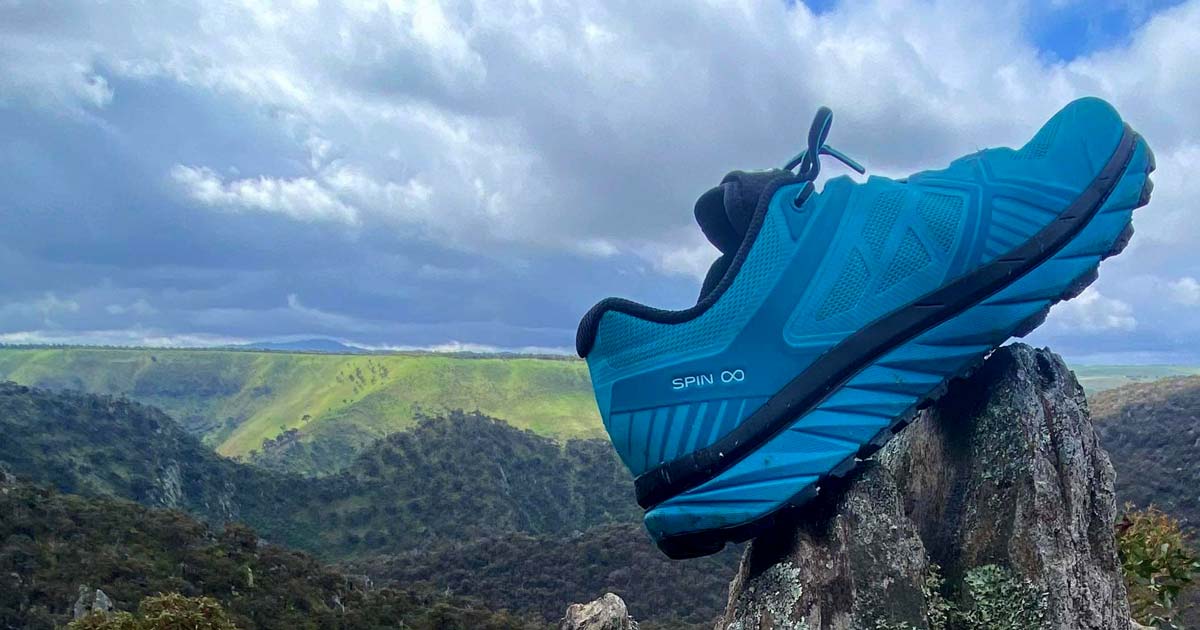 The SCARPA Spin Infinity
In September 2022, I was contacted by SCARPA, announcing it was heading off road with a new 2022 trail running collection, its first range of trail running shoes in Australia. According to SCARPA, this new collection is designed to provide optimal comfort and stability. There are three ranges of shoes for athletes of all foot sizes and running experience: the SPIN ULTRA and SPIN INFINITY, the RIBELLE RUN, and the GOLDEN GATE.
Now I must confess, and I did to SCARPA, that I am not a trail runner, but I am an avid hiker. So, it was recommended I give the RIBELLE RUN a go. One of my mates (thanks Dale) is an avid trail runner so, SCARPA also sent the SPIN INFINITY for him to thrash out on the trails.
The Spin Infinity trail running shoe dedicated to long distance. Exceptional cushioning, stability and control features make it perfect for the Ultra Trail for those who require stability and comfort.
According to SCARPA, the Spin Infinity is its most cushioned offering to date. Designed for long distance trail training and ultra racing, the Spin Infinity has a dual-density EVA midsole, featuring a low density base that provides plentiful cushioning and impact absorption, and on top of that is our Foot Stabilizer Control system (FSC). The FSC system is a firmer EVA layer that encircles the perimeter of the midsole and also spans the arch area, providing lightweight stability and torsion control.
The midsoles 4mm drop encourages an efficient stride, further enhancing its long distance capabilities. Secure ground contact is assured by the Vibram® outsole, combining 4mm lugs and Megagrip rubber to optimize traction and grip. The mesh and welded PU upper with Sock-Fit construction is light and breathable but still provides foot-wrapping support and a secure fit. This combination of upper and outsole package results in the perfect blend of weight savings, cushioning, support and traction. All of these elements come together seamlessly in this high-mileage trail machine.
SCARPA claim its trail running shoes are designed to protect the worn feet, ankles, and knees, providing precision and grip for technical routes. The shoes are constructed with lateral protections to create an exoskeleton that better protects and supports the foot, while SCARPA's Sock-Fit technology offers a fit as a sock, with stretch fabric incorporated with a minimal stretch tongue provides gentle wrapping and support, reducing bulk and enhancing fit.
Dale wasted no time taking them out for a test run straight into the depths of some seriously rugged terrain.
Field test and review
I was immediately impressed with the look of them. I was slightly concerned with the snug fit and tightness in the midfoot (due to having wide feet) however this concern was short lived and soon adapted to my foots profile comfortably, making them a good choice for serious mountain runners, in particular those who want to cover long distances, straight out of the box.
I would like to have seen them fitted with a lace lock feature, however, this is only a minor critique. I intentionally set out to put them through there paces and despite a lot of rock kicking, the toe box held up well with no apparent sign of significant wear and tear. They are a plush ride and they were not impacted by the rough ground underfoot.
The Vibram® soles with Megagrip rubber compound are an excellent feature. With increased traction and friction they had no trouble clinging onto the wet rocky ground (they have currently travelled 530km in harsh terrain and are still going strong).
The Spin Infinity has a breathable mesh with overlays of thermally welded PU film for additional protection, support and abrasion resistance. The next test, wading through river crossings, did not fare so well as the drainage was not quite adequate and I found them to stay water logged well after 40 minutes. More drainage holes would be advantageous here.
Apart from some very slight criticisms, they are a great shoe overall and would not hesitate to recommend them to any fellow adventure running enthusiast. Even the kangaroo was impressed.
Check them out it if you are looking for a shoe that can take you on technical ground with confidence, be it steep trails of rocks, grass, mud, or even on easy well-travelled path.
About SCARPA
Before offering my final thoughts, here's a bit about SCARPA just in case you've never heard of them before (which would be odd).
SCARPA was founded in 1938 in Asolo Italy and over the past 90 years has made climbing and walking footwear. Founded in the foothills of the Dolomite Mountains, in the Asolo / Montebelluna region, an area long known for its quality, handcrafted footwear, SCARPA's initial mission was to bring together all the best shoemakers in the Asolo area toward the goal of producing the best footwear anywhere.
As trail running has become more popular, it was natural for SCARPA to start to make trail running shoes. They recruited Marco De Gasperi, the 6 times World Mountain Running Champion (once as a Junior, five times as a Senior).
Tech Specs
SIZE OPTIONS : 40-47 (half sizes); 48 (whole size)
WEIGHT REFERENCE : 305g; 10.8oz (1/2 pair, size 42)
UPPER : Mesh & PU Film & Micro Nubuck
LINING : Polyester
MIDSOLE : 2D EVA-CM
OUTSOLE : Vibram® Velox Cross/ Megagrip
INSOLE : Ortholite® Strobel and Footbed
DROP : 4mm
LAST : ARSF
CUSHION : High
UNDERFOOT PROTECTION : Moderate
Field tested – 02/03/2023
Field Tested by Darren Edwards > www.trailhiking.com.au
My reviews are based on my own on-trail field tests and I provide an unbiased account of the gear I use. Often, reviewers won't take gear into the field but search online for existing reviews and collate them to form a conclusion. If you're a retailer or manufacturer, I'd love to field-test your gear. If you are keen to hear how your gear performs, please get in touch.