Field test and review
Field tested – 01/05/2017
When I embarked on my first overnight hike, quite a few years ago, I bought myself a 75ltr pack which looked and felt really comfortable in the store. I put it on, walked around the store for a while and then decided this one was for me. Being new to overnight hiking, never did I consider that I needed to select a pack based on the length of my torso or size of my waist or even bother to fill the pack with a load, in the store, before I made the purchase. I kind of assumed that packs were one-size fits all and this one looked good so home it came with me.
I used this pack for the next few months on all my overnight or multi-day hikes. Every time I pack hiked I would return with sore shoulders, a sore lower back and bruises on my hips. I just thought this was normal and what you would expect when carrying a heavy load for hours and days on end. I even checked back into the store and asked for assistance fitting my pack in order to reduce these stress points only to be told to stuff a pair of gloves or foam padding down between the waist and shoulder straps in order to minimise the rubbing and bruising. I just assumed this was as good as it got.
Recently I was sent an Osprey Aether AG™ 70ltr pack to field-test. Before it was sent to me I was asked all the right questions by Paddy Pallin. Can you please measure your torso length and waist? What types of hikes do you do? Are they overnight or multi-day? How much space does your packed gear take up? What weight do you generally carry? What problems have you had in the past with overnight packs? All questions I wish I had have been asked when I made my first purchase. But in hindsight I probably wouldn't have known all the answers back then. As this pack was sent to me, sight unseen, I didn't have the opportunity to trial it with a full load so after all other were answered I was really interested to see how it would perform.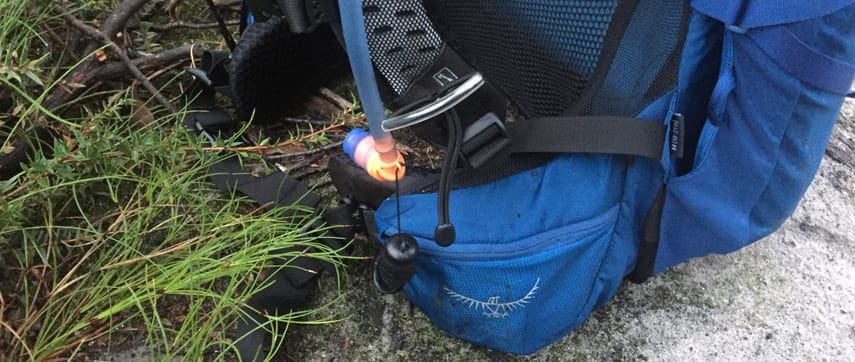 As soon as it came out of the box I didn't spend much time looking over the pack, all I wanted to do was get it loaded up and get it on my back. So out came all the bottles of water and I filled the pack with about 18 litres of liquid. I should say that this is not an ideal way to test your pack as you will never be carrying items of consistent size, mass or weight but it was a good way to quickly test how the pack sat on my waist and shoulders. I was pleasantly surprised. The hipbelt seemed to sit where it needed to and didn't press into my hip bones (what little I have of them) and the shoulder straps sat comfortably away from my shoulders, far enough that I could easily slide my fingers between the harness and my shoulders.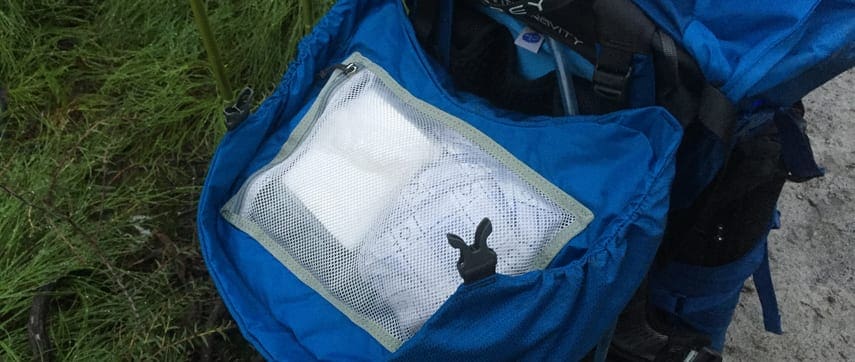 The initial test out of the way it was time to drag out all my overnight gear and fill the pack properly. The entire process was like unwrapping a mystery gift. As you would expect, the pack has a main compartment which is accessible via the top of the pack. In addition to this you can also access the compartment via an additional zip above the large stretch mesh front panel pocket.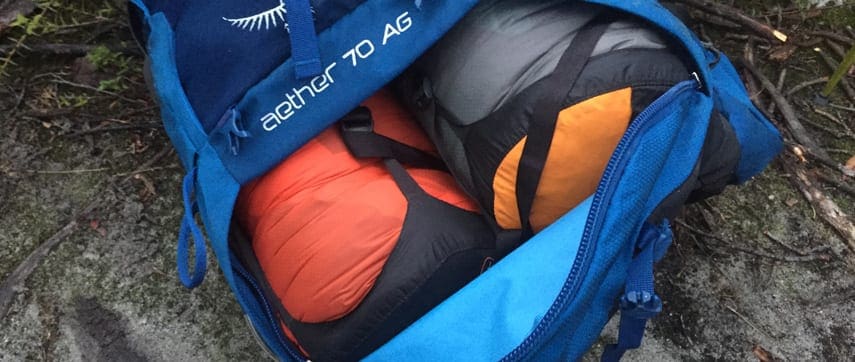 At the base of the pack is a third access point that allows you to access the gear stored at the base of the pack. On the trail, I found this a particularly useful place to store my tent, ground sheet and sleeping bag as it allowed me to quickly access the tent without pulling everything out of my pack (which I have had to do with other packs). This is particularly useful in wet weather as you can set up your tent without all your gear getting wet. There is a removable divider above this lower space to allow for full pack use or for dividing this compartment from the main section of the pack.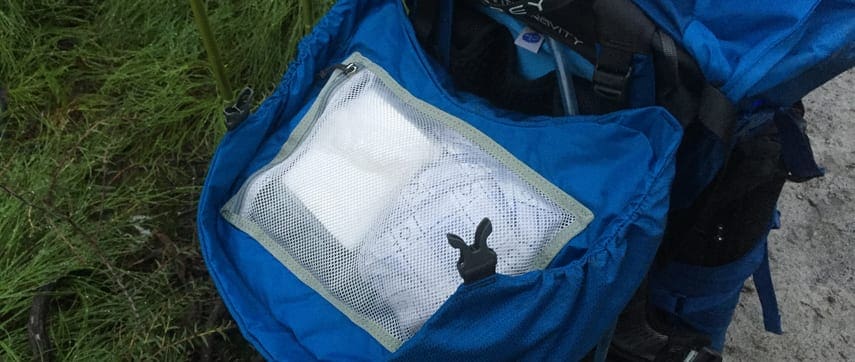 The lid of the Osprey Aether AG™ contains three separate compartments. Two large zippered compartments are accessible from the outside of the pack. One of these houses the built in rain cover which is easy to access by a hiking buddy when on the trail. The cover feels durable and fortunately on my first trip I didn't need to test how waterproof it was. Under the lid is another zippered mesh pocket with internal clip for securing all of your valuables. I used this space for my electronic gear and personal items such as battery pack, torch, pillow and micro towel.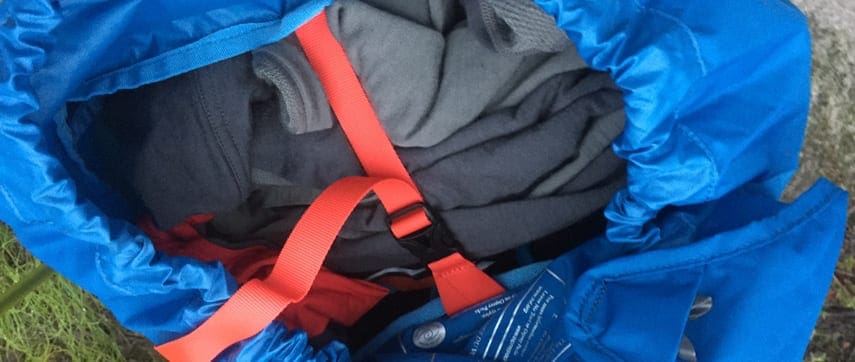 Directly under the lid, between the main compartment lays an integrated FlapJacket™ cover. This cover provides additional sealing of the main compartment when the lid is in use or extends right over the main compartment opening and clips to the main pack for complete lidless use. This allows you to use the full pack, with lid, for multi-day hikes or remove the lid completely when you are not carrying the kitchen sink.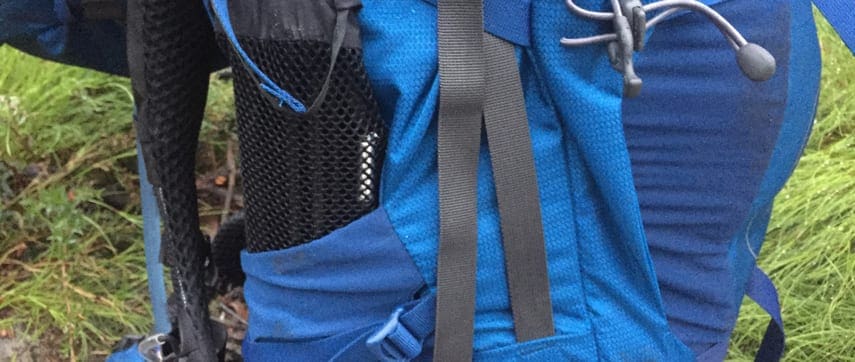 The sides of the pack have large (and deep) stretch mesh pockets which were perfect for stowing my tent poles, pegs and hiking poles. They were also great for additional items such as sunscreen, maps, hats or anything I needed to access quickly on the trail.
Inside the pack the main compartment has a hydration pocket at the rear with a small clip to stop your hydration bladder from sliding further down the pack as I emptied it. The hose from the bladder passed easily through a weatherproof slot in the rear of the pack and could be easily secured to the shoulder straps under the many straps and clips available. I wont cover all of the straps and clips as everyone will find their own uses for them however I will say that there are adequate compression straps and clips for you to minimise the bulk of your pack and secure all of your gear, both inside and outside the pack for on-the-go access.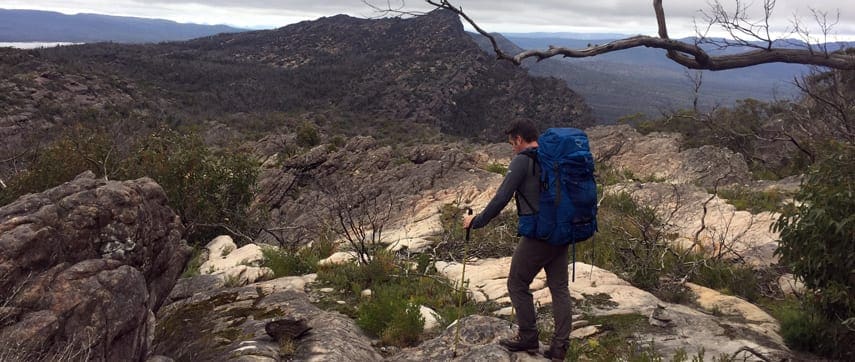 Whenever I chat with fellow hikers about their overnight pack the main focus of the conversation always seems to be the hip belt and the number of bruises and soreness received on both the hips and lower back. As mentioned earlier, I never returned from a hike, with my ill fitting pack, without my share of bruises and pain. With the Osprey Aether AG™ this was simply not the case. From the moment I threw it onto my back the pack seemed to hug my waist. In fact I had to physically push the hip belt open in order to fit the pack on my back. This is due to the IsoForm5 harness and CM™ hipbelt as it has stiff ribbing that allowed the hip belt to automatically close firmly against my hips and waist. The other advantage of this is that when the pack was in transit or not on my back, the hip belt folds away neatly against the back of the pack.
The hip belt is well padded on the inner surface and includes sizable zippered outer pockets which were ideal for storing snacks, compass, my knife and PLB for quick and easy access. I found that the hipbelt provides outstanding fit and comfort for especially heavy loads. I was carrying 18kg for this field test and the pack sat very comfortable on my hips and shoulders. Thanks to the many compression straps, the bulk of the pack was also able to be minimised which placed the weight more squarely over my hips and reduced the feeling that the pack was pulling me backwards. So no more lower back pain as I was able to stand quite vertically, even without the use of hiking poles.
On this particular field test I took on quite a challenging hike which required steep ascents and descents, rock scrambling, negotiating many obstacles such as fallen trees and dense regrowth. All in all the pack felt well balanced, the fabric handled the many bumps and scrapes from rocks and branches without signs of any damage and considering the load I was carrying, it felt reasonably light and well balanced on my back.
I am quite impressed with the features and benefits of the Osprey Aether AG™ 70 and encourage you to check one out in-store before making your next overnight pack purchase.
Buy direct from Paddy Pallin for $419.95
Mens Aether AG Packs: 60 Litre | 70 Litre | 85 Litre
Womens Arial AG Packs: 55 Litre | 65 Litre
Features
Built in Raincover
Dual upper side compression straps
Dual access side stretch mesh pockets
Lower Inside-Out™ compression straps
Zippered hipbelt pockets
Stow-on-the-Go™ trekking pole attachment
Additional main compartment access
Large stretch mesh front panel pocket
Dual front compression straps with StraightJacket™ compression
Dual ice tool loops with bungee tie-offs
Zippered sleeping bag compartment with removable divider
Removable sleeping pad straps
Integrated FlapJacket™ cover for lidless use
Internal hydration reservoir sleeve
Large front J-zip access to main compartment
Tech Specs
Load Range
15 – 27 kg
Volume | Dimensions | Weight
SM 4089 IN3 | 67 L 80H X 40W X 34D CM | 2.307 KG
MD 4272 IN3 | 70 L 85H X 40W X 34D CM | 2.33 KG
LG 4455 IN3 | 73 L 90H X 40W X 34D CM | 2.353 KG
XL 4638 IN3 | 76 L 95H X 40W X 34D CM | 2.377 KG
Fabric
Main: 210D Nylon Dobby
Accent: 210D High Tenacity Nylon Shadow Box
Bottom: 500D Nylon Packcloth
---
Field Tested by
Darren Edwards > www.trailhiking.com.au
As a field-tester, the reviews I prepare are based on my own on-trail experiences and represent an unbiased account of the gear I use and trust. Some reviewers will not bother to take gear into the field and will search the internet for existing reviews before writing a comparative account. If you are a retailer or manufacturer and would like me to field-test your gear please get in touch.