Field test and review
Hiking becomes much more challenging during the winter months when the trails are covered with snow – but not necessarily less enjoyable! As mentioned in my Grivel G1 ice axe review; you may have heard the saying that there is no such thing as bad weather, only poor gear selection. I have always found this to be somewhat true and quite enjoy hitting the trail during the cooler months.
If you are looking to undertake a snow hiking trip in winter and want to do it safely and in comfort you may well require additional equipment such as crampons, ice axe, gaiters and snowshoes. If you are hiking on trails that are covered with (slippery) frozen snow or ice, crampons are a must as they provide you with the necessary traction to minimize the chance of falls. It is important to note that if you are wearing crampons you should always have an ice axe. The reason for this is that should you fall with crampons on your boots, you will need an ice axe to self-arrest your fall. Never should you arrest your fall by driving your crampons into the snow or ice because their points will grab and potentially throw you head first down a steep and slippery slope. I would also recommend that you wear gaiters when you are hiking in snow and with crampons as they prevent the snow from entering your boots and protect your hiking pants and legs against the shredding effects of crampon points.
While I was at Bogong Equipment, researching crampons, in Melbourne's CBD I discovered that there are three different types of crampons; C1 (Full Strap-On Bindings, toe and heel), C2 (Hybrid Bindings, clip in heel only) and C3 (Full Step In Bindings). The higher the number, the more rigid is the crampon. Very rigid crampons allow you to ascend extremely steep (vertical) slopes but do require technical footwear. Flexible crampons, on the other hand, are primarily designed for hiking and mountaineering on flat and semi-steep terrain, glacier travel and similar activities. As they use strap-on bindings, they can be used with any hiking boot that does not have an overly-flexible sole (like summer hiking boots).
At this stage of my snow hiking career I don't intend to be scaling vertical ice pitches. All I was looking for was a crampon that met the requirements for hiking and mountaineering on semi-steep terrain covered with ice or slippery snow. Scott at Bogong introduced me to the Grivel G10 New-Classic Crampon.
The Crampon Anatomy
Crampons are manufactured from steel, stainless steel or aluminium and all have a reason for that. Crampons made of steel are much more durable than aluminium crampons but also heavier. Steel crampons are widely used for hiking and mountaineering. Aluminium crampons are mainly used in applications where the crampon is secondary to the main activity and will not be used much. For example where hiking or ski mountaineering is the main activity and the crampons will only be used for limited snow crossings. For this use light equipment is a priority. Stainless steel crampons offer enhanced corrosion resistance but little other advantage. The Grivel G10 is manufactured from Chromoly steel which is used when more strength, durability and hardness is required than that of carbon steel.
The Binding
The G10 is available both with Grivel's excellent New-Classic binding, which features easy to use thermoplastic cradles front and rear for quick and easy fitting – graded C1 – or in the New-Matic with a cradle front and click-release heel clip at the rear. As a New-Matic it's graded C2 and needs a stiffened sole with compatible lug at the heel of the sole unit. This is one downside I saw when deciding between the New-Classic or New-Matic binding is that you need a B2 or B3 boot to use the New-Matic system and with some boots.
The New-Classic is a great binding for ease of use and is tolerant of different boot shapes and sizes. In fact, it seemed easier to use than a full quick release binding that one of my climbing partners had, because I didn't have to fiddle around with locating wire toe bails and clearing welts of snow, even with freezing fingers. The New-Classic binding also has the advantage it will work well even on a very worn boot sole. The security strap is easy to secure and release as well, in fact so easy that it takes less than a minute to secure the crampon to your boot.
Anti-Balling Plates
Anti-balling plates prevent the snow from balling up under the crampons as too much snow built up under the crampon can cause the crampons to lose traction. I was so intrigued to see how well these worked that I kept stopping regularly to inspect the sole of my crampon, hoping to catch them failing. On every outing they have worked as intended and I have never once had to tap or scrape the snow from under my feet.
Points
Points on a crampon provide you with traction in ice and snow. Most hill climbing crampons have 10 or 12 points, the Grivel G10 has 10 while it bigger brother, the Grivel G12 has 12. The forward-facing points allow bite when ascending directly up slopes. They tend to become longer and more aggressive on more technical crampons. I found that 10 points was more than adequate for general mountain use and personally I would only consider the G12 is I was moving into steep or vertical climbing.
Flexibility
C1 crampons, such as the Grivel G10, offer reasonable flexibility and are therefore comfortable to walk with. Climbing crampons tend to be more rigid as they need to carry the weight of a climber on steep slopes when traction is only provided using the front-facing points. When wearing and using crampons you should always try to contact the ground with a flat foot to get traction from as many points as practically possible. I found that the flexible steel adjustment bar made the crampon feel really natural to walk in and nowhere near as difficult as I had been told crampons could be.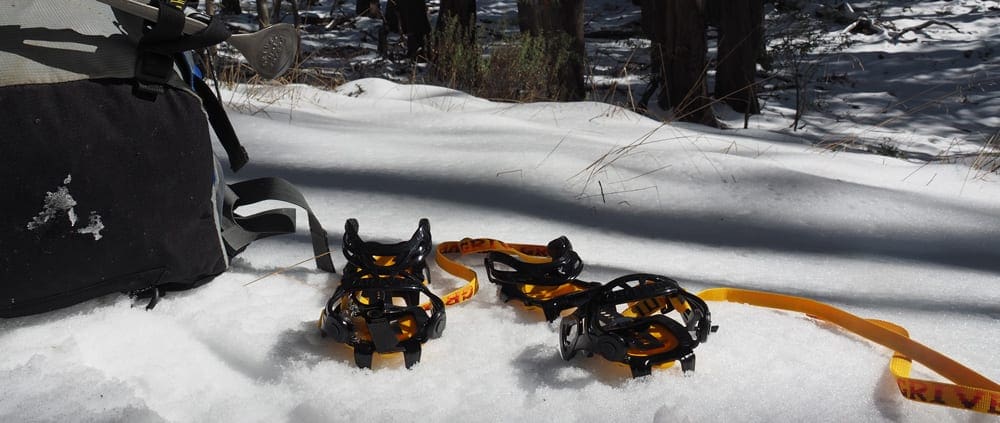 Adjustment
Adjustment wa very easy with a sliding, flexible steel bar with a spring-loaded locator allowing quick transfer from boot to boot. It also means that the crampon can slide together for compact transport. This is a one-size-fits-all crampon and the G10 comes complete with a bolt set to allow the flexible bar to be shortened without the need to get the hack-saw out (as some YouTube videos have suggested).
So why the G10?
The Grivel G10 New-Classic crampons are a hill-walking version of the highly popular Grivel G12 cramponss they are light and flexible, they are perfect for recreational winter hikers, like me, who need a reliable pair of crampons that can be used with standard hiking boots. They are made of Chromoly steel which has an excellent strength to weight ratio and offers enhanced strength in comparison to carbon steel.
The G10 crampons are equipped with 10 points which provide great traction on frosted trails as well as on semi-steep slopes. During field testing I never once felt that these crampons would let me down and was able to traverse any terrain with ease and confidence.  The points are well-positioned not only for hiking but also for ascending slopes. The crampons come with anti-balling plates, decreasing the chance of slips and falls.
The G10 is aimed at general mountain use rather than steep or vertical climbing and the use of ten points rather than the classic 12-point configuration saves weight. It was obvious, in my pre-purchase testing, that an alloy crampon would be lighter, but not as hard-wearing or as strong as the G10. It's a near ideal general mountain walking crampon. The shortish points help balance on hard ice and the front points, while not suitable for serious ice climbing, are fine for adding grip when kicking into steeper snow slopes. In my experience, so far, I found performance in use exceeded my expectations and I felt safe and secure regardless of the terrain I was traversing.
If you're planning on any ice climbing you'll want a more aggressive design with forward-orientated secondary points. If you are planning to hike on terrain covered with soft and deep snow, please consider a pair or Snowshoes as well.
In my opinion, the Grivel G10 New-Classic crampons are perfect for hikers and mountaineers who need easy-to-use equipment for their winter adventures. They are the perfect crampon for Australian conditions. This is the exact application that I required crampons for and the reason I walked away from Bogong Equipment with a pair of Grivel G10s.  Actually, I have two sets now as I went back to buy a pair for my wife.
Suitable for
Hiking
Mountaineering
Trekking
Ski mountaineering
Backpacking
Tech Specs
An evolution of the Classic binding. Both front and rear plastic harnesses are hinged from their respective retention posts and may be "opened" to facilitate attachment to the boot, then closed securely once the boot is inside. The single strap closure system is so simple we may not need to provide instructions; the New Classic is therefore ideal for rental programs and first-time users. This system is simple and reliable, quick and easy, but it does take up a bit more space in the rucksack.
10 points
2 front points
Manufactured from chromoly steel
Semi-rigid asymmetric construction
820 grams (per pair)
Range of use – C1
---
Field Tested by
Darren Edwards > www.trailhiking.com.au
As a field-tester, the reviews I prepare are based on my own on-trail experiences and represent an unbiased account of the gear I use and trust. Some reviewers will not bother to take gear into the field and will search the internet for existing reviews before writing a comparative account. If you are a retailer or manufacturer and would like me to field-test your gear please get in touch.