Field test and review
Kala Patthar (5643m/18513ft)
Field tested – 11/04/2016
It was a race against time to climb Kala Patthar for a view of the mighty Everest. For the past 8 days we had been trekking from Lukla winding ever upwards across a barren rubble like landscape. The night before our climb we were enjoying the comfort of the lodge and yak dung fire at Gorak Shep, a small settlement that sits at its edge at 5,164 m elevation, near Mount Everest. Over the past few days the weather had been worsening with cloud, howling winds and snow threatening the mask our views of the Himalayan mountain range. Following a brief team meeting the decision was made to make an early start the next morning and commence our climb at 6:00am in order to take advantage of the clearer skies.
Kala Patthar is the real destination at the end of an Everest Base Camp trek. The reason is simple. The views are stunning from the top. It was a 590-foot climb from Gorak Shep to a maximum altitude of 5643m/18513ft.
On the morning of our departure it was still dark and the temperature outside was a pleasant -13 degrees celsius. That's wasn't a problem as we were well layered with some of the team wearing down jackets to fight off the cold. Our problem was the strong cold wind; the wind was the hardest thing to deal with. It was blowing harder than it had at any other time in the trek.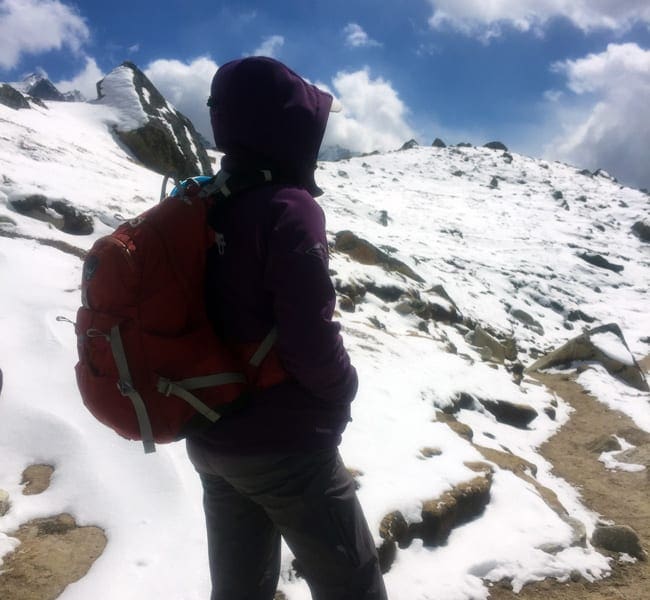 I was so thankful that I had my Mountain Designs Gore® WINDSTOPPER® Jacket. With the conditions being what they were the dual adjustable fixed hook, draft flap and chin guard did an amazing job of keeping my face protected. Pulled nice and tight there was no way the wind was getting in. It was roaring up behind me but that wasn't an issue as I was well layered with merino and the elliptical hem at the back of the jacket meant I could tighten it around my waist to truly keep the cold out.
The loose gravel and increasing altitude of Kala Patthar had wiped me of energy as we reached the halfway point. Three steps then stop to breathe was the routine that continued all the way to the summit. Rounding the winding mountain peak trail blasts of icy wind came howling down upon us. Now standing before me was a high rocky peak. No more lose ground. Just a daunting angle set to a ferociously cold wind that was battering our bodies all angles with uncanny ease.
The route to the summit of Kala Patthar is steep and loose with lots of switchbacks. I kept telling myself it would be well worth the effort when we finally reached the top. The final climb was made on giant boulders. I fought to catch my breath. The never relenting wind whipped around me; had it not been for my WINDSTOPPER® jacket it would have forced chills into my bones.
I felt exhausted but elated when we finally reached the summit. Two hours to traverse 1.8km is confirmation of how challenging things can be, even at this altitude. From the peak of Kala Patthar the summit of Mount Everest looks beyond the reach of any human being. I couldn't imagine what it would be like to step foot on its summit. Maybe one day!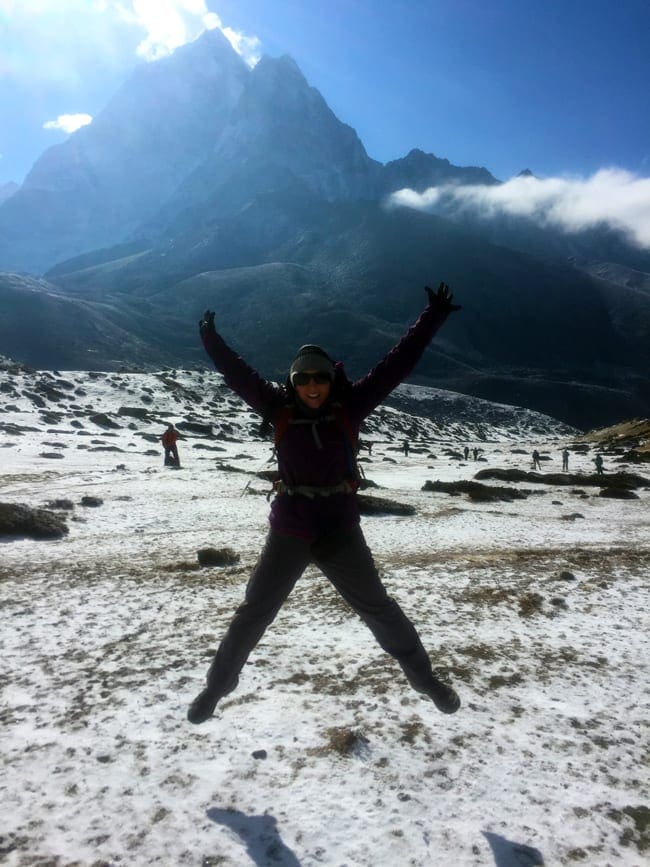 I was surprised just how comfortable I felt in these conditions and it all came down to my choice of adventure clothing. While many jackets I have worn offer some level of wind protection, WINDSTOPPER® provided complete windproofness with incredible breathability. I did not feel the cold at all, except for my toes which were so cold I couldn't feel them anymore. Thicker socks next time. In my opinion this is the perfect windproof jacket to wear as an undergarment to your shell, or in fact as an outer garment if you only need a lighter weight garment and it's not raining heavily.
Climbing Kala Patthar is something that has been on my bucket list for years. I could barely believe I was there, standing on the summit. I turned to face the visual spectacle of Mount Everest, the Khumbu Glacier and an astonishing collection of the world's highest peaks opened up.
I felt incredibly insignificant. This is an experience I will never forget.
GORE® WINDSTOPPER® Jacket Tech Specs
GORE® WINDSTOPPER® Soft Shell: GORE® WINDSTOPPER® Soft Shells are 100% windproof, extremely breathable and highly water resistant.
Grid backer: the internal polyester fleece layer has a grid design that channels water away from the body and insulates by trapping air.
DWR (Durable Water Repellent): DWR finish not only stops water from soaking into the fabric but also dirt, blood, wine and other nasty substances.
Fabric: GORE® WINDSTOPPER® 3 Layer Soft Shell, 290gsm. Plain weave 70D Nylon stretch with a lofty Polyester microcheck backer for next to skin comfort.
Weight (approx.): 705g (size M)
---
Field Tested by
Darren Edwards > www.trailhiking.com.au
As a field-tester, the reviews I prepare are based on my own on-trail experiences and represent an unbiased account of the gear I use and trust. Some reviewers will not bother to take gear into the field and will search the internet for existing reviews before writing a comparative account. If you are a retailer or manufacturer and would like me to field-test your gear please get in touch.