Field test and review
Field tested – 27/01/2016
A few years ago I came across my first Aarn pack whilst hiking in Wilsons Prom, Victoria. To be completely honest my first reaction was 'what is this guy carrying'. It looked like he was being consumed by his pack and I thought that could not be comfortable at all.
I had been using another brand of overnight pack for a number of years. Every time I pack hiked I would return with sore shoulders, a sore lower back and bruises on my hips. I just thought this was normal and what you would expect when carrying a heavy load for hours on end.
I could not have been more wrong. On a visit to Backpacking Light in Melbourne's CBD I was convinced to try on an Aarn pack. The pack was correctly fitted and a load added. I spent the next half hour walking around the store with the load on my back. It felt so amazingly balanced and light. To my astonishment I was soon to learn that the pack had been loaded with 18kg of weight. To me it felt like 10kg. I was sold.
Aarn packs are well known for their front Balance pockets which are intended to offset the weight in the pack. This makes carrying the load over varied terrain a lot more comfortable. The Front Balance pockets are removable and can also be used as a day pack once connected together using the provided harness. I find this to be extremely useful as it allows you to leave your main pack at your campsite and head out to explore with a pack large enough to carry water and all of your essential gear. The only issue I have ever found with the Balance pockets is that they can impede your ability to rock scramble, which I love to do.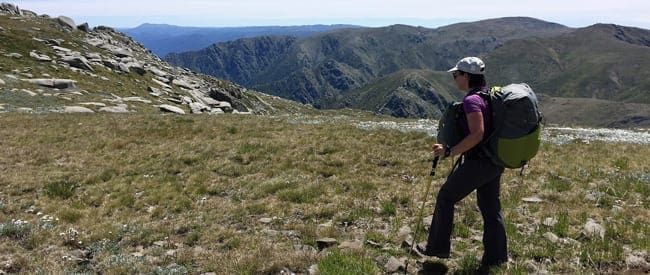 The Aarn Featherlite Freedom (57L + 12L) weighs in at 1920 grams which includes a tape sealed waterproof liner. The waterproof liner which has a central divider passing through it connecting the front and the back of the pack. The divider is intended to ensure that the load is spread evenly within the pack. When hiking in inclement weather I tend to also use an external rain cover. The reason for this is that it allows me to store my (dry) pack in my tent.
One thing that I was initially disappointed in was the fact that the pack has no hydration pocket or hose access through the outer wall. What I do is carry a 2ltr bladder in each of the Balance pockets along with all my snacks for the day and emergency equipment. It is so good having all of this right in front of you rather than dropping your pack to access thinks you need regularly.
The internal side of the hip belt consists of a fine matrix mesh (used here and in the shoulder straps) providing some padding however the padding is minimal which in my view allows the hip belt to fit. The back length can be adjusted ensuring that the pack fits your torso well. The shoulder pads area also made of matrix mesh and once fitted properly work well in reducing the pressure on the shoulders.
The hip belt is also adjustable to dial in the fit around the hips, it is possible to buy 3 different size hip belts but more importantly once you have chosen the appropriate hip belt you can then adjust the location of the belt on the back panel to ensure a perfect fit. It is important to have the correct hip belt fitted to you as the newer versions have an internal ribbing that can sometimes sit right on your hip bone. Thankfully I have the older hip belt which does not include the ribbing.
For me this pack has changed the way I hike. It has increased the enjoyment of being of the trail, has reduced the strain on my shoulders and back and in my opinion provides an ideal choice for someone looking for a framed pack to carry loads on overnight or multi-day hikes. Its simplicity in the design, with its single bag construction combined with two outside mesh pockets makes it, for me, easy to pack and organise. There are clearly options for reducing the weight of the pack, but I find it so comfortable no matter what the load and as a consequence I feel no need to lighten it.
Ultimately the choice of pack comes down to fit, comfort and whether it meets the users requirements, for me when I put the Featherlite Freedom on, it fits, it is comfortable and I barely notice it being there.
Buy direct from Backpacking Light for $469 including balance pockets
Features
The pack and Balance Pockets are 100% waterproof !
Sport Balance Pockets standard
2 Backlengths with On A Torso adjust, 12cm range
U, Multi & Flexi Flow
3 Waterproof Dri-liners
Custom-Fit frame, 1 vertical stay
True-fit shoulder straps, Flow-thru Stabilisers
Pelvic-Form Hipbelt (M)
Stretch side & front pockets
Attachments for ice axes, trekking poles (front and rear), carritools / ice clippers
Tech Specs
Volume Bodypack / + liners
S 50L +12 L 1820 grams
L 57L + 12L 1910 grams
Dimensions S pack (cm) Height: 55 Width: 37 Depth (front-back): 25
Dimensions L pack (cm) Height: 65 Width: 37 Depth (front-back): 25
Key Fabrics 500D codura nylon, 210D, 70 X 100D & 40D ripstop nylon
Colour Green/ grey
Options
Pelvic Form Hipbelt S, L
Other Pivoting Balance Pockets
Balance Gear Racks
Lasso-loc straps
Ski Straps
Snowboard Straps
---
Field Tested by
Darren Edwards > www.trailhiking.com.au
As a field-tester, the reviews I prepare are based on my own on-trail experiences and represent an unbiased account of the gear I use and trust. Some reviewers will not bother to take gear into the field and will search the internet for existing reviews before writing a comparative account. If you are a retailer or manufacturer and would like me to field-test your gear please get in touch.