Field test and review – healthy tasty treats
Field tested – 24/07/2022
There's and old saying, "an army marches on its stomach", suggesting that to be effective, an army relies on good and plentiful food. The saying speaks to the importance of being well-provisioned with the right food, which is important for any hiker. If you are just heading out for a few hours then to be honest, it doesn't really matter what you take. Day hikes and multi-day hikes require a bit more planning to maintain your energy levels.
When we're pushing our bodies so much, it's important that we eat well. The problem is carrying it all. If pack weight and space wasn't an issue, I'd probably take plenty of fresh fruit and veggies with me, but it's simply not practical. This means that many hikers rely on dehydrated food, dried food, energy gels, energy bars, trail mix etc.
I tend to snack regularly when I'm hiking. I keep bars, dried fruit, or other snacks within reach, generally in the pockets of pack's hip-belt. Hunger is a delayed signal – it arrives only after your body's energy reserves have become depleted. That's not a problem when you're lying on the couch or are out hiking for a couple of hours, but if you're walking all day, its good to snack regularly to avoid letting your gas tank run low. Small snacks often will keep your energy level up rather than waiting for a big lunch after you've emptied your body's reserves.
What should I look for to keep energy levels high?
Fats, carbohydrates, and protein are all important to give you plenty of energy and to keep your diet balanced when hiking. Carbohydrates are particularly important for high-intensity hiking. Carbs are the body's preferred primary energy source while hiking and bushwalking as they are easier for your body to process than fats or protein. A general guide, I try to consume around 30 to 60 grams (120 to 240 calories) of carbs per hour. There isn't a simple rule for everyone but as a guide, the average hiker can burn between 3,000 and 5,000 calories in a day. If you don't consume enough carbs, the body will burn muscle protein and stored body fat.
The number of calories you burn when hiking can depend on your body weight, fitness level, intensity, pack weight and terrain. Having a rough idea of how many calories you'll burn on a hike is useful for figuring out how much food you'll need to take to keep you properly fueled and energized. The higher the intensity of an activity, the more you should look for carbohydrates over fat, because carbohydrates can be burned for energy faster than fat. The trade-off, however, is that since fat typically contains more than twice as many calories per gram as carbohydrates or protein, the more fat-rich items you include the less weight you need to carry, so you probably want a mix of high-fat and high-carbohydrate food.
What food should I try to avoid?
It sounds obvious and is not always possible but try to avoid food with too many artificial ingredients, such as processed sugar (natural sugar isn't necessarily bad). Some cereal/muesli bars have more processed sugar than a chocolate bar, which will give you a brief spike in energy, but the brief sugar rush is not going to sustain you for hours.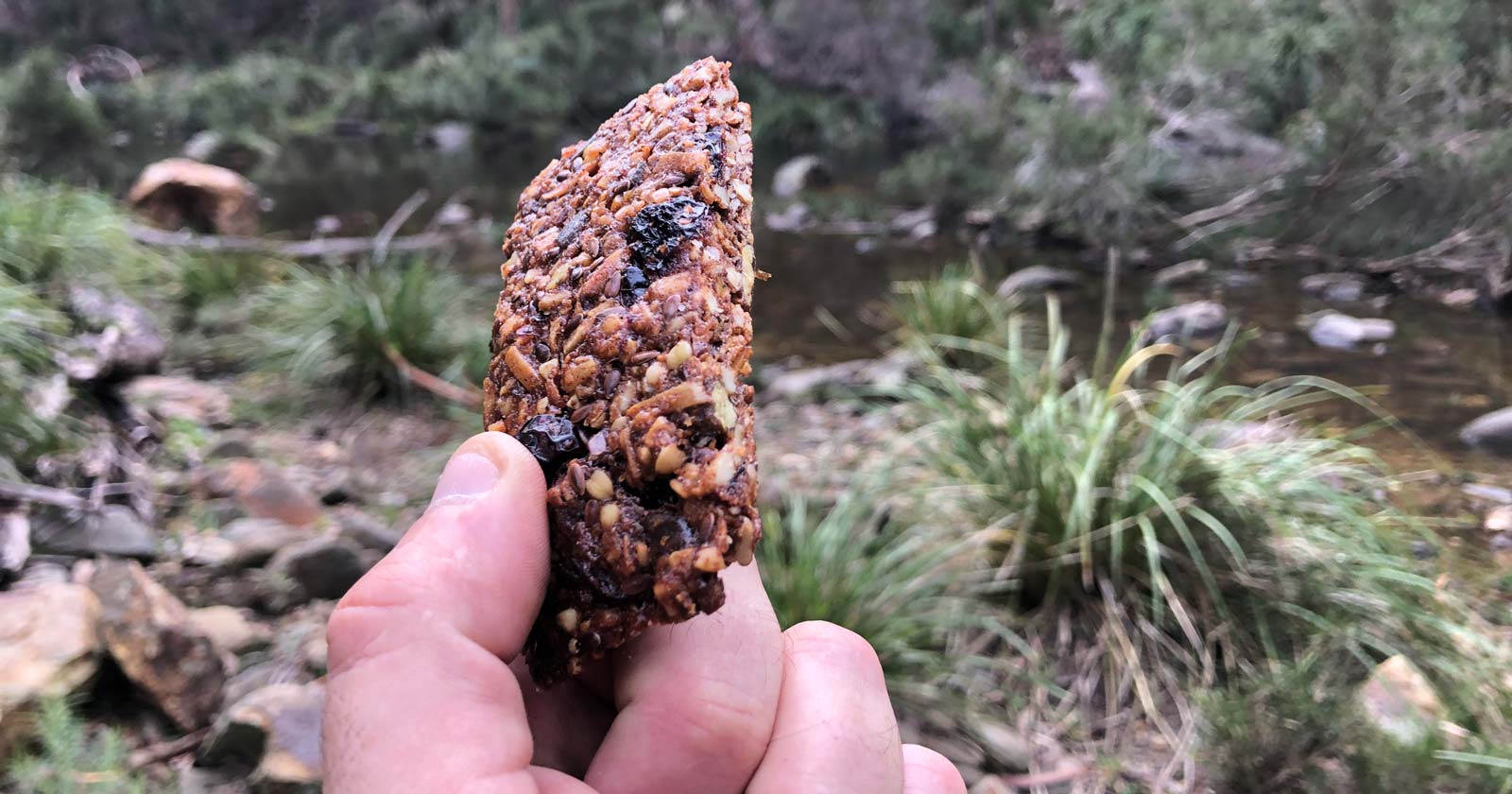 What are Darl Bars?
I was recently contacted by Joel from Darl Bars. He and his wife live in the Byron Bay region of NSW. As the story goes, they were sitting around at home one lazy Sunday afternoon, chatting about snack foods and how it's so hard to find one that's healthy and delicious. They came up with the idea of making their own and started throwing a heap of varied ingredients into a mixing bowl. After 286 recipe experiments, they were finally ready to bring them to the world. If you are wondering where the name came from, you can read the tale of Thanks Darl here.
Joel sent me a few packets, of each of their flavours, to take out on the trail so I could let him know my thoughts. A bit more background first.
Darl Bars are handmade with activated, slow roasted chickpeas, organic seeds, and fragrant spice blends. They are baked with a touch of organic brown rice syrup and macadamia oil to create a soft, melt in your mouth 'darliciousness'.
According to the Thanks Darl website, their purpose is to "create nourishing treats for hungry bellies. Treats so 'darlicious' that you'll want to tell your friends, neighbours, yoga buddies & even your postman about them".
Joel and Laura now have 5 flavours – Caramel Pecan, Dark Chocolate & Hazelnut, Turmeric, Chai, and Dutch Cocoa & Sour Berry.
Darl Bars are great for hiking, cycling or kayaking because they are high in carbs, protein, low in sugar and are vegan and gluten free. Using ingredients like pumpkin seeds, sunflower seeds, chickpeas and puffed rice means that each bar is like eating a meal. Joel and Laura focus on using premium Aussie grown ingredients like macadamia oil, chickpeas and pecan flour, and they source pumpkin seeds from the only growers in Australia.
Homemade bars for hiking – how did they go?
This small, calorically dense bar has five servings per pack that add between 180-200 calories and around 40 grams per serve to my pack. When combined with other food I take on my hikes, this provides plenty of energy with not a lot of extra weight.
The texture of Darl Bars ranges from fresh crunch to softer consistency (that can get stuck in your teeth) and there's not a hint of unnatural aftertaste (The turmeric bar has an aftertaste but it's not unnatural). My flavour preference is Caramel Pecan, closely followed by Hazelnut & Dark Chocolate, Hazelnut & Dark Chocolate, Dutch Cocoa & Sour Berry, Chai then Turmeric last. There's certainly nothing wrong with the turmeric bars, it just not a flavour I really enjoy. When checking out their online store just now I did note that the Chai flavour is not available and seems to have been replaced with Cinnamon Almond which does sound like a tasty alternative.
Price wise, you are looking at $16.95 for a pack of five bars or you can grab five packs for $75.95. Darl Bars certainly aren't as cheap as something you might grab off the shelf at Coles but keeping your energy and nutrition up on the trail shouldn't always be about price. When some of us pay $800 for a tent, and a lot of the food your buy from the stores is filled with artificial ingredients, $3.39 for a tasty organic snack that keeps you going on the trail is not a lot to pay.
Darl Bars has all the nutritional ingredients I could ask for in a healthy trail treat. The fact they are handmade by Joel and Laura, while singing to musical hits from the '70's, adds a unique and person flavour. So, thanks Darl for bringing these to the world. Final note, I tried hopping on one leg and reciting 'thanks darl' three times to the tune of David Bowie and no Darl Bars fell from the sky. I think Joel and Laura are pulling my leg.
If you are looking for something, homemade, healthy, and truly Aussie, give Darl Bars a try. You'll find them at www.thanksdarl.com.au
I'd love to hear what you think.
---
Field Tested by Darren Edwards > www.trailhiking.com.au
As a field-tester, the reviews I prepare are based on my own on-trail experiences and represent an unbiased account of the gear I use and trust. Some reviewers will not bother to take gear into the field and will search the internet for existing reviews before writing a comparative account. If you are a retailer or manufacturer and would like me to field-test your gear please get in touch.