After two years of planning my brother Douglas and I found ourselves in Launceston in front of the Earthy Eats Café waiting for Cradle Mountain Coaches to pick us up and take us to Cradle Mountain. A father and son duo turned up to wait along with us – Noah was a scrappy 15 year old on his first multi-day backpacking trip and Dean was his father. We got to talking about the upcoming hike and I mentioned that I really wanted to bring my Hammock Bliss hammock but was reluctant due to the weight and not knowing whether or not I would be able to use it.
I was intending to leave the hammock with some other luggage we were picking up AFTER the trek. I then mentioned that I was the Chief Relaxation Officer of Hammock Bliss. Somehow a deal was struck. Noah said he would carry the hammock for me in return for my sending him a full hammock camping set up after the end of the trek. The hammock I had brought was the Hammock Bliss Sky Bed Bug Free (SBBF) which is about 850 grams and a set of Deluxe Cinching Tree Straps weighting about 230 grams. Together it was almost a kilo that was an extra kilo I did not want to carry. Noah thought it was great deal as he would end up with a hammock set up worth about $300 and did not seem at all concerned about the weight. Dean & Noah were meant to doing the track over 8 days and my brother Doug and I were meant to be doing the standard 6 days and 5 nights. We agreed that I would get to use the hammock the first night, I would set it up for Noah to use the second night and then we would sort out the rest of the trip after night two.
Day one of the trek was the most difficult of the 6 days as the elevation gains were the most vertical and our backpacks were the heaviest. We started the hike at 9 AM the next day and we arrived at the first hut, Waterfall Valley after 6 hours. Noah and Dean had arrived an hour earlier. I was really sore and exhausted and would not wait to set up the hammock. The hut had a covered and enclosed deck area where hikers were meant to hang their wet backpacks and wet gear. This proved to be the perfect place to hang a hammock as the support beams on the roof were open and this allowed me to use the tree straps and ropes to make a perfect set up for the SBBF. This hammock is made to be used with an inflatable pad and every hiker normally brings one to use either in the hut or in their tent. I had brought my 10 cm thick Big Agnes Q-Core pad which is super insulating and very comfy. The SBBF works best with a 51 cm x 183 cm pad of any thickness and I had already used my Q-Core many times before in my SBBF. I was able to make a perfect hang at one end of the deck and then took a few photos with 12 year old Tassie Jarah as my model.
Jarah in Sky Bed Bug Free – Waterfall Hut
I asked the warden of the hut if anyone else had hung a hammock before. He said that one other person had hung a hammock on this inner deck and that a few had hung hammocks in the camping area under the trees. He said the wardens had no issue with anyone using a hammock either inside the hut or outside between trees which was great to learn as that meant that anyone else could bring a hammock on the trek and know with confidence that the rangers were happy with hammocking.
I quickly realised that there were two scenarios for hammock camping on the Overland trek.
Scenario one was using a hammock inside the huts somewhere out of the rain and weather and sleeping in it instead of on the hard bunks in the hut or the hard planks which were the tent platforms.
Scenario two was using a hammock to relax in after a long day of hiking either inside the hut or outside between trees.
After 3 to 8 hours on the trail with a heavy backpack you can get to the next hut early with many hours of sunlight left but nowhere comfortable to relax. All of the man made surfaces are rock hard and the tent platforms are all wood planks. Having a hammock to chill out in after hiking all day would be awesome.
Due to weather that can change very rapidly you are required to bring your own tent for safety reasons. In case you get stuck in sudden bad weather and cannot make it to a hut you at least have a shelter.
Due to the extra weight of bringing a hammock, it seemed that the best way to use a hammock to sleep in overnight was to use it inside the hut. That way there is no need to bring an extra rain fly.
That first night at Waterfall Hut I slept like a baby. I do not think I moved for 9 hours and the sensation of floating in my hanging bed inside my down sleeping bag was heavenly.
Dov Sleeping In Bliss – Waterfall Hut
The next morning I handed off the set up to Noah to carry and promised to help him set it up so he could sleep in the hammock on night two.
It is only about 4 hours of hiking to the second hut called Windermere. I was hiking that day with Jarah and her mother Sarah and we made it to the Windermere lake around 2 PM. I decided to go for a swim while I was still hot and sweaty while the girls decided to walk the 10 minutes to the hut first and then swim later. The story I heard was that Dean & Noah had got to the hut before most anyone else and that Noah was bored. They decided to continue hiking another 12 km to a camping area called Frog Flats. My brother Doug was at the hut at the time. Dean told my brother their new plans and they exchanged contact details. Douglas told Dean that we were taking the ferry on Lake St Clare on Day 6. Sarah and Jarah told Dean & Noah that I was just down at the lake having a swim but they were determined to push onward and the lake was in the wrong direction. By the time I got to the hut, Dean & Noah were gone and so was the hammock. My brother Douglas said they promised to set it up and take some photos. However the reason I had made the deal with Noah was so that I could use the hammock during the trek at least some of the time and so that I could take some photos along the way at the best spots to set it up. Now that Noah & Dean had done a runner and I could only hope that we met up again at one of the next huts.
Windermere Hut was nowhere near as nice as Waterfall Valley Hut. It was smaller and older and the rain water tanks everyone used were at the end of the deck which meant that it would have been more difficult to hang a hammock in that same space as I had done the night before. However there were many exposed beams inside the hut and with the tree straps and some determination I would have been able to hang it inside the hut. I would say this hut was certainly hammockable but you really needed the 200 cm long XL or Deluxe Tree Straps to make it work.
Day Three was the longest day of the trek. The hike was 17 km and it took us 8 hours. However New Pelion Hut was by far the newest and nicest hut and was ideal for hammocking. There was a large deck all around the hut, a huge separate area for cooking and 4 separate bunk rooms for sleeping. The ideal place to hang a hammock would have been on the deck at the corner. The beams were all open and exposed and it would have been a super easy set up to hang a hammock in the corner with a stunning view of the valley but well out of the rain. I was so wishing that Noah and Dean might be there but they were nowhere to be found. No one on we met on the trail had seen them and no one in the hut had either. Where had they gone?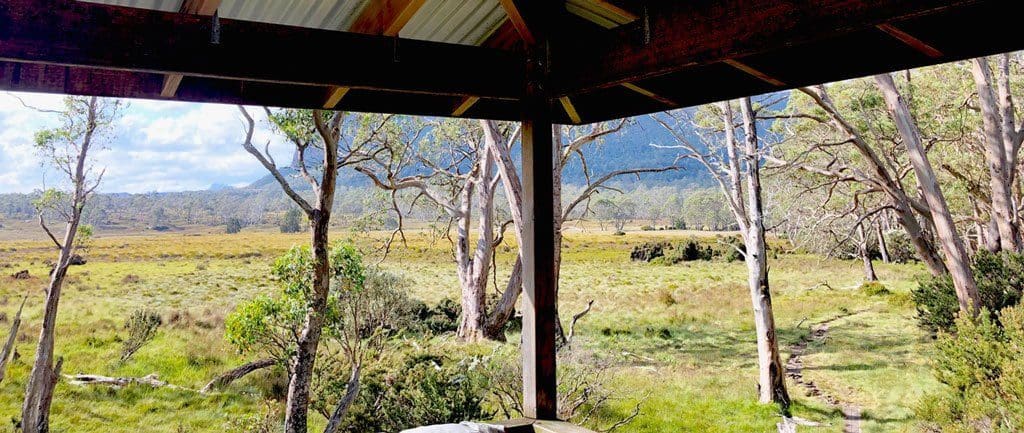 New Pelion Hut – exposed beams in corner perfect for hammock set up
New Pelion Hut – long open covered deck – hammock corner at the end
Day Four ended up in Kia Ora Hut which was a bit like Windermere. However in this hut you could more easily hang your hammock in the backpack deck and this hut had huge exposed beams inside which would have made it quite easy to do a hang from the beams. I spent that night in my tent on the tent platforms dreaming of my cosy first night in the Sky Bed Bug Free.
Kia Ora Hut – Great Exposed Beams To Hang A Hammock
Day Five found us at the newest and most modern hut called Bert Nichols. This hut had large and expansive spaces with separate bunk rooms and a huge kitchen area. The best place to hang a hammock would have been in the large room with drying lines as this room conveniently had sturdy eye hooks in the walls. Again Noah & Dean were not there and even the ranger of the hut had not seen or heard of them?
Bert Nichols Hut – Drying Area With Eye Hooks
Our final day of the track was a four hour hike to Narcissus Hut and then a ferry ride on Lake St Clare to the end of the trek. Some people opt to hike along the lake which is a full extra day of hiking. We had booked on the 2:30 PM ferry which meant we had a leisurely 4 hour walk in the morning and then had a swim in the lake before waiting for the ferry to arrive.
I got on the ferry and was shocked to find my hammock sitting on the shelf next to the captain. The captain claimed someone had handed it to him just before he left and he had no idea who, what, where, when or how. It was only once we arrived that I found out the story. Noah & Dean were a full 2 days ahead of us, had done the entire trek including the lake walk in 4 nights, spent one night in the lodge at Lake St Clare and had taken a bus out before we arrived. They had given the hammock to James (a fellow hiker) who had arrived on the earlier ferry and asked him to give the hammock back to me.
Later I found out that Dean and Noah had spent a night at Echo Point between Narcissus Hut and the end of the track at Lake St Clare Lodge. Noah took some great photos of Dean in Sky Bed Bug Free at the Echo Point beach which is meant to be a much better place to camp that in the old and tiny hut.
Sky Bed Bug Free at Echo Point
Echo Point Beach – Dean In Sky Bed Bug Free Laying On The Netting
The mystery of what had become of the Noah & Dean & the missing in action hammock was finally solved
You can be sure that my getting Noah to carry the hammock did not turn out as planned or as I hoped but I did get one night of pure hammock heaven on night one at Waterfall hut and happily Noah & Dean were able to enjoy some bliss along the track as well. Noah seems pretty stoked when I sent him a SBBF, XL Rain Fly and Deluxe Tree Straps as promised.
I also know now what I would recommend if you want to use a camping hammock on the Overland Track.
If you want to sleep in a hammock at night in the huts I would recommend either the Hammock Bliss Sky Bed at 660 grams or the 850 gram Sky Bed Bug Free. The Sky Bed is the version without the attached net which may not be needed at night when hanging inside the hut. This hammock has the dedicated sleeve for your inflatable pad which you already have brought with you and provides both insulation from the cold and a super flat lay. I would also bring either the XL Tree straps (142 grams) or Deluxe Cinching Tree Straps (245 grams) which are both 200 cm in length as these would be needed to hang from the relatively high beams in the huts. All tree straps come as a set of two straps.
If you want to bring a hammock just to relax and chill after a long day of hiking to hang either inside the hut or between trees I would bring either the Hammock Bliss Ultralight (380 grams) or the Hammock Bliss Single (485 grams). I would also also bring either the XL Tree straps or Deluxe Cinching Tree Straps as the straps make it much easier to attach the hammock to trees.
Now let's get going hammockers of planet earth and show the world that the Overland Track is a perfect opportunity to float in bliss above those hard wood platforms.
Contributed by Dov Fraser, Hammock Bliss