Trip Report by Michael O'Loughlin – April 2023
First Attempt May 2022
Day 1 – Mt Buller to 8 mile flat (May 2022)
We woke excitedly to almost freezing conditions surrounded by a cloudy fog with a gentle intermittent rain. It felt cold and our breathing was visible in the icy air. We'd worked hard at getting prepared physically for this hike and had travelled to Victoria from Adelaide the previous day. Adelaide is much flatter than the Victorian High Country so we'd been doing lots of repetitious walks on a couple of hills we thought would stretch us enough (200m ascent over 1km Brownhill Creek and approx 500m ascent over 4km, Mt Lofty). Both were not comparable in difficulty to what we'd experience in Victoria. However, repetition allowed us to be sufficiently ready for this challenge. In spite of the weather, we walked to the Buller summit and saw very little beyond 100m away. Sometimes you have to do stuff just to say you have!
We then found the start of the 4 Mile Spur and excitedly started down it. A couple of us slipped over on the way down but fortunately there were no injuries of note. The ground was wet, slippery and difficult and it took us far longer than we expected to reach the bottom. A lot of the spur was characterised by being surrounded by trees but there were also some places where there was exposed and fairly steep rock and that made it more challenging.
Most of us carried water shoes to traverse the river although I didn't. It was a little over knee deep, quite slippery and the biggest challenge was crossing it before my feet became too numb from the cold water. After the river we climbed and walked on the edge of a hill that followed the High Track and provided excellent views of the Howqua River. We arrived at Eight Mile Flat just before dark and found it to be a large and fairly flat grassy campsite that was very comfortable. On the other side of the campsite there were some 4wd campers who did their best to play loud duff duff music into the night. Our considered opinion was that they were highly inconsiderate. Lastly, we were also very surprised that the walk had taken 9 hours even though the website indicated it could.
Day 2 – 8 Mile Flat to Bluff Hut (May 2022)
This was another long but enjoyable day. We worked our way to Refrigerator Gap before the much steeper ascent up the Bluff. The walk prior to Refrigerator had excellent views and was a relatively easy walk for most. One of our team had damaged their left knee prior to the hike and by lunchtime they were having a lot of difficulty bending it. One of our strongest memories of this part of the day was regularly being able to see what was coming up (ie: The Bluff). As we climbed The Bluff, we found that it provided excellent views which were partly ignored due to the difficulty of the climb. Those with longer legs found it easier than others and it really was a test of how well prepared our leg muscles were. We did a lot of scrambling over rocks that often had water trickling over them. Near the top it was incredibly beautiful and I wish we had time to explore.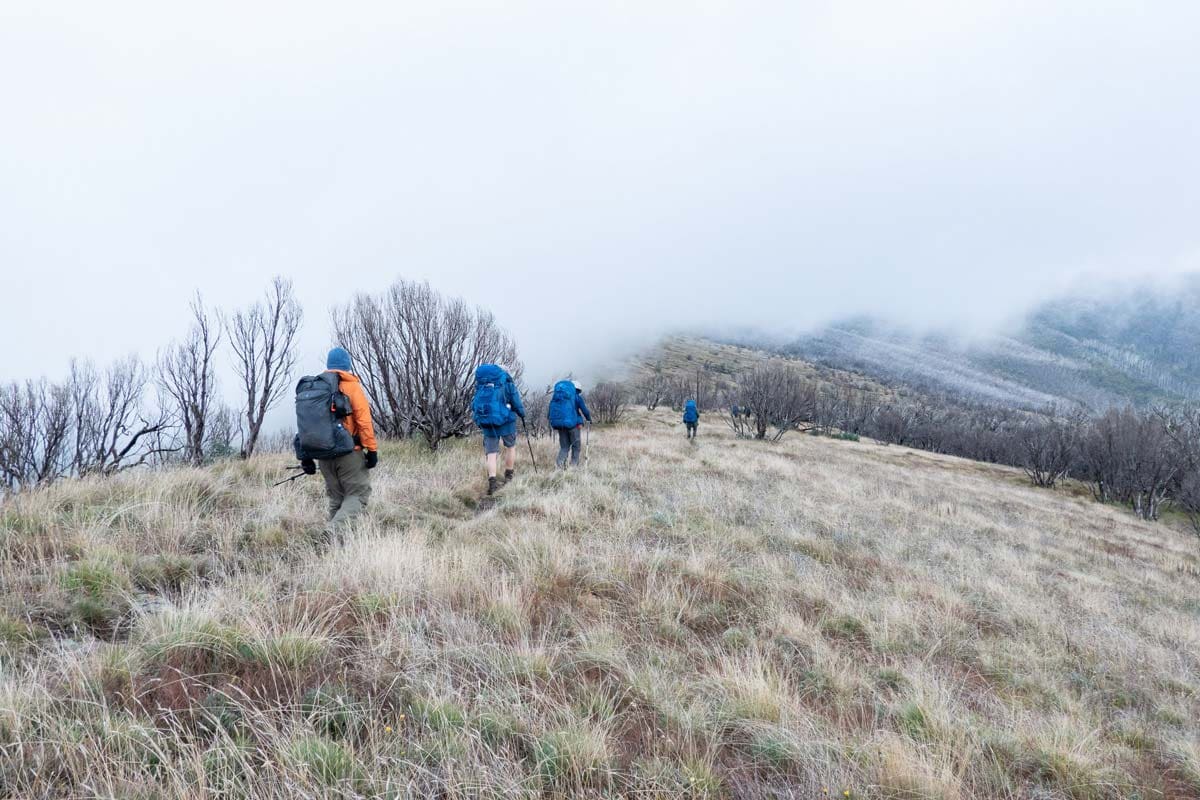 Upon reaching the top, the weather was again very cold and visibility was again very interrupted by clouds/fog. The temperature was very cold so we added layers and then followed the trail alongside the top of the Bluff towards Bluff Hut. We reached the hut as it was getting dark so ended up putting up our tents using head torches before moved into Bluff Hut to make dinner. There were a couple of random 4wd blokes in there, already with a lit fire so the hut was greatly appreciated.
Two more days in 2022 – Withdrawal Plan (May 2022)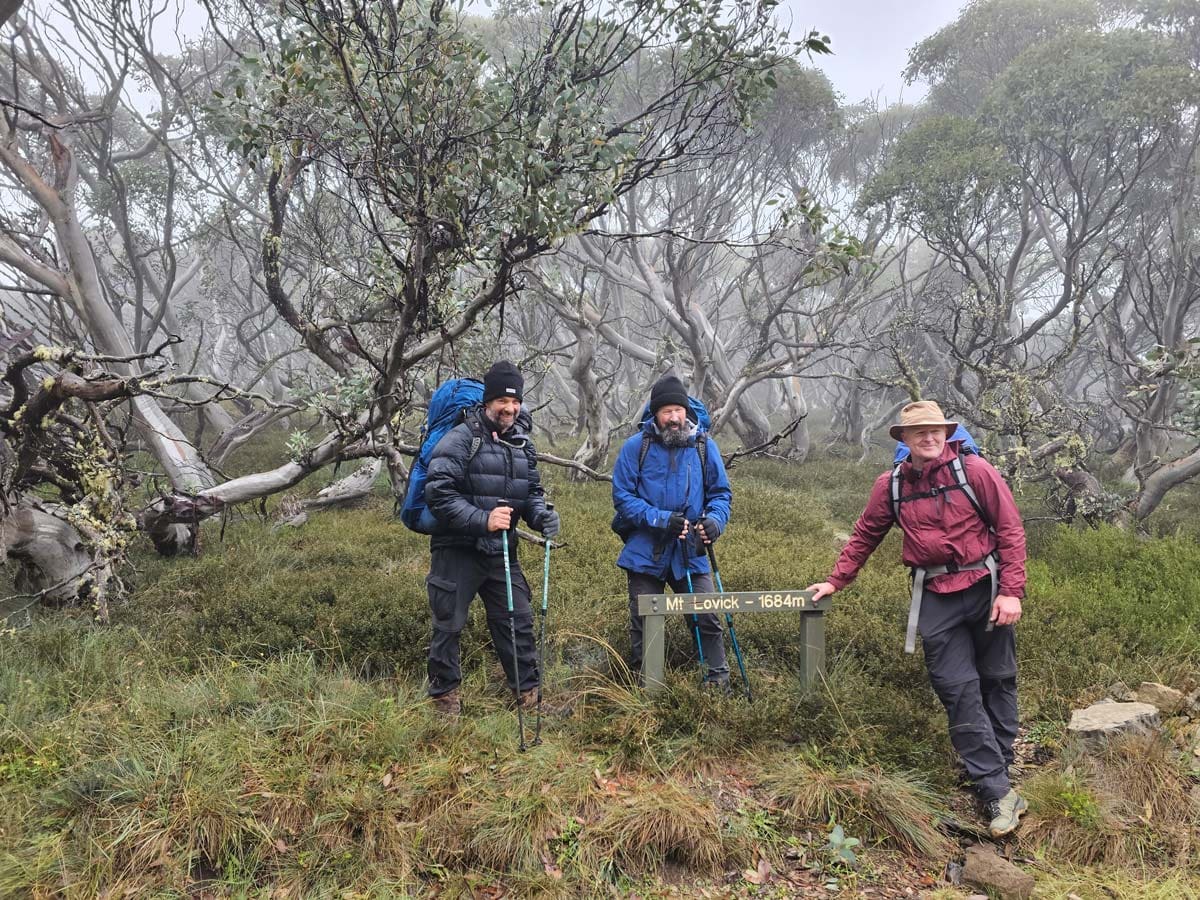 We paid a lot of attention to weather reports and how the group was going as a whole. The forecast predicted snow, sleet and plentiful rain from what would have been our 4th day onwards. We had at least one fellow who's knees were not good, making it a struggle for him, even though he wasn't the slowest in the group. We also had a couple of blokes who were not as fast as the others, especially at the steeper up or down slopes and mostly because of this, we were struggling to reach our campsites before dusk.  We are an experienced group and we made a conservative but well considered decision to change our plans and walk out. Nobody was very happy about it although we accepted that it was the right thing to do. Our group runs using a small admin group prior to the hike and a dedicated leader and 2ic on the hike.
No one envied their decision but in hindsight it was the right thing to do. Consequently on our third day we walked to Howqua Gap Hut and then to Buller on the fourth day. Pikes Flat along the way is a beautiful area alongside the river and we relaxed there for a while. The climb to Howqua Gap Hut was along a logging trail and although it had switchbacks, it was unrelenting. The fellow with one injured knee now had two injured knees, probably because he used his right leg almost exclusively to climb the Bluff. We returned to Adelaide the next day via Mansfield.
Unfinished Business
There are a lot of great places to hike in Victoria and Australia in general but we decided pretty early that we had unfinished business with the Buller Huts Trail. We reached agreement and then set out to get ready for a 2023 attempt. A few weeks before the trek we chose our trek leaders, who both don't like pulling out of anything.
Second Attempt April 2023
Day 3 – Bluff Hut to Hell's Gap (April 2023 day 1)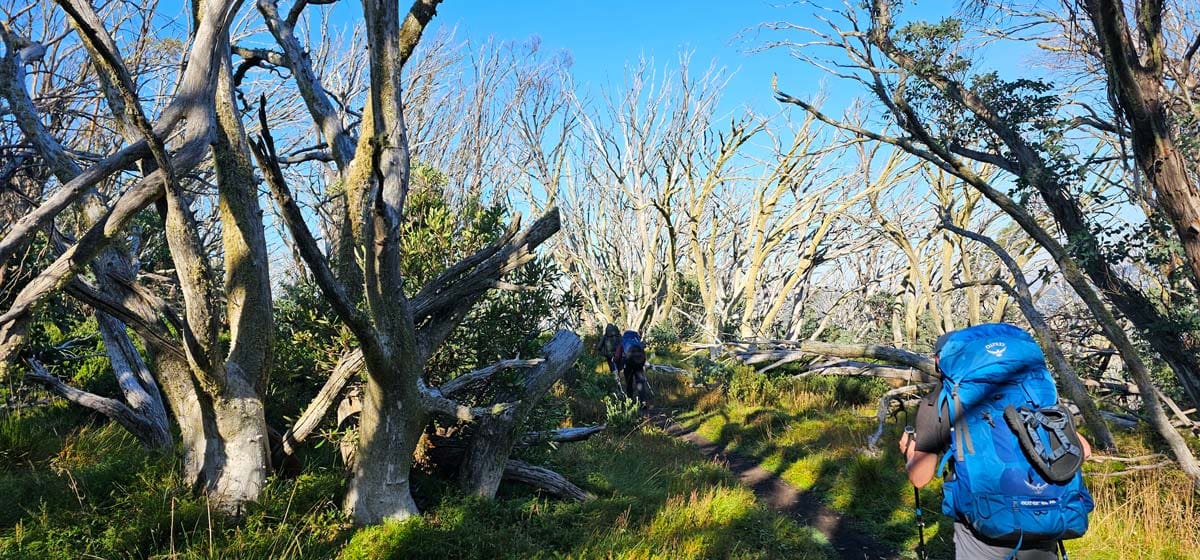 As we were continuing our hike from Bluff's Hut, we had a problem of how to get to the start point. We found a bloke called Steve from High Country Scenic Tours whom we chartered to take us from Buller to Bluff Hut the night before we walked. One of our team brought a frying pan, which was gifted to the hut, and we ate steak, bangers and (deb) potato mash for dinner, cooked over a decent fire. A short while after dark, heavy rain set in and persisted for most of the night. The forecast said it was going to be zero overnight with a maximum of six the next day, and it sure felt like that.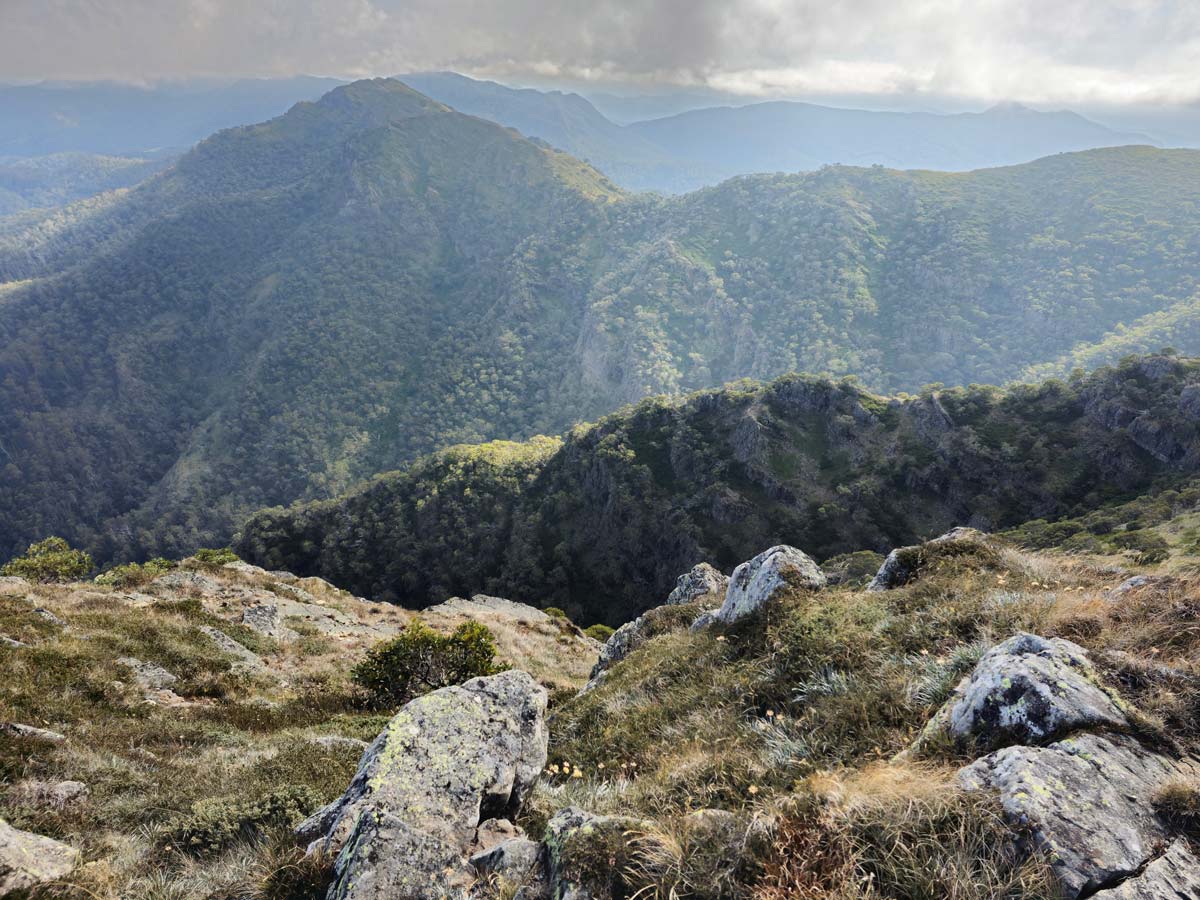 We woke the next morning to very cold weather without rain. Even with the cold, it was a really beautiful place to be. There were lots of things to see on this day. We walked past Mt Lovick and encountered a hunter and a largish group of horse riding campers at Lovick Hut. We met a very friendly fellow, Bruce McCormack of Mountain Valley Trail Rides and he took some photos of us near the hut. We continued past Helicopter Spur and Picture Point with both places having incredible views. We proceeded to King Billy Tree which is a unique and historic tree due to its age and its size and we had morning tea nearby. Our plan was to walk to King Billy No 1 and 2 but visibility was still poor so after reaching number 1 we turned around and continued back to Mt Magdala.
The path to King Billy 1 was tricky in wet weather with a few areas of very slippery granite and enough undergrowth that it didn't feel safe to go off path around it. One of our team slipped on the wet rocks and was fortunate to not be injured. From this point on, the sky cleared a bit and the views became better and better. We encountered a couple of snakes along the way but the ones on this day were pretty small (still deadly, but small). There were some spectacular rocky outcrops and features that are well worth seeing. The camping area at Hells Window was really pretty with gums and grass and a nice fireplace. Water was supposedly about 200m from the site and whilst that might have proven to be true on a flat map, the path to the water was persistently steep. There was no shortage of water at that spot.
Day 4 – Hell's Gap to Camp Creek (April 2023 day 2)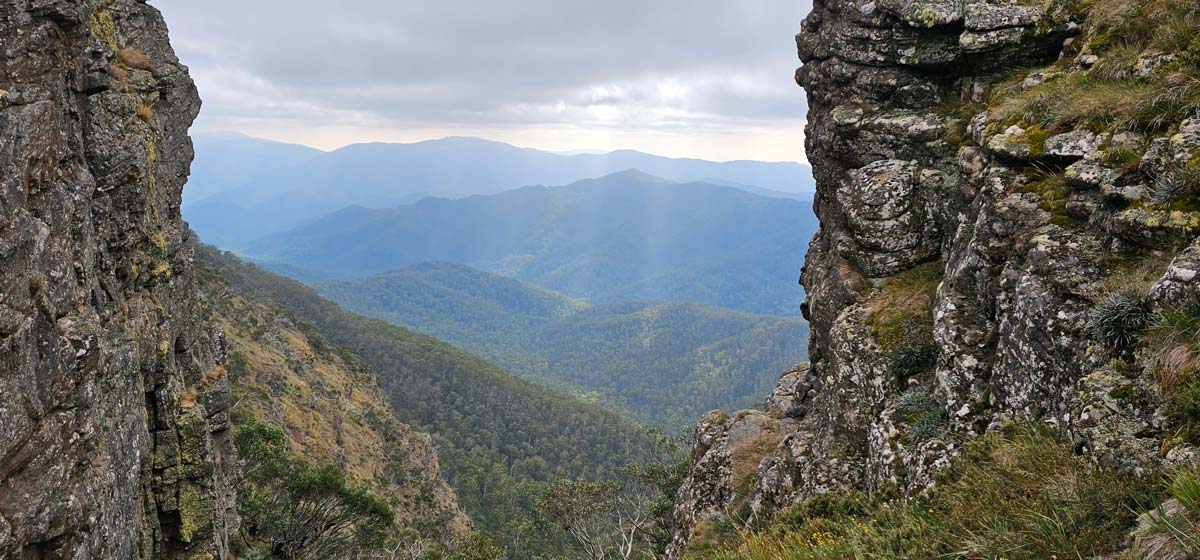 This day was awesome with some of the best views the writer has ever encountered whilst hiking. We encountered horse riders, fog, enthusiastic day walkers, and most importantly, lots of somewhat dangerous and slippery places that were completely dry. The lack of moisture later in the day on the Crosscut  and towards Mt Buggery and Mt Speculation made it a very safe walking day. Mt Buggery has an appropriate name as we seemed to be climbing it over and over without reaching the top. I really didn't like all the false impressions that it was the last little climb for this mountain when nearly always it was not. Before the Crosscut, we left our packs at the trail junction and walked with almost empty water bottles to the Vallejo Ganter Hut and Macallister Springs. It was a really pleasant spot with lots of running water, good facilities and the only problem we could see was that people had the ability to drive to it, making it not as quiet as we would have liked. On the way back to our packs we stopped to take some photos in a small area next to the track. Suddenly we heard and then experienced a surprise as seven horses and riders rode up the side of the hill and into our limited space.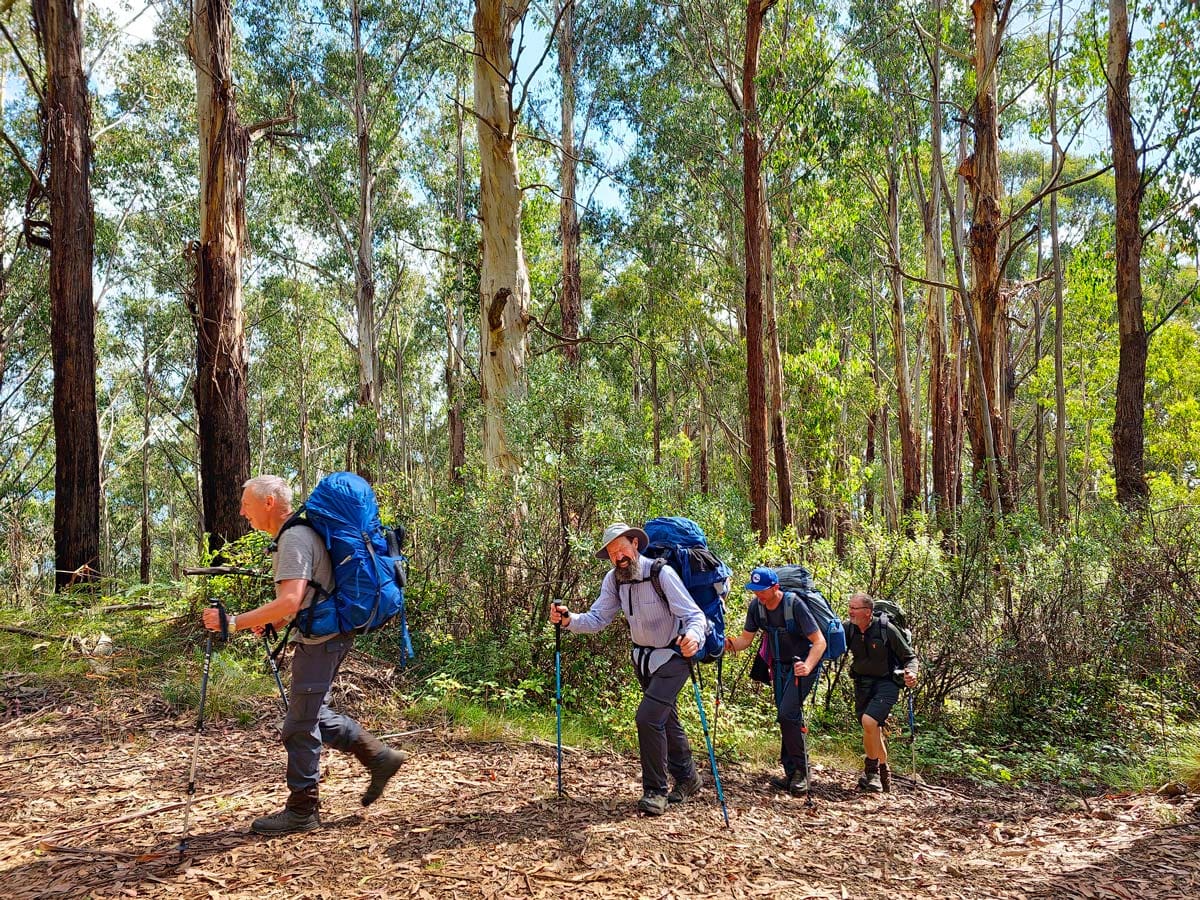 We really didn't get any warning so we were pretty happy when we realised that we had enough space to let them pass without incident. From lunch onwards we walked consistently to get to Mt Speculation. It took us much of the rest of the day and did have some quite tricky bits along the way. By the time we got to walk down Mt Speculation towards camp, we had less than an hour of daylight left but that was sufficient. Camp Creek had water nearby on both sides of the road, and underneath it in a pipe. Again, no shortage of clean running water and the campsite was nice. At that site we encountered the biggest, most obese possum that any of us have ever seen! Another feature of this campsite was that it had at least three areas where groups of campers could have camped separately to other groups.
Day 5 – Camp Creek to King's Hut (April 2023 day 3)
The weather had improved over the week and was now reaching 10-12 degrees maximum. There were areas in the sun which felt hot and there was minimal wind. We went past a large boggy area near Mustering Flat that looked like many horses had been present. The water in this area did not look safe to drink. On this day we encountered more snakes with the longest being a brown snake 1.5 – 2m long. The walk down Muesli Spur was really pleasant and was not difficult, as long as it was taken slowly. It offered excellent views but also demanded care with foot placement.
It was near a large area with many rocks that the snake was encountered and the shriek from the fellow who encountered it probably scared the snake as much as it scared the hiker. There were sufficient trees along Muesli Spur that much of the time was spent with some shade. Overall this was a really nice day's walk and it was certainly the most restful day for the trail. After bed this night, most of us heard what must have been a large pack of dogs howling somewhere nearby. The campsite at King's Hut was very spacious and we had several kookaburras that again looked well fed, in the trees above us.
Day 6 – King's Hut to Craig's Hut (April 2023 day 4)
Starting the day in some version of water shoes was not a normal thing for any of us. In the first 1.5km we knew we faced 5 river crossings and we all hoped that the paths between them were nice enough to not have to change back into boots each time. It turned out that other than the river itself, the path (aka King Basin Road) was really smooth. The water was flowing quite quickly but was mostly knee depth or less. The ranger at Mansfield told us beforehand that there were deeper spots in places and we found some of them. Overall, these were really easy river crossings and they made for a nice start to the day. The weather promised to reach 14 degrees and after the first couple of crossings we no longer noticed the cold. The river has a number of places just off the track where people could drive in and camp and on the day we passed, there were at least 3 groups camping there. I'm pretty sure that we would have looked out of place to the campers whilst they looked overly "first world" to us.
The road adjacent to the river was far straighter than the river itself and over a few kilometres it gained in height so when we were able to see or hear the river, it became more and more distant and much lower than us. We cheerfully reached the point where the McCormack Horse Trail was supposed to start and encountered a long and sleepy Alpine Copperhead resting in the warm sun. Apparently they are not only a really pretty snake, they are also very deadly. We struggled to find the start of the track and once on it, it really wasn't consistently close to where the map showed it to be. Usually it was up to 50m away from where the map said. We guessed that the straight lines on the maps were unlikely to be correct in this case as there certainly wasn't another trail going up that hill. The mostly narrow trail became a sustained but gradual climb until we reached Circuit Road. From there we followed the road to a small wasp infested picnic spot at the start of the Craig's Hut Walk. The walk was a nice trail which lead us to Craig's Hut, which at the time was overly popular with 4wd visitors.
We decided to continue our walk and get some of the next day's walk out of the way early. The rest of the day was again mostly uphill and we ended up gaining 1250m of elevation over 20km for the day and most of us were tired. We were also short of water so visited the locked Geelong Grammar Hut (and found a tapless tank filled with overly chlorinated water) but chose not to stay there as there was no flat ground. We proceeded to deviate from the route and walked to Bluff Spur Hut which would have to be one of the nicest hut campsites that we've encountered in Victoria. The site was beautiful with excellent views, flat and tree surrounded camping areas, water, a toilet and a well maintained comfortable hut with four spacious bunk benches. The hut had a stove/heater in the middle of the room and it provided a very cosy and comfortable place to spend some time. Shortly after heading to bed, several of us heard several gunshots which we thought must have been hunters in the area.
Day 7 – Craig's Hut to Mt Buller (April 2023 day 5)
Our previous day's extra walk meant that we got to start from the Bluff Spur Hut. It was our last day and we took our time. The weather had continued to improve and instead of following the Howqua Gap Trail, we walked on the mostly adjacent mountain bike trail called Stonefly. We saw the "Keep Dry Hut Ruin" which looked barely big enough for anyone and we really liked the gentle tree surrounded track which led to Howqua Gap Hut. It was nice to return there after first visiting it the previous year when our plans changed unexpectedly. The hut had public rubbish bins and we used them to unload the last of our rubbish. The toilet there was probably overly well used as evidenced by how difficult it was to breath if you went in. Our group was very relaxed at this point and looking forward to reaching Buller, which we did about an hour or so later.
Other Details
Our group consisted of a bunch of Christian men who in some way or another are associated with Seeds Uniting Church in South Australia. For us that meant that all participants had a Christian faith of some sort. Hiking is not generally a religious experience for most, however we did set aside time each night for one of our team to share something related to their faith. These discussions were often highly reflective of our Christian walk, the trek so far and of the speaker's faith. They were really valuable and helped keep our focus in the right place. We also shared communion on Muesli Spur during the middle of the day. Lastly, during the trek, two of our team had notable health issues, one with diarrhoea and the other with debilitating knee pain. The group gathered and prayed for them both at about 2pm on day one. The gastro stopped and the knee pain went away and wasn't noticeable after that day. We were all thankful and still in awe of the answers to prayer. The trek finished without any knee pain returning!
Summary
Overall, this was an excellent and challenging trail that we highly recommend. Much of the walk is classed as Grade 5 due to the challenging terrain and navigability and from our perspective bad weather could make this an extremely tough trail. We were pleased that we had a couple of the more difficult days with dry ground and we understood that had we had wet ground we would have had a far more difficult time. The weather for us was pretty well perfect and we hope someday to return and do the track again. We are grateful to Darren Edwards for defining and advertising this awesome and inspiring walk.
Photos by Michael Denholm, Nathan Millward, Michael O'Loughlin, Brenton Grear, Peter Maschmedt
Find out more about the Buller Huts Trail at www.bullerhutstrail.com.au