Start: Charlotte Pass or Thredbo

End: Charlotte Pass or Thredbo
Location: Snowy Mountains National Park, NSW
Keep the Trail Access info current...
2WD Access
Bitumen Road
Large Car Park
Public Toilets
Select items to indicate conditions for access to the trail.
2WD Access
4WD Access
Public Transport
Bitumen Road

Gravel Road
Steep Road
Winding Road

Speed Bumps
Vehicle Ford
Entry Fee
Large Car Park
Small Car Park

Accessible Parking
Accessible Toilet
Public Toilets


Drinking Water
Untreated Water
Picnic Shelter
Picnic Table

BBQ Facilities

Campfire Pit
Camping Area
Keep the Trail Features current...
Timber Boardwalk
Rough Trail
Undefined Trail
Alpine Region
Exposed Ledges
Rock Scrambling
Steep Terrain
River Crossings
Scenic Viewpoints
Untreated Water
Overnight Campsites
Drinking Water
Snowy Mountains National Park, NSW...
Select items to indicate features found along the trail.
Concrete Path
Timber Boardwalk

Gravel Path
Sandy Trail

Rough Trail
Undefined Trail
Prams & Strollers

Manual Wheelchair
Motorised Wheelchair
Bicycle Trail
Mountain Bike Trail
Historic Rail Trail
Dog Friendly
Urban Walk
Coast & Beach
Historic Lighthouse

Waterfalls & Lakes
Rainforest Walk
Goldfields & Mining
Heritage Walk
Aboriginal Art
Alpine Region
Alpine Huts
Exposed Ledges
Rock Scrambling
Steep Terrain
Bush Bashing
River Crossings
Scenic Viewpoints

Well Marked
Drinking Water
Untreated Water

Fishing Spots
Swimming Spots
Overnight Campsites
Trail Running
Horse Riding
Australia's Eleven Highest Peaks is a 46.8km, grade 3-4 circuit hike, located in Snowy Mountains National Park, New South Wales. The hike should take approximately 3-4 days to complete.
Hike Summary
It is very convenient that all eleven of Australia's Eleven Highest Peaks are located within the Kosciuszko National Park and all the summits are within twelve kilometers of each other (at least as the Crow flies).
The forty six (approximate) kilometre route will take 3-4 days to complete if you average about 6 hours hiking per day.
The trail generally follows the Main Range Track and Summit Road, both popular Alpine walks in their own right. The actual summiting of many of the peaks requires detours from defined walking trails and instead cross-country hiking along unmarked or non-existent trails. However only basic map to ground navigation is required to summit each peak. Poor weather could makes things a little more challenging, so it would be wise to ensure some members of your party have more advanced navigational skills.
Suggested Itinerary I would recommend commencing this hike at Charlotte Pass, where you can leave your vehicle, and hiking in an anti-clockwise direction.
If you are planning on undertaking this as a three day hike I would recommend camping in the following locations. Please also refer to the map below.
Day 1 (19.2km): Camp on the saddle between Mount Northcote and Muellers Peak. There is a reliable water source in the valley to the north of this saddle. This location can get windy so be sure to pitch your tent where you will be most sheltered from the wind. (marked with red dot on map below)
Day 2 (14.3km). On the plateau to the northern side of North Rams Head. This is a large flat area with a shallow creek and provides rewarding sunset viewing as the light falls onto North Rams Head. (marked with red dot on map below)
Day 3 (13.3km). Return to Charlotte Pass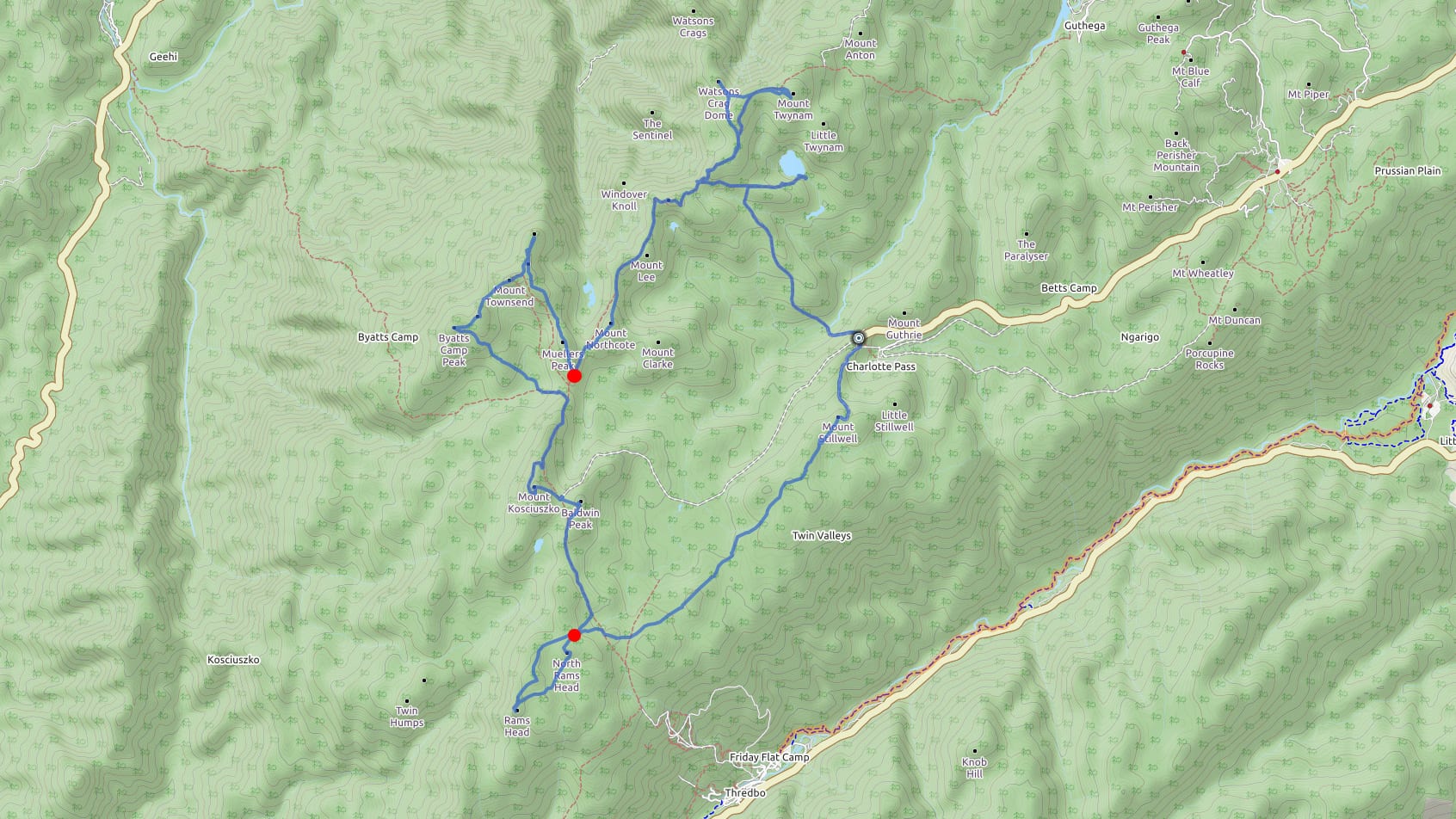 Peak Profiles (in summit order)

Mount Twynam: 2195m
Watsons Crags: 2136m
Carruthers Peak: 2145m
Mt Northcote: 2131m
Alice Rawson Peak: 2160m
Mount Townsend: 2209m
Abbott Peak: 2145m
Mount Kosciuszko: 2228m
Ethridge Ridge 2180m
Rams Head North: 2177m
Rams Head: 2190m

Getting there
The hike can begin at either Charlotte Pass or Thredbo, although starting from Charlotte Pass means the entire journey can be completed in a round-trip with the last day walking entirely downhill, while beginning from Thredbo means the last day will invariably be spent walking uphill. We therefore chose to begin our journey from Charlotte Pass and after having carried four days of food, wet-weather gear, sleeping bags, stoves, tents etc (as well as a few Easter eggs to celebrate Easter) the downhill journey on the last day was certainly much appreciated.
6 hours from Sydney
3 hours from Canberra
7 hours from Melbourne
Maps and Weather The hike is all above the tree line and does not offer much protection from the elements. Check current conditions with the Bureau of Meteorology
Purchase a current topographical map online from SV Maps
Total distance:
46800 m
Max elevation:
2215 m
Min elevation:
1722 m
Total climbing:
1966 m
Total descent:
-1966 m
Download GPX File
You need to be registered and logged in to download GPX Files. If you aren't you will automatically be redirected to the registration/login screen before being returned to this page to download the file. By downloading any GPX files from this site you agree its use, and reliance upon, is entirely at your own risk. I will endeavour to ensure the accuracy and currency of the data, but accept no responsibility in this regard, or the results of any actions taken, when using the digital route files.
Hikes Nearby
Most Popular Hikes