Have you packed enough for your hike?
Here is a summary of what I believe to be the essential items you should carry on both day and overnight adventures. Your hiking checklist. I have provided a more detailed information under preparing your pack.
Day Hike Checklist
Pack Comfortable, adequate size, line with a strong plastic bag* to keep contents dry
Sturdy hiking boots, preferably waterproof
Water bottle/s Durable. Bladder, aluminium or heavy duty plastic. Read more about hydrating and minimum requirements here
Map, laminated or protected in map case
Compass oil filled
Watch (analog is best as it can be used for navigation)
Sunscreen, water resistant SPF 30+
Sunglasses
Hat
Compact torch (windup is a good idea)
Pocket knife
Whistle
Notepad and pencil
Toilet paper and trowel
Matches and/or flint
An overnight pack liner doubles as a "bivvy bag" for an emergency shelter. Day walkers may also consider carrying a specific bivvy bag.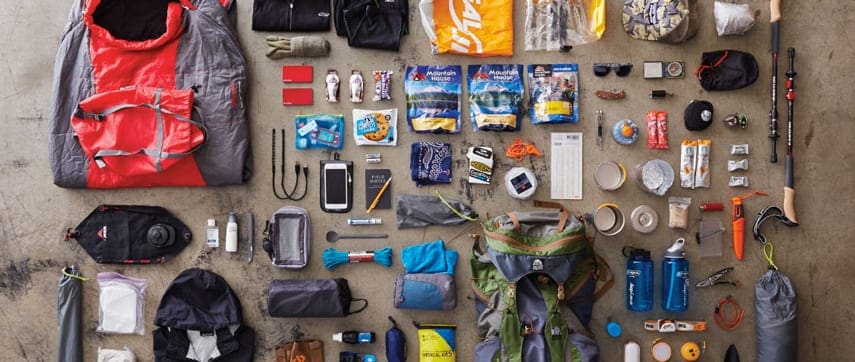 Overnight/Multi Day Checklist
All of the above plus…
Tent with fly, integral floor, insect proof
Sleeping bag, sealed in plastic bag to ensure that it stays dry. Liner sheet preferable. (in alpine areas you bag should have a sub-zero rating)
Sleeping mat or self inflating mat
Stove and billies, compact
Fuel bottle/s leak proof and clearly labelled
Matches, sealed in waterproof container
Extra water container, used wine/water cask bladder
Mug, bowl/plate
Utensils
Water purifying tablets and/or filter
Pocket knife
Spare torch batteries and bulb
Cord
Change of clothes
Warm clothing and jackets suitable for cold climates
Personal locator beacon (PLB). At least one member of your group should carry this
And if you still have room in the pack
Camera
Cards
Books
Repair kit
Candle lantern
Ideally, pack weight when sharing equipment between two people should be 13 kg + 0.7 kg of food per day.
Major items of overnight camping equipment can be borrowed or hired until you decide exactly what you need. Specialist hiking shops hire equipment and can also help with advice. Many clubs have equipment available for hire to members. Sharing equipment between walkers can considerably lighten your load.
Taking care to clean, dry and air equipment after a walk will increase its reliability and lifespan.