Field test and review
Field tested – 05/02/2018
Whether you are training for an extended trek or simply hiking on the weekends for fun, we've all felt the effects of sore muscles, blistered feet, or aching joints. Injuries such as these can prevent you from doing what you are passionate about and hamper training efforts when working towards that next big adventure.
You may be one of the fortunate who have never experienced a blister but if you hike often enough, eventually your will need to deal with hot spots, blisters or pressure points. When I started hiking I felt there must have been something special bout my feet as I never seemed to experience the discomfort that others in my hiking party did and always returned from a hike, problem free. Unfortunately, that run of good luck didn't last and my first blister covered half my heel, my socks were damp with blood and my foot was sore for weeks afterwards.
Blisters are better prevented than treated, so if you feel a hot spot on your heel, stop hiking and cover it immediately. Some people, like my wife, do this before a hike to prevent the hot spots.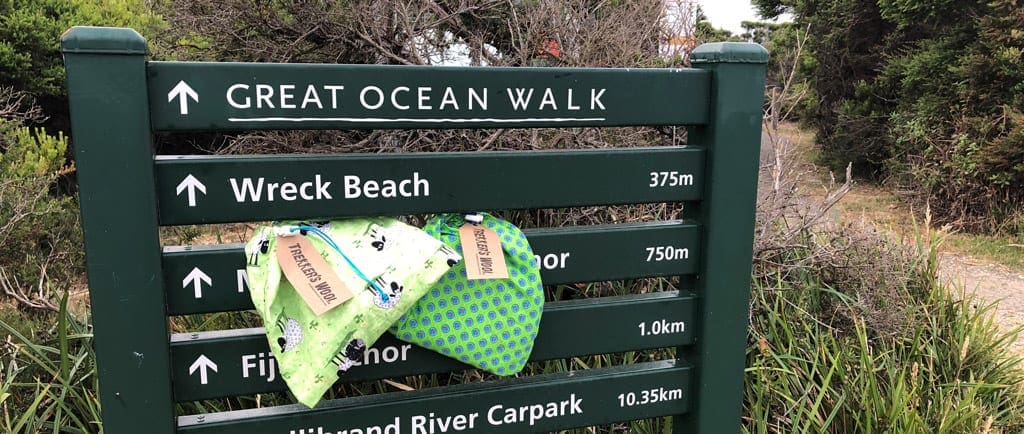 Over the Australia Day weekend of 2018, we joined a group of friends on a 3-day hike along the Great Ocean Road. We set out on day 1 from Johanna Beach in amazing weather and started the trek towards the Twelve Apostles. For the first two hours we walked effortlessly along coastal trails until I started to notice the heels of my feel were starting to get hot.  This couldn't be right, my boots were well worn in, I was wearing the merino socks I had always worn, why was I starting to feel discomfort in my feet, so early in the hike. What I believe contributed was the fact that the temperature was in the mid-30s and I was wearing my favourite gortex boots. Clearly, they weren't breathing well enough as when I removed my boots and socks to inspect, they were quite hot and damp inside from perspiration, the perfect breeding ground for blisters.
We still had close to three days of hiking ahead and already I was starting to suffer. Needless to say, I was quite annoyed with myself. Maybe I should have worn different boots?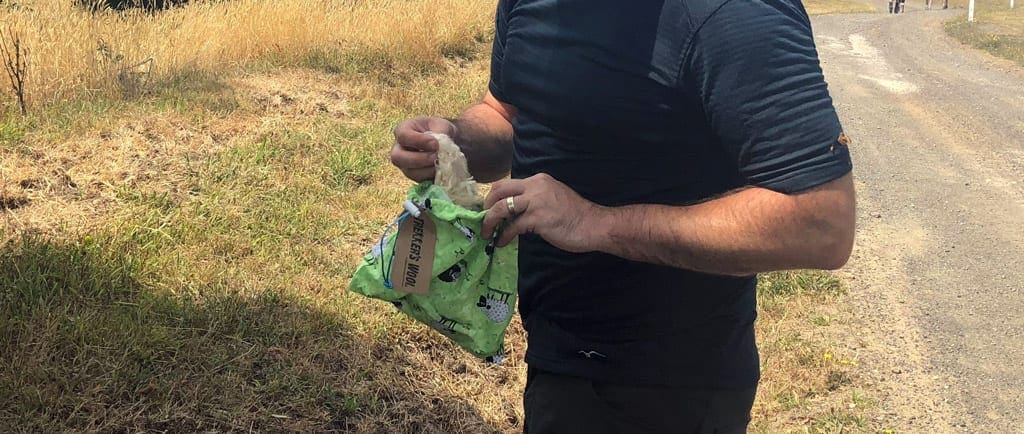 Thankfully, only a few days before our departure I was sent a few bags of Trekkers Wool to field test. I have used band-aids and compeed in the past in order to prevent or minimise the pain caused by blisters, but I had never used merino wool for such purposes.  According to Trekkers Wool, merino lamb's wool can prevent blisters, hot spots, black toes and relieve painful pressure points. The way it works is that the lanolin reduces moisture and friction; and the wool provides soft cushioning for hard working feet. It was time to see if the wool would work.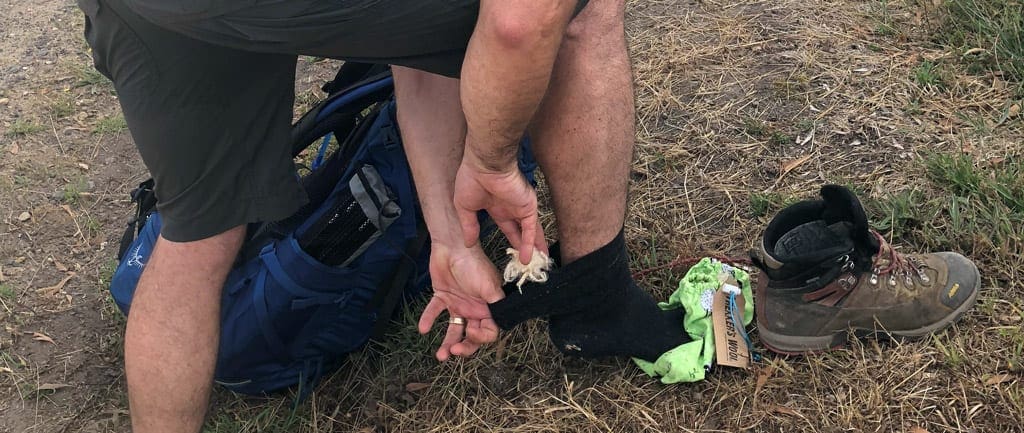 Off came my boots and out came the bag of Trekkers Wool. First appearance is that the 100% merino wool has been taken right off the lambs back. It was soft, raw and completely natural. I placed a small amount down the back of my socks and positioned it around my heel. I suspected that I would need to tape it in place but as my heels were so damp already there would have been no way the tape would hold for long. I later discovered that there is no need to tape it in position as when I inspected the wool, a little further along the trail, it had blended with my sock fibres and secured itself in place.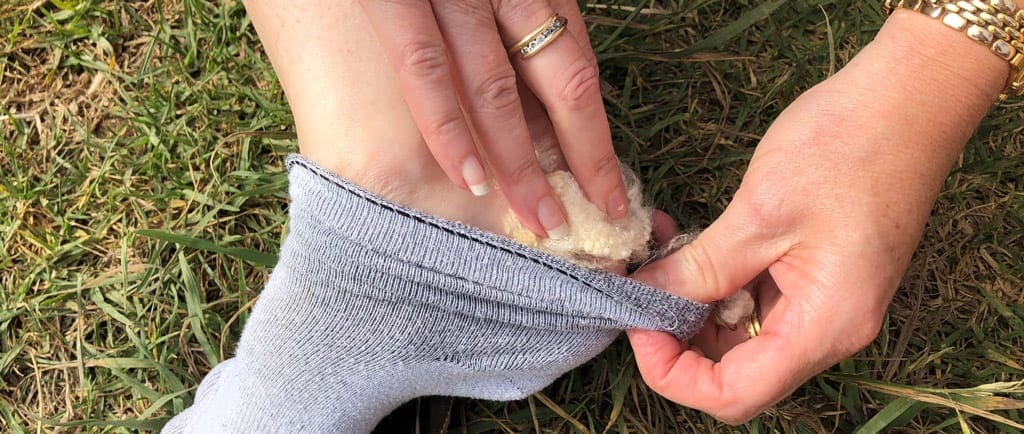 For the next few kilometres I felt no further discomfort from the hot spots, but slowly they started to creep back in. I persisted, thinking that it was not getting any worse but soon discovered that I had a small blister forming on my right heel. What to do now? Maybe it was time to dry off my feet and go back to the band-aid technique. I grabbed the bag of trekkers wool again and this time, I read the instructions. 'Place a generous quantity of wool in the heel of your socks'. Oh, I was being too conservative as I had only placed enough to cover where I thought the hotspot was. So, I grabbed a small handful of wool and strategically covered my entire heel, noting that one 30g bag should be sufficient for a 6-day hike. The way I was initially using it, I would still have had the same bag for six months.
That was so much better. For the remainder of the 3-day hike I continued to ensure that my heels were well covered, reusing the wool where possible. When we finished the hike, at the Twelve Apostles, I removed my boots to discover that not only did my blister not get any worse, it had in fact gone completely. My feet were soft and in the same condition as the moment we started hiking, three days before. Amazing.
Throughout the hike I was generously offering trekkers wool to any member of our party who was experiencing sore feet, blisters and hotspots. I think I drove them a little crazy with it actually as my answer to everything, even sore muscles, seemed to be 'put some lamb's wool on it'.
One other thing worth mentioning is that Trekkers Wool is supplied in a nicely made fabric pouch. I am a real fan of trying to find multiple uses for my hiking gear and the fact that this bag can be used again and again for carrying wool or other items such as cooking gear etc. is a real bonus.
I am really pleased that I received the Trekkers Wool before this hike as it really made the entire experience a lot more enjoyable. If you hike, I highly recommend that you grab yourself a bag and give it a go for yourself. Walking, blister free is so much more enjoyable.
Tech Specs
100% pure, natural, lanolin rich Australian Merino lambs' wool
Each bag contains 30 grams of pure, organic unprocessed Merino lambs' wool, sufficient for a six-day trek, or providing weeks of daily pain relief.
Buy direct from Trekkers Wool for $22.00
---
Field Tested by
Darren Edwards > www.trailhiking.com.au
As a field-tester, the reviews I prepare are based on my own on-trail experiences and represent an unbiased account of the gear I use and trust. Some reviewers will not bother to take gear into the field and will search the internet for existing reviews before writing a comparative account. If you are a retailer or manufacturer and would like me to field-test your gear please get in touch.