Field test and review
Field tested – 13/09/2018
There comes an exciting time in any new mother's life, somewhere between baby's first gassy smile and the holy grail of sleeping a solid eight hours in a row. It's when you realise that yes, perhaps you could get back in to bushwalking, and perhaps your tiny dictator might enjoy a bash round the woods too. However the joy of taking back up a favourite hobby can be a little stifled by finding a walk that's short enough, planning for every emergency situation, and packing a bag twice as heavy as you would have carried in your heady single days. And then you've got to find a carrier, because there's no way your new pelvis can handle rocky descents with a freewheeling baby in your arms.
I've been happily checking out the local trails with my eight month old daughter, making the most of our maternity leave and a hardy Ergobaby 360 carrier. We walk with Boots and Bubs, a keen group of Blue Mountains mums, and those with the bigger kids have transitioned from the front carrier to proper hiking backpacks. Now that my wee one can sit comfortably unassisted she's ready to join the big kids, so we tracked down a Panda Child Carrier to try out.
Panda are an Aussie company with packs designed for the harsh sun conditions we're used to here. Their packs are suitable for kids from seven months to four years old, so my daughter is pretty much as little as they get.
First impressions of the Panda pack is that it's light – really light (2.8kg, only one more than my usual hiking pack). It's also slimline and fits snug against my back and round my hips, and I can cinch baby in tighter to my shoulders so I don't have weight pulling back. I can raise the seat and tighten the sides so it's small enough for my daughter. She's pretty happy off the bat, holding on to the canopy straps and grinning. The harness is easy to clip and she can see well out the sides – our first adventure is a trot around the back garden: so far, so good.
I'm impressed by the storage, which is the most annoying thing about my front pack (nowhere to put anything, not even a drink bottle!). The Panda pack has a good size pocket at the base, the same size as a regular daypack, which is so important for the nappies, snacks and picnic blanket I need to bring for rest stops now. There is extra storage on the sides, good for stashing sun cream and snacks, and zip pockets at the waist for car keys/ phone/ GPS.
It's with some trepidation that I try the Panda pack on a proper bushwalk. We had one terrible experience with my daughter in another backpack which ended with two hours free-carrying a sick, miserable bub. But she's a bit bigger now and we've got a holiday booked in the Northern Territory that'll be the perfect trial, so we ditch the pram and check the carrier on the plane.
First outing for the pack is in Kakadu National Park, on the rock art walk at Burrungkuy (Nourlangie Rock). We start early but it's already a blistering 30+ degrees so the adjustable canopy on the pack is vital. It's been a while since I've carried anything like a hiking pack on my back and I remember how you have to build up to it feeling normal. The weight distribution is great, everything feels very secure and I'm so much more steady than when she's kangarooed on the front. Having my hands free is a dream and my balance is so much better going down hill, you'd easily be able to use walking poles for balance if that's your thing. I left my hydration bladder at home, but the pack takes one, which is awesome.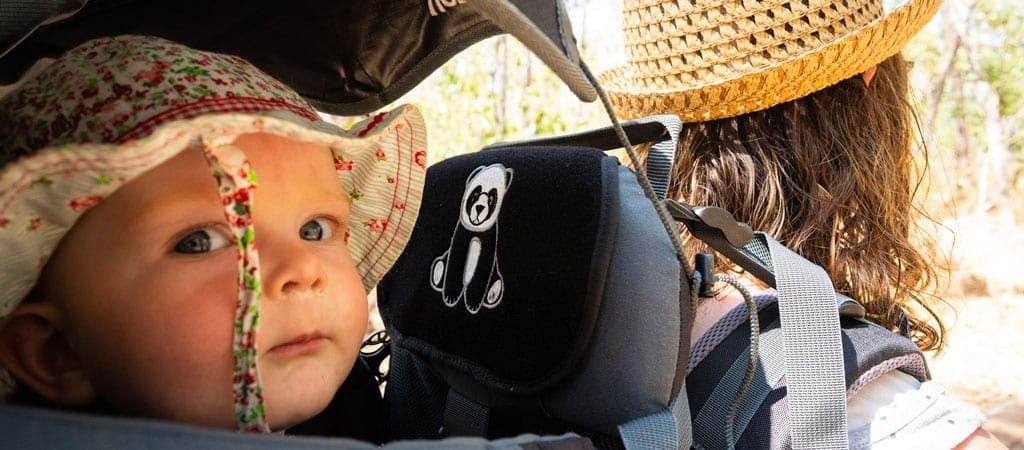 Bub is happy and after a bit of looking around she eventually falls asleep (surely the highest recommendation of all?), we need to put her hat on as the sun gets on her face when her head slumps to the side. The pack has a very cute, washable panda face-rest for tired kids but my wee one is too small to reach it yet when passed out, so she burrows into the front corner (Panda sell a sleeping cushion too). I'm counting our first walk as a success and the pack's done well in the burning heat, baby has definitely got more airflow than in a front carrier.
My partner has a crack carrying the pack in the beautiful Maguk gorge. He's a lot taller than me, but it's a quick job to adjust the back length of the carrier – a great feature for ensuring you get the most use out of the pack. It's easy to get on and off, and get the little one in and out of. We've got room to carrying everything we need, three swimsuits and towels being the most important in the NT heat.
The pack has stirrups for bigger kids and Panda stocks extra accessories including a rain cover and mosquito net. When we're home and I'm using the pack by myself I'll carry a little mirror to see what baby is up to, and I might try rigging up a battery fan for extra breeze when we hit summer. I'll also be experimenting with shade cloths to keep little legs away from the sun. There isn't much I don't like about the pack, though it's double branded with Corazon and Panda, which looks a little weird. I tested the pack over a couple of weeks and while it's really well made the fabric is ultralight and it's hard to know how it'll hold up to hard wear over time.
My front pack is still perfect for supermarket shopping (and getting an overtired baby to sleep), but I'll definitely be using the backpack for hiking from now on. It's great to get back to 'proper' bushwalking again, and now we've done some long walks, and we've been camping a few times, we might just be ready for our first overnight hike. Shotgun carrying the baby, and not the pack loaded for three!
Tech Specs
Weight: 2.8 kg
Dimensions: 63 x 26 x 33 cm
Maximum load: 20 kg
Volume: 15 litres
Fabric: Nylon Ripstop, Cordura
Buy direct from Panda Child Carrier for $390
---
Field Tested and reviewed by Laura Daly
Images courtesy of Laura Daly
Darren Edwards > www.trailhiking.com.au
As a field-tester, the reviews I prepare are based on my own on-trail experiences and represent an unbiased account of the gear I use and trust. Some reviewers will not bother to take gear into the field and will search the internet for existing reviews before writing a comparative account. If you are a retailer or manufacturer and would like me to field-test your gear please get in touch.