Field test and review
Field tested – 26/01/2021
Carrying a towel on your hikes is not essential but depending on the environment, they can be a great asset to include in your kit. It may seem unnecessary to carry a towel at all but after a few days on the trail, trust me, you will want to wash (or at least those around you will want you to). I always carry a lightweight microfiber towel on multi-day hikes, when there is a likelihood of rain, where a river crossing is required, when hiking along long stretches of our beautiful coastline. Towels provide a few functions for me.
allow me to dry my feet before pulling boots back on if I happen to remove my boots to enter the water. It is a good idea to keep your feet as dry as possible, particularly on longer hikes.
are great on overnight hikes if it has been raining all day and I need to dry off before crawling into my tent.
allow me to dry off after a swim or wash at the end of the day.
they provide a bit of padding if I need to sit on jagged rocks when stopping for a break.
What type of towel to carry on your hikes?
A regular bath or beach towel is a bad choice for hiking. They are heavy, bulky, and slow to dry.
Hiking towels differ from regular towels by material. Regular towels are typically made of cotton which dries slowly. Hiking towels are often made of polyester and nylon microfibers. They dry much faster than cotton towels and are lighter and very compressible (usually they come with a stuff sack). The microfiber towel I carry fits in the palm of my hand.
The downside to most hiking towels is they are slightly less water-absorbent than cotton towels and can feel synthetic to the touch. This aside, they are the best option for hikers and others who spend a lot of time outdoors and on the move.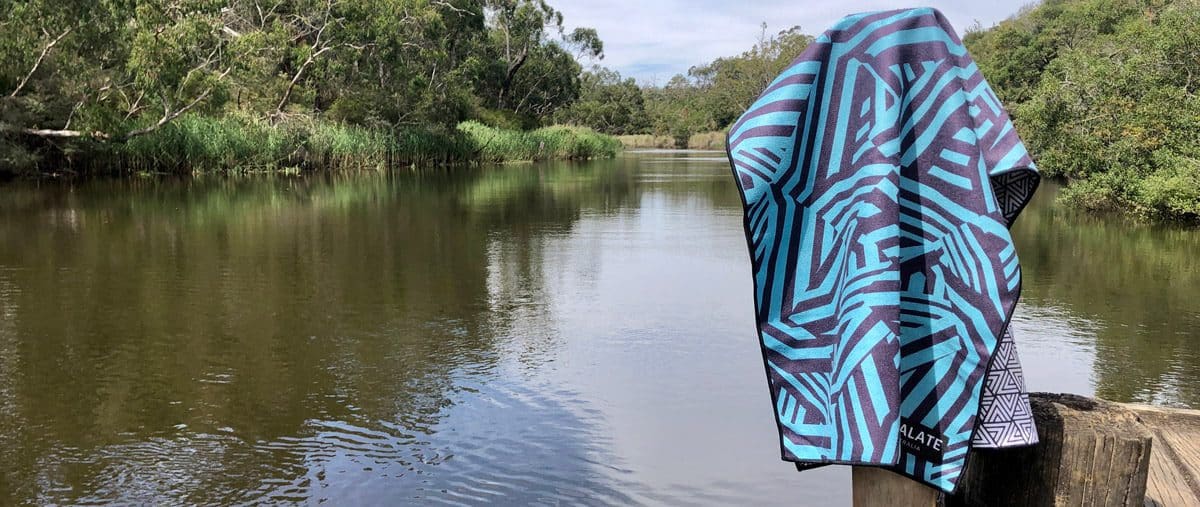 Factors to consider when buying a hiking towel?
Material
Material influences drying time, weight, and packed size so this is an especially important factor to consider. As most hiking towels are made of polyester and nylon microfibers, they are compressible, lightweight, and quick drying. The fabric usually contains modified polyester and nylon fibres which trap the water in pockets between them (polyester and nylon fibres by themselves absorb little moisture). The material allows water to be easily squeezed out after use to allow the towel to dry fast.
Dimensions
Hiking towels are available in a range of different sizes. Which size to choose depends on your personal preferences and where/how you intend to use it. On day hikes I typically carry a smaller towel (no larger than a tea towel) as it will only be used to wipe my hands, feet, and face. For overnight hikes I will often carry one a little larger as it is more likely I will use it to dry my entire body following a wash or swim.
Weight
Lightweight hiking gear allows you to move faster and easier and reduces the load on your body. So, choose a hiking towel that does not add greatly to your overall pack weight. This is particularly relevant on multi-day hikes.
Antimicrobial Treatments
Some hiking towels contain antimicrobial treatments such as Polygiene. These treatments inhibit the growth of odour-causing bacteria and allow the towel to stay fresher longer. It is important to note that antimicrobial treatments eventually get washed out so I don't really factor this a major consideration.
The field test
In late December 2020, I was contacted by Tesalate and asked if I would be keen to field test their towels. I love testing new gear so happily agreed. Tesalate have two different size towels, designed for beach or workout use. The decision to chose the workout towels for this test was based purely on the size and weight as compared to the larger beach towel.
Tesalate are an Australian owned company who design towels for Aussie conditions. Here's why they came about…
"The idea for Tesalate came to us when we were taking a hike to a secluded beach at the Royal National Park in Sydney. When it was time to head back, our towel was wet, heavy, and worst of all sandy. We started questioning if we could make a towel that not only performed much better but looked amazing too".
In early January 2021, my wife and I headed off on a micro adventure to complete part of the Great South West Walk near Portland Victoria. The plan was to hike 110km of the 250km circuit over six days, stopping in stunning campsites each night, conveniently located on the Glenelg River. This was the perfect opportunity to field-test the Tesalate Towel as we would be swimming in the river every evening. The last stretch was a 23km hike along Discovery Bay so plenty of sand to test the sand-free claim.
We were blessed with fabulous weather over the six days and found ourselves stripping off and swimming at every lunch break and evening before setting camp. We were so thankful to have the Tesalate towels along for the journey. Here's how they performed.
Material
Tesalate workout towels are manufactured using a bespoke blend of microfibre, Tesalate's AbsorbLite™ fabric. The use of microfibre means the towels are light weight, pack small and dry quickly. Over the six days, we were hiking in 30 degree heat every day so a swim before lunch and before setting camp was always on the cards.
The fabric feels like most microfibre towels, dense and a little course, but it was super absorbent and was able to get us completely dry in no time at all. Tesalate claim their towels can hold up to 1 litre of water without dripping. I didn't test this claim. I loved the fact that the fabric dried quickly too. By strapping the soaked towel to my pack, following the lunchtime swim, it was as dry as a bone by the time we reached camp at the end of each day. After the evening swim, we simply hung up the towels and they were dry again within 30 minutes. Obviously, the fantastic weather we had contributed to the drying time.
Dimensions
If you opt for the single person beach towel, you can expect the size to be 80x160cm. the double is a massive 160x160cm. We felt this was too large for hiking so carried the workout towel which is 45x100cm. I found it as the perfect size for hiking as it was large enough to be able to completely dry your body and still small enough to neatly pack away. Just don't expect it to cover all your privates if you feel like wrapping it around your body to walk around camp. We have all campsites to ourselves so that didn't matter much (although one koala didn't seem impressed).
The workout towel packs down small and I was able to roll the towel into a neat roll of 23x5cm. perfect for stuffing into my pack.
Weight
The Tesalate workout towel is not the lightest towel I own. Weighing in at 160 grams it does add a bit of weight to your pack. When compared to others on the market, it is certainly at the heavier end of the scale with other towels, of similar size, weighing in at around 100-120 grams. When compared to other towels though, it does feel licker and more durable and that is a factor to consider when using the towel for padding on rocky ground.
Antimicrobial Treatments
Thew workout towel as been treated with antibacterial tech. When you expose a moist towel to bacteria, from perspiration or general hiking grime, it provides an excellent breeding ground for mould, mildew, and bacteria. Tesalate workout towels have a safe antimicrobial additive built into the very core of the fabric. Antimicrobial means they are effective against not just bacteria but also the growth of fungi including mould, mildew, and algae. Then fast drying fabric, combined with the antibacterial features result in a towel that doesn't stink, even after our six days of continual use.
The antimicrobial treatment is a great addition to these towels, particularly if you are hiking in poor weather and have no choice but to stuff a wet towel into your pack. You certainly don't want to expose your food or other gear to additional bacteria or smells from your towel. As a side note, I always carry a small dry bag to stuff any wet gear into.
Sand Free
One of the claims that caught my attention in Teslate adverts is their claim to sand-free days at the beach. I am certain we have all struggled with the challenge of picking up our towel at the end of a day at a crowded beach and trying to shake off all the sand without giving our neighbour a face full in the process. Tesalate's AbsorbLite™ fabric is purpose-engineered for sand to slip off easily. So you can leave the beach at the beach.
We were able to test this on several occasions during our final 23km day along one of Victoria's most pristine beaches, we saw plenty of sand. Every time we stopped for a break; we would roll our towels out on the sand so we weren't inviting abrasive sand to get into our pants every time we sat down. If you haven't experienced chafing after getting sand into your pants during a long hike along the beach, then I invite you to give it a go. Not fun!
My wife and I were both amazed that every time we picked up our towels, the sand simply fell off. No need to shake or bash the wet sand off, it was just gone. We tested with dry sand, wet sand and at one point, buried the towel in the sand, hoping to dispel the claims. No sand!
Why would you buy a Tesalate towel?
After the end of our six days and 110km. We were thrilled these towels came along for the journey. We used the towels many times each day, got them wet, covered in sand, rolled them up, hung them out to dry, sat on them, stood on them, did everything you would practically think to do with a towel, and they finished the journey looking and smelling as great as they did when I first pulled them out of the postage pack.
They might not be the lightest towel available to hikers but the benefits and durability they offer certainly make them a worthy contender. They will definitely have a place in my pack when the style of hike and terrain warrants me carrying a towel.
Tech specs
Features:
Perfect size: 100cm x 45cm
Weight: 160 grams
Compact and lightweight (Rolls up to 23 x 5cm)
Ultra-absorbent
Rapid-drying, half the time of a regular towel
Handy hook, hang it anywhere
Easy care fabric:
Washing your Tesalate towel is easy. Tesalate recommend cold machine wash and simply put it out to dry. It dries fast.
(for the Workout Towel)
---
Field Tested by
Darren Edwards > www.trailhiking.com.au
As a field-tester, the reviews I prepare are based on my own on-trail experiences and represent an unbiased account of the gear I use and trust. Some reviewers will not bother to take gear into the field and will search the internet for existing reviews before writing a comparative account. If you are a retailer or manufacturer and would like me to field-test your gear please get in touch.