Field test and review
Field tested – 17/02/2017
When I first started hiking all I was really interested in was day hikes. I guess one of the reasons for that was that all I had was a day pack and the essentials that you need for day hikes of varying distance and difficulty. After a few years exploring Victoria I soon realised that I had hiked most of the day trails on offer. I know there are hundreds but I hiked every weekend so covered a lot of ground. When looking at my topographical maps I was somewhat disappointed that there were so many trails I have not yet discovered and they were all multi day hikes. It was time I pulled out my wallet, brushed off the cobwebs, and kitted myself out with overnight gear.
As you would imagine, there are so many items you have to purchase. Tent, pack, sleeping bag, sleeping mat, pillow and for course cooking equipment. So off I headed to the camping stores to see what was on offer. I had no idea what I was looking for or what I wanted to pay. To be honest I didn't even know what I was going to be cooking so just stared at all the stoves on the shelf, undecided as to what would suit. Needless to say I went home empty handed. Over the next few weeks I did a lot of research online and eventually added a stove to my cart. I still wasn't convinced though and after a lot of deliberation bought a $5 burner off eBay. Man was that a mistake. It certainly looked the part out of the box, had a Piezo ignition and everything a burner should have. The problem was it couldn't control the flame and instead or burning bright blue it threw yellow flames around all sides of my pot and consumed gas like I had just cut the top of the canister. OK, lesson learnt and I bought the stove that was still sitting in my cart from weeks before.
I loved this little stove. It was small, lightweight, compact, easy to use and heated 500ml of water in around 5-6 minutes (depending on wind and ambient temperature). It even came with its own cookset bundle that everything, even the gas canister, fitted inside.
On my first few overnight hikes I watched with a smile on my face as friends pulled their seeming massive Jetboil cookers out of their packs and proceeded to cook. I could not understand why the entire system had to be integrated, why it could not be simple like the solution I had.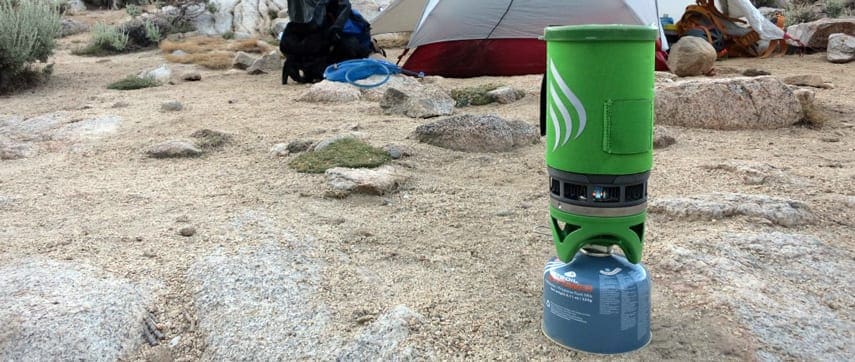 After using my cooker for a few years I was sent a Jetboil Flash Java Kit to field test.
Out of the box and fully assembled I was really impressed by the weight of the complete system. Even with the insulating cozy the weight was comparable (in fact 5 grams lighter) than my original cooker and saucepan. When buying my first burner my only considerations were weight and size. I thought they were the most important aspects and for a two-day hike these factors might just be enough. When you are hiking for three days plus the other important consideration is gas consumption. I had never really thought about this before but was faced to while we were planning for our eight-day Overland Track adventure in Tasmania at the end of 2016.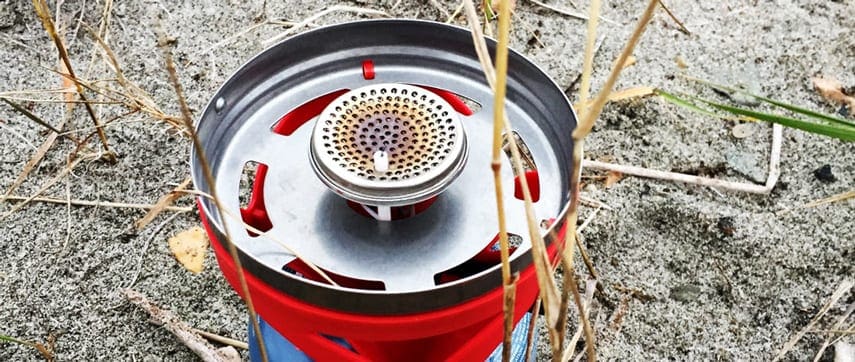 I decided to fire up both cookers and run a comparison of the time it took to boil 500ml of water. I already knew that my cooker could boil water in 5-6 minutes and the Jetboil Flash, well the packaging claimed this could be done in 2 minutes. Yeah right. So I started the test with the burners on full (you can watch the video below). True to its claims, in 2 minutes the Jetboil's colour change indicator was glowing bright orange and we were done. That cut almost a third of the boiling time which would directly translate to gas consumption. After eight days on the trail we didn't even use one canister and I was boiling water just to pass the time.
The Jetboil Flash comes complete with a Piezo ignition, insulating cozy with colour-changing heat indicator, patented FluxRing® for quicker boiling and reduced gas consumption, lid (with a pouring spout) to keep leaves etc out of the cooking cup. The cooking cup simply clips onto the burner, preventing accidental spills, and the fuel canister tripod ensures overall stability.  If that doesn't excite you then for all your coffee lovers out there, the Jetboil Flash Java Kit comes complete with a gourmet coffee press. Now how cool is that.
I did find the size of the boiling cup deceiving the first few times I used it. The cup hold one litre in volume but when you fill to the MAX line you really only have 500ml of water in the cup. This is certainly suitable for one or two people but in a group you would need to refill a few times. I felt a bit ripped off by this but quickly discovered the reason. When I filled the cup above the line the water boiled so rapidly that it bubbled over the top of the rim and out through the lid.
I have been using this cooker for several months now on both day and overnight hikes and it is simply brilliant. My poor old cooker has not seen the light of day since. The entire cooker, including canister fit inside the boiling cup for transport and all fit neatly into my day or overnight pack. In fact, it would be just as welcome in the glove box of my car. I love that the cozy has a built in handle as once your water is boiled you simply pick it up and pour the boiling water out, just as you would a jug or kettle. There I no need to dismantle anything until it cools. Cleaning is easy, just wipe it out like you would any other cook pot. Try to let it dry out before you put all the parts back in and sticking it back in your pack. Especially if it will be stored for a while.
Overall the Jetboil Flash met all of my expectations and preformed the way they said it would. I would highly recommend this stove to anyone.
Buy direct from Paddy Pallin for $199.95
Features
1.0 Liter FluxRing® cooking cup with insulating cozy
Adjustable stainless steel burner
Push-button igniter
Color-change heat indicator
Drink-through lid with pour spout and strainer
Bottom cover doubles as a measuring cup and bowl
Jetboil Coffee Press
Coffee sample pack
Able to store a 100g Jetpower fuel can
Fuel Canister Stabilizer included
Pot Support and Jetpower fuel sold separately
Tech Specs
Weight: 430g (System weight excludes fuel stabilizer)
Volume: 1 Liter (500ml liquid)
Boil Time: 2 minutes 30 sec. per 500ml liquid
Water Boiled: 12 Liters per 100g Jetpower can
Dimensions: 104 mm x 180 mm
Power: 0.9kW
---
Field Tested by
Darren Edwards > www.trailhiking.com.au
As a field-tester, the reviews I prepare are based on my own on-trail experiences and represent an unbiased account of the gear I use and trust. Some reviewers will not bother to take gear into the field and will search the internet for existing reviews before writing a comparative account. If you are a retailer or manufacturer and would like me to field-test your gear please get in touch.