Trip report: 2 August 2021
South West Cape Trek Tasmania – Summary
The South West Cape trek is a walk for experienced trekkers only.
It requires some navigational skills and map contour reading,  and bush-bashing through dense scrub, thick forest, multiple creek crossings, and mud, and over exposed ranges open to wild weather and wind.
The scenery is spectacular all along the way and you get to enjoy it with extreme serenity –  you would be lucky (or unlucky) to encounter anyone else along the trek other than one of your fellow trackers cursing and swearing when you lose the track – "How did John Bloody Chapman find his way across here?"
Be prepared for all types of weather that can change very quickly and obliterate your views to where you think you should be headed.
Scratched and bleeding arms from constantly shoving thick scrub out of your way along what loosely resembled a track. Wet boots from the mud and creek crossing when you were too lazy to remove your boots and put on your water shoes. Unpacking and packing up in the rain.
But…..
As you walk to each new destination you get breathtaking views of this untamed part of Tasmania.
Deserted beaches at New Harbour, rocky shorelines at Ketchem Bay and Wilson Bight, the view from near Mt Karamu back to the tip of the South West Cape and then north to beautiful Window Pane Bay. Exposed open ridges across the South West Cape Range with towering hills and the water filled tarns.  The view from the Pasco Range to Horseshoe Inlet and Mt Rugby.
Sitting at sunset with a hot cuppa looking out across the beach, and enjoying sunrise with reflections in the crystal clear still water at Horseshoe inlet with the mountains looking like a picture framed in the water.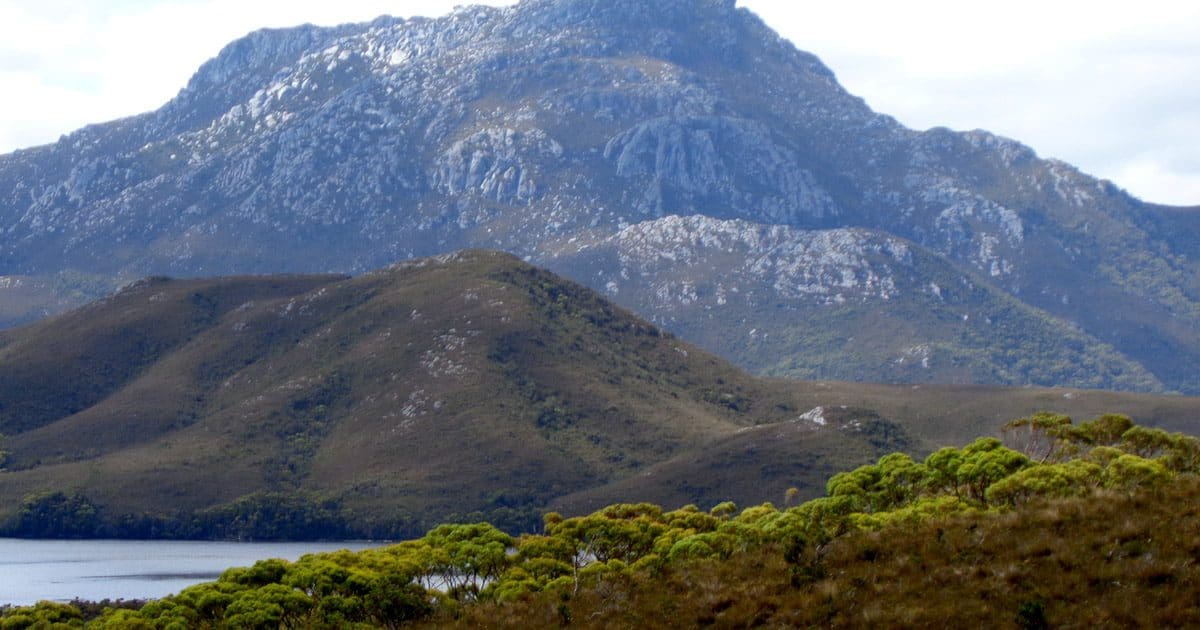 And when you finish you arrive back at Melaleuca and sleep in a bed at the huts built by the "King of the Wilderness" Denny King. Greeted by the fantastic volunteer rangers like Shannon and Chris (Great Walks magazine August/September edition), settling down and cooking meals out of the weather inside the hut and teaching Chris a new card game where he proves to be quick on the uptake.
Take a quick walk on the new boardwalk along the shoreline, then visit the museum and learn a little bit of what life was like when Denny King ruled the roost and you understand that he must have been as tough as nails.
This is a walk that will impact you so much you will never forget it. You may not do it again, but you are one of a few each year that can store it in the memory bank.
Trip Report
We have led guided tours across The Overland Track and The South Coast Track, but still another epic track beckoned – The South West Cape.
Usually we trek Tasmania in summer, and Kokoda in Winter, however Covid has thrown a curve ball and Kokoda has not happened now for two years.
We found ourselves with some time to spare in February, and decided to tackle The South West Cape. This was to be a test walk to see if we add it to our list of guided walks. There is sparse literature on this trek apart from John Chapman's bible, so this was read from cover to cover. It appeared to be an exciting walk with some challenging sections, far removed from The Overland, and more testing than The South Coast Track.
Starting at Melaleuca we followed the boardwalk towards Cox Bight, and turned right just before the New Harbour Range. So far there was a rough track to follow, but at the first swampy area we had to fight our own way through, and jumping from one swampy bit to another I went flat on my face and was covered in mud until I could part clean up at the next creek crossing.
The rough track continued to New Harbour where we came to the lagoon with what looked like beautiful grassy flats, but they are tidal and although they looked great to throw up a tent they would soon be under water. We waded the creek and walked along the beach to the campsite. We met a few campers there who did the walk as a day trip from Melaleuca, and some others who did it as a side trip, then were walking back to continue on with the South Coast Track.
Next day was to Wilson Bight, and started with a walk to Hidden Bay which involved a little bush bashing on the rough track, but it was fairly easy to follow. Across Hidden Bay, and more scrambling up the rough track climbing steeply to the top of a ridge – great views before it descends steeply zig zagging to Ketchem Bay. Here we stopped for lunch and a rest before climbing into the forest and then down to a wash station to clean our boots. We climbed to the top of the Amy Range and again we had great views back to Ketchem Bay and New Harbour – our camp for the night.
Mt Karamu beckoned on day 3 with our walk to Window Pane Bay. It started with a brief beach walk, then across a small headland to the very stoney beach which made walking difficult, then across the creek and climbing steadily to the top of the ridge. We followed open spurs to the lower summit of Mt Karamu, then lost the track multiple times, bush bashing in the general direction we knew we were supposed to go, until we found and lost the track time and time again. A right turn and more bush bashing to the top of the South West Cape Range. Here we followed the crest, with more rough bush scrub and faint tracks lost and found. We found a few tarns with water (filtered before use) then a slight descent until we met up with the old staked track which ran from Mt Melaleuca to Window Pane Bay. Following this track we descended into a forest leading into Window Pane Bay and met heavy scrub – by then our arms were cut and bleeding from the constant bush bashing and forging through rough scrub. Descent to the bay is down an awesome sand drift – very steep and better suited sliding on your backside. A walk along the beach and a creek crossing to the camp site. There is some rough bush furniture there to make life a little easier.
Day 4 to Murgab Creek started with more pushing through scrub, past the turnoff to Island Bay (easily missed) and finding and losing the track again many times. The views are spectacular all the way along, and a boat or two out in the water eases the tension a bit as your thoughts wander. We descend to the shore through dense scrub to a rocky shoreline, and cross the creek twice then climbing up a wooden rung set of steps to the campsite. Here we met a group of 3 who had spent a rest day looking to get to Spain Bay, but given up in frustration after losing the correct track (but coming across it on their way back!). Although we copped a bit of rain that afternoon it was a pleasant night exchanging thoughts on what we had just been through.
Day 5 we crossed the creek again and walked up the sand dunes to the start of the rough bush track. Here we steadily climbed and had a great view back to the bay. This was to be the worst day for losing the track – we followed what we thought was a faint track, but ended up way too far north before we turned around and tried to retrace our steps. In the end we trekked to a bit of high ground and searched for any signs of a track off to the east, then bush bashed our way slowly to where this track was sighted. You can look to where you are going and it can look like a grassy slope that should be easy going, but when you get there it is thick dense low scrub that makes walking difficult.
Filling up with water at Hannant Creek, we start the long climb to the top of the Pasco Range. After a rest, we continue east and come to the view of Horseshoe Inlet off to the north east across a set of hills. The track here is a bit easier to follow as we close in on the inlet. Access to the inlet requires finding your own way through dense scrub and forest to the water. Here we follow the shoreline to Horseshoe creek. We read that you could wade out a couple of hundred metres or so and cross the mouth of the creek, but when we tried this it started to get a bit deep so we back tracked and decided to swim across the creek. Blowing up one of our sleeping mats and covering a backpack with an extra large garbage bag, we swam with one backpack at a time across, then returned for the rest of the packs. Cold!!! We followed the shoreline for a bit, then waded across the inlet to the campsite after a long day.
Day 6 was uneventful except for all the mud when we joined up with the Port Davey Track and followed it to Melaleuca. It was great to arrive and sleep in a bed for the first time in 6 days. We met up with Shannon and Chris (Great Walks magazine August/September issue) and even taught Chris a new card game he ending up doing very well at!
Trip report and images by Wild Trek Tours