Trip Report by Darren Edwards – October 2016
One of the toughest hikes in the Victorian Alps
From a young age I have always loved exploring outdoors but it wasn't until immersing myself in the Viking Circuit that I realised just how lucky I was to be living in a state that had so much to offer.
I've hiked many times in Victoria's Alpine National Park and on most occasions someone would always tell me about the dreaded Viking Circuit. The name alone sounded threatening. Intrigued by this apparent nemesis I would often sit at my computer Googling in order to find out just how challenging it would be. Accolades such as not for the faint hearted, one of the toughest hikes in the Victorian Alps, The Holy Grail, left me wondering if I had the necessary experience to even consider such a hike.
Ahhh, why not. So the planning and trip preparations began.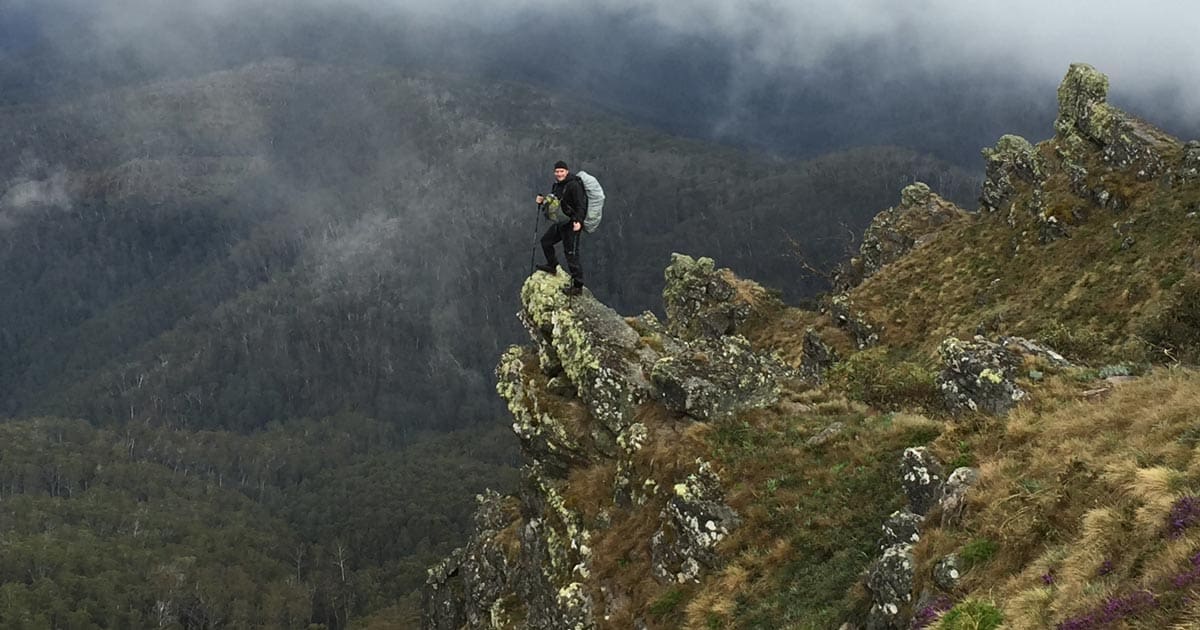 The Viking Circuit took us deep into the heart of the The Razor – Viking Wilderness, a large area of remote rugged undisturbed land. There is no vehicle access into or within the Razor – Viking Wilderness. Likewise, there are no signposts or walking track markers. Here we needed to be well equipped, self-reliant and experienced in navigation; and prepared to meet nature on its own terms. And meet it we certainly did.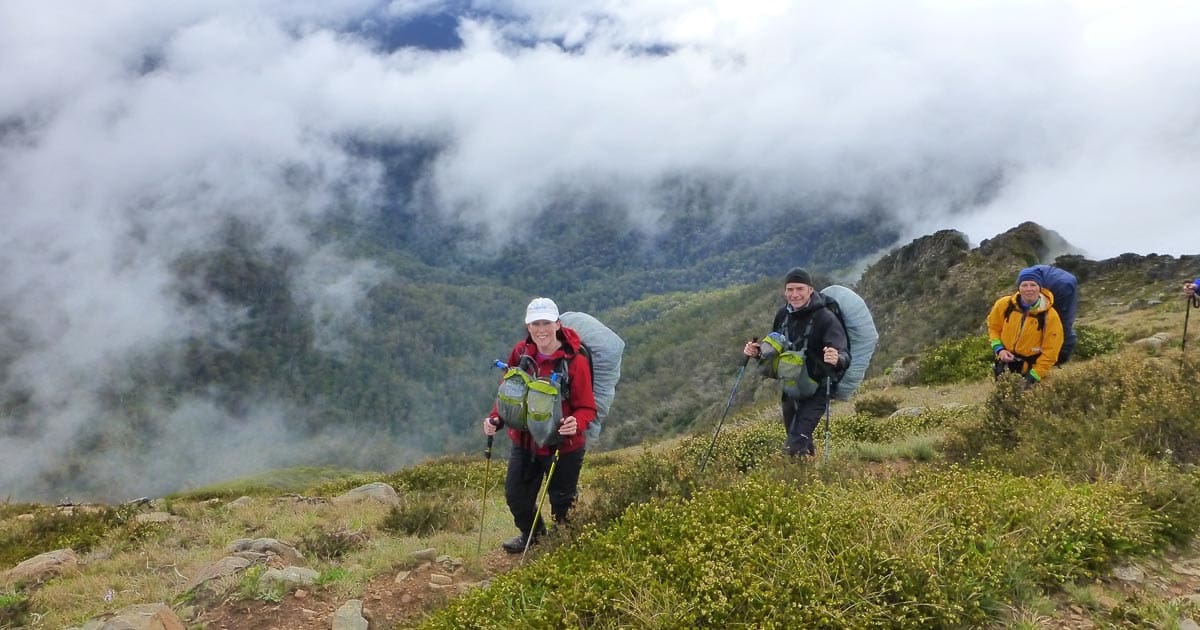 Day one started out to be a perfect day, weather wise. We headed out across the Cross Cut Saw, a narrow and rocky ridge clearly representative of its name sake, on our way to Mount Speculation. We were all happily snapping photos along the way and were in awe of the way the clouds forced their way among the many peaks on our trail ahead. What was everyone talking about? Everything could not have been more perfect.
At the blink of an eye everything changed. Clouds quickly turned a menacing shade of grey, thunder roared through the valley below and fierce lightning strobe the sky as it if was the gods themselves warning us that we had entered their realm.  We all looked at each other in sheer disbelief, how had things gone from taking selfies and giving each other high fives to scrambling frantically for our wet weather gear and wondering what on earth we were doing in the middle of this remote wilderness.
For the remainder of the day torrential rain pummeled us. Not just from above but from every angle imaginable. At times it even seemed to be coming from under our feet as we scrambled cautiously across slippery rocks and slid down muddy spurs. The entire time I'm drowning with guilt for leading a group of close friends into this war zone. On reaching our camp, late in the day, thankfully the downpour relented enough to allow us to make camp, cook a hearty meal and set a fire to dry out all our gear. We all went to bed praying that tomorrow would be a different day.
I lay silently in my tent, eyes closed, listening intently to the rumble of thunder in the distance. Was it getting closer or moving further up the valley below. I could hear the gentle patter of rain on my tent and was thankful that it didn't sound like a hose was turned on me as it did last night. Peeking out through the zipper I was excited to see that it was no longer raining. Maybe today would in fact be a different day. The storms had moved on and in their place had left a heavy fog that engulfed everything that stood more than five metres in front of us. Fantastic, no rain, no storms, no threatening lightning and no views. All this for a section of the trail that was supposed to reward us with 360 degree views of the Razor-Viking Wilderness.
For the next six hours we forged on through the fog. Occasionally a sharp breeze would force its way over an approaching saddle and offer us a glimpse of what we were missing. We all agreed that it was a reason we would have to return. But would we really want to? The hike is far from over yet.
All the 'experts' recommend this hike be undertaken in four days. As time was not on our side, given the long weekend, we were attempting to complete the 40km circuit in three days instead. What this meant was that day two would not end at the Viking Range. Instead we continued beyond the rocky sentinel and descended into the Wonnangatta Valley below. The spur we were following seemed straight forward and with the fog lifting slightly now, due to our lower altitude, we could not foresee that any challenges lay ahead. Slowly we descended, following a barely visible foot trail into the heart of the spur.
The undergrowth grappled at our legs, twisting our feet into awkward, unpredictable angles as the spur steepened aggressively. On we pushed, following a trail that was slowly evolving to become more like a goat trail than a suitable foot pad. The undergrowth thickened; maturing into a solid wall of saplings which rose up before us, completely blocking the trail ahead. With a warped sense of humour, the gods, at this moment, opened the skies to a relentless rain that fell heavily upon us.
So with exhausted legs, dampened spirits, and a longing to reach our campsite on the tranquil Wonangatta River, we fell through the bush. Stood up, took two steps then fell through the bush again. For the next three hours this was the routine until finally we stumbled onto an escarpment overlooking the river and our potential campsite. Sounds great doesn't it! The reality was that we had hiked slightly off to one side of the spur and found ourselves high above the river with nothing but blackberries below. There was no way we were turning back to find a trail that may not have existed so without further ado we carefully picked our way down the face of the escarpment. The next half hour of the day was spent stumbling along the river bed and chopping our way through blackberries until we finally found a clearing large enough for our tents. Camp was set in record time and we didn't see each other again that evening. It was a hell of a day, literally.
Day three is short in detail but not due to lack of distance. Hours of ascent from the Valley floor via the Zeka Spur. An unforgiving and unrelenting 4WD trail that winds its way, almost vertically, to the plains above. I lost count of how many 4WD enthusiasts pulled over to applaud our efforts, laugh uncontrollably, or just stare in disbelief as their vehicles clawed their way slowly into the distance. It was a tough day to end the circuit and we were all over-the-moon to finally be hiking on a man-made trail.
A finishing note…  with some inviting features such as The Crosscut Saw, Mt Buggary, Horrible gap, Mount Despair and The Viking this is not an easy hike. Over 4 days you will cover close to 40km in distance which includes approximately 2,700m of accumulated vertical ascent. Oh yeah, and all that with a full pack.
I would like to add to the accolades 'If you can handle the Viking, you can handle anything.' (Well in Victoria at least).
Want to do this hike? Find all the info here.
The Viking and Blue Hills (35.5km)