Start: Snowy Hill Car Park
Location: Yarra Ranges National Park
Keep the Trail Access info current...
Camping Area
Entry Fee
Select items to indicate conditions for access to the trail.
2WD Access
4WD Access
Public Transport
Bitumen Road

Gravel Road
Steep Road
Winding Road

Speed Bumps
Vehicle Ford
Entry Fee
Large Car Park
Small Car Park

Accessible Parking
Accessible Toilet
Public Toilets


Drinking Water
Untreated Water
Picnic Shelter
Picnic Table

BBQ Facilities

Campfire Pit
Camping Area
Keep the Trail Features current...
Alpine Region
Alpine Huts
Overnight Campsites
Untreated Water
Yarra Ranges National Park...
Select items to indicate features found along the trail.
Concrete Path
Timber Boardwalk

Gravel Path
Sandy Trail

Rough Trail
Undefined Trail
Prams & Strollers

Manual Wheelchair
Motorised Wheelchair
Bicycle Trail
Mountain Bike Trail
Historic Rail Trail
Dog Friendly
Urban Walk
Coast & Beach
Historic Lighthouse

Waterfalls & Lakes
Rainforest Walk
Goldfields & Mining
Heritage Walk
Aboriginal Art
Alpine Region
Alpine Huts
Exposed Ledges
Rock Scrambling
Steep Terrain
Bush Bashing
River Crossings
Scenic Viewpoints

Well Marked
Drinking Water
Untreated Water

Fishing Spots
Swimming Spots
Overnight Campsites
Trail Running
Horse Riding
Lake Mountain and Keppel Hut is a 21.7km, grade 3 circuit hike, located in Yarra Ranges National Park Victoria. The hike should take approximately 7hrs to complete.
Hike Summary
The Lake Mountain and Keppel Hut hike explores the outer reaches of Lake Mountain with its extensive network of well marked and maintained trails. Lake Mountain offers a range of options for exploring the resort area and the bordering Yarra Ranges National Park.
Commencing at the Snowy Hill Car Park follow the Upper Taggerty 4WD Road through alpine ash forest for approximately 6km. The road is easy to follow as it passes a number of adjoining tracks. The road heads generally north for the 6k's before you need to keep an eye out for the Gould Track on your right (see note below). The start of the very overgrown Gould Track is difficult to find at this point but the track, once found, leads up through thick bush to the well defined but also overgrown East Boundary Track. If you find yourself heading due west on the Upper Taggerty 4WD Road then you have gone too far.
Important note on this overgrown section. The bush bashing is through very overgrown bush. If you are not confident with this section remain on the road and follow it all the way to Keppel Hut. The off trail section is for very experienced hikers only. Refer to diversion map and gpx file below.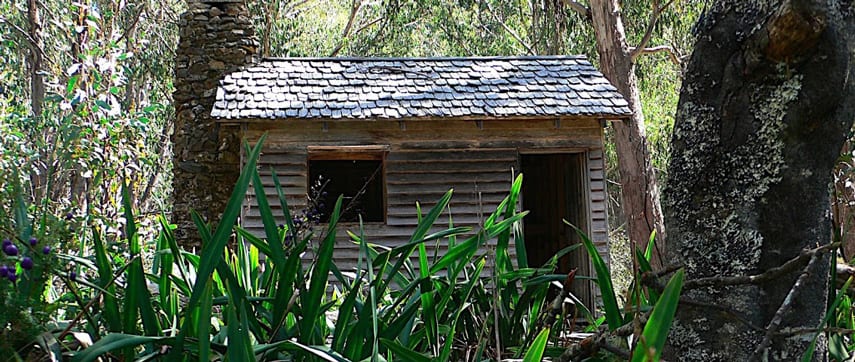 Getting there
Lake Mountain Alpine Resort is approximately a two hour drive from the Melbourne CBD, travel out through the Eastern suburbs, through the picturesque Yarra Valley then wind across the Black Spur to Narbethong and take the turn off to Marysville. Arriving at Marysville, follow Woods Point Road for 11km where you will take a left onto Lake Mountain Road. Drive a further 11km and you will arrive at Lake Mountain Alpine Resort Village. The car park will be on your left.
Tips
The quickest return route commences at Gerraty's and heads north past Melbourne lookout to Triangle Junction then to Panorama and Hut trails from
where the track to Keppel Hut is clearly marked. This track descends quite steeply in parts, with some spectacular views out towards Mount Margaret. Keppel Hut is a popular camping spot on the headwaters of the Keppel Hut Creek.
Route Described with off-trail section
GPX File
Total distance:
21714 m
Max elevation:
1480 m
Min elevation:
1078 m
Total climbing:
795 m
Total descent:
-795 m
Download GPX File
Route with diversion along road to avoid off-trail section.
(25km total)
GPX File
Total distance:
24699 m
Max elevation:
1480 m
Min elevation:
1078 m
Total climbing:
823 m
Total descent:
-823 m
Download GPX File
Hikes Nearby