Tips for aspiring wildlife photographers
Wildlife photography is spontaneous, adventurous and a lot of fun. So before you head to your next hike, make sure you have the right tools for the job. Most likely, you already have a camera, whether you opted for a mirrorless camera or a DSLR, above all, you'll need a good lens. But how much zoom is enough, and what features should you be looking for?
To help, I've partnered with the team at Ted's Cameras to answer these questions and explain how to choose the best lens for wildlife photography.
What to look for in a wildlife photography lens
Choose a longer focal length. The "right" focal length comes down to your subject, but there's no doubt that telephoto lenses are the king of wildlife photography equipment. If you tend to get close to wildlife, a telephoto lens with a range up to 200mm or 300mm might work. But if you shoot at a distance or want to make sure no subject is out of your reach, a lens in the 400mm range would be your best bet.
Start with a zoom lens
Are you new to wildlife photography? As a beginner, you can't go wrong with a good telephoto zoom lens. They're the most versatile lenses on the market, and you'll be able to choose from a wide range of focal lengths to frame the scene in front of you. In other words, the best zoom lenses for wildlife photography are flexible. Once you become more comfortable with wildlife photography, you could add a prime lens to your kit. Along with amazing image quality, prime lenses offer a much wider maximum aperture. This means you can use faster shutter speeds and isolate your subjects with shallower depths of field.
Get a weather-sealed lens
To make sure your lens doesn't get damaged while you're out in the wild, it's a good idea to invest in a weather-sealed lens. This will ease your mind while you're shooting in unexpected or inclement weather. The good news is, most high-end telephoto lenses are dustproof, shockproof and rugged.
Go for a wider aperture for wildlife photography
Prime lenses usually have wider maximum apertures, making them perfect for nighttime wildlife photography. But if you're buying a zoom lens, keep in mind that some offer a variable maximum aperture, which means they slow down as you zoom in. Others have a constant maximum aperture and produce sharper, crisper photos – and they come with a higher price tag.
Search for in-built stabilisation
Wildlife photography lenses are all about length and magnification. When you're shooting faraway subjects, keeping your lens steady is the key to reducing camera shake and ending up with blurry images. Luckily, most major manufacturers fit out their lenses with in-built stabilisation.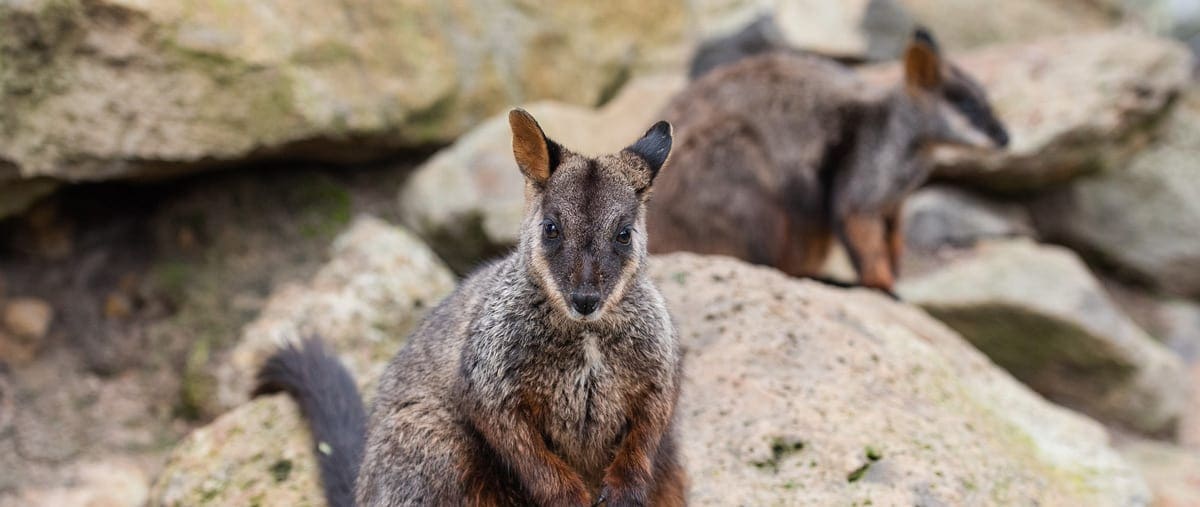 Ted's top lenses for wildlife photography
If you're serious about wildlife photography, consider buying or renting these camera lenses.
Wildlife photography tips
Now that you know how to choose the best lens for your wildlife pursuits, it's time to get out in the field!
Here's a few tips for aspiring wildlife photographers.
Be quiet and discreet
For your own safety, it's important to respect the boundaries of wildlife. Remember, wild animals are used to being on high alert and fleeing at the sign of danger, and some may not have encountered humans before. To capture beautiful, candid photos, try to fade into the background.
Remember that patience is essential
Animals won't come out of hiding on command, nor will they do something "interesting." But the more time you spend observing animals in their natural habitat, the more you'll understand how they survive and go about their lives. You'll also be able to pre-empt important moves and events that you can photography.
Shoot with other experienced photographers
Wildlife photography requires a specific skill set, and one of the best ways to learn is by watching others. Ask a professional photographer if they're willing to let you join them on a shoot. If they say yes, soak up everything they say. Chances are, they'll give you invaluable wildlife photography advice, such as how to position yourself and make the most of your camera equipment.
Experiment with different angles
Don't just take one photo of an animal and move on. Take tons! Play around with a range of angles and perspectives to see what works and what doesn't. You might discover a unique point of view on a much-loved scene.
The best wildlife photography accessories
Lenses aside, think about investing in these accessories to take your wildlife photography to the next level.
A tripod or monopod. A surefire way to end up with steady images is to mount your camera to a tripod or monopod. For wildlife photography, I recommend a tripod with a ball head or joystick head. To recompose your scene, all you need to do is loosen one lever, which is handy when you're shooting fast-moving subjects.
A pair of binoculars. Sometimes, half the battle is finding subjects to photograph. That's where binoculars can help. Peer through them to survey your surroundings and see if there's anything of interest.
A portable charger or power bank. There's nothing worse than running out of battery midway through a shoot – especially if causes you to miss "the" shot. To prevent that from happening, pack a portable charger so your digital devices are always ready to use.
A durable camera bag. Look for a lightweight yet protective bag that can fit all your wildlife photography gear. I like sling-style bags as they offer easy access to your camera.
A good camera strap. If you're spending a lot of time trekking in the wilderness with telephoto lenses attached to your camera, you might want to upgrade from the strap that came with your camera. There are plenty of comfortable options available.
Don't forget to also check my hiking checklist to make sure you've packed everything you'll need on your adventure!
While wildlife photography can be daunting – especially if you're new – I hope that these tips will make your next shoot a success.
For more expert advice on all things photography, check out Ted's Cameras blog or drop by your local Ted's Cameras store to speak to a friendly team member.