End: Mansfield / Alexandra
Location: Northern Victoria
Keep the Trail Access info current...
Click Edit to Modify
Select items to indicate conditions for access to the trail.
2WD Access
4WD Access
Public Transport
Bitumen Road

Gravel Road
Steep Road
Winding Road

Speed Bumps
Vehicle Ford
Entry Fee
Large Car Park
Small Car Park

Accessible Parking
Accessible Toilet
Public Toilets


Drinking Water
Untreated Water
Picnic Shelter
Picnic Table

BBQ Facilities

Campfire Pit
Camping Area
Keep the Trail Features current...
Click Edit to Modify
Select items to indicate features found along the trail.
Concrete Path
Timber Boardwalk

Gravel Path
Sandy Trail

Rough Trail
Undefined Trail
Prams & Strollers

Manual Wheelchair
Motorised Wheelchair
Bicycle Trail
Mountain Bike Trail
Historic Rail Trail
Dog Friendly
Urban Walk
Coast & Beach
Historic Lighthouse

Waterfalls & Lakes
Rainforest Walk
Goldfields & Mining
Heritage Walk
Aboriginal Art
Alpine Region
Alpine Huts
Exposed Ledges
Rock Scrambling
Steep Terrain
Bush Bashing
River Crossings
Scenic Viewpoints

Well Marked
Drinking Water
Untreated Water

Fishing Spots
Swimming Spots
Overnight Campsites
Trail Running
Horse Riding
The Great Victorian Rail Trail is a 134km, grade 3 one way hike, located in Northern Victoria, Victoria. The hike should take approximately 8 days to complete.
Hike Summary
The Great Victorian Rail Trail is a multi-use trail and can be explored on foot, bike or horse. This easily accessible, varied and unique rail trail offers close proximity to heritage classified rivers, majestic valleys, lakes and mountains.
Formerly known as the Goulburn River High Country Rail Trail, this is a high standard rail trail traversing undulating farmland.
From riverside wandering, to High Country hiking, the Rail Trail offers many different kinds of walking experiences.
Short walks, long walks and overnight walks are all recommended. The trail has a gentle walking gradient, but there is a good climb on the Cathkin to Alexandra section of the trail. Car parks are spaced along the trail for easy pick up and drop off at the beginning and end of your walk.
Walking is one of the best ways to see the local fauna and flora and changing landscape. The Tallarook section has shady woodland sections with the Goulburn River meandering close by. Open farmland is a feature of the trail, with vibrant birdlife in the Yea Wetlands and the Mansfield Mullum Wetlands. If you turn off at Cathkin the rolling hills and a hearty climb bring bring you to Alexandra. The approach to Mansfield takes you through Bonnie Doon and over Lake Eildon with views of Victoria's High Country and Mount Buller in the distance.
Facilities
Toilets are available at several locations on the trail. Public toilets are also available in the local towns. Several shelters with tables and seats are also available along the trail.
BBQs are available at Tallarook, Yea, Alexandra, Bonnie Doon and Mansfield.
Please carry food and water while on the trail. Read up on the trail's safety information and code of conduct.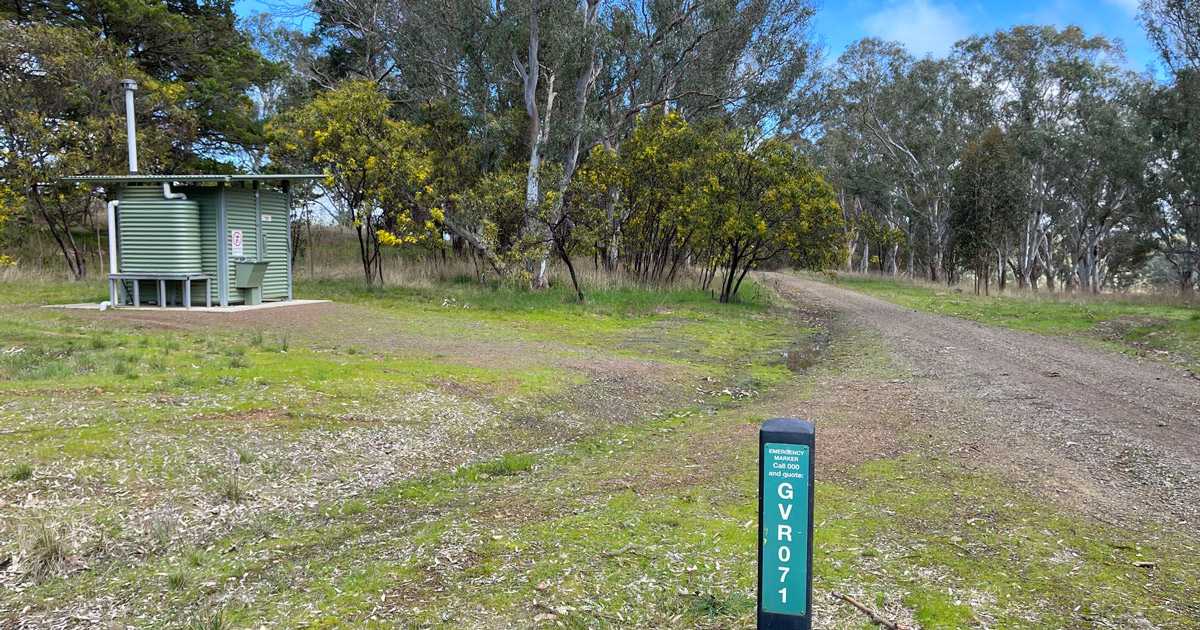 About the region
Aside from being a scenic fourney through rolling farmland, tunnels and lakes, the Great Victorian Rail Trail is rich with stories from its past lives.
For more information, visit the Great Victorian Rail Trail website.
Getting there
The trail can be accessed from many points. Several towns provide easy access with car parks, picnic facilities and toilets available.
The trail runs east from Tallarook, through the township of Yea to Mansfield. Tallarook is only 100 kilometres from Melbourne, just off the Hume Freeway.
Alexandra, at the junction of the Goulburn Valley and Maroondah Highways is 138 kilometres from Melbourne. The Alexandra spur line is 13 kilometres long and joins the main trail at Cathkin.
Mansfield is approximately 192 kilometres from Melbourne at the eastern end of the trail. It is a popular starting point for both single and multi-day trips.
For more information, visit the Great Victorian Rail Trail website.
Tips
Features the only tunnel on a rail trail in Victoria and a long bridge across Lake Eildon.
Almost all of the bridges have been made trafficable and the few low level crossings are easily graded.
There are several crossings of major rural highways.
The surface is either a bitumised granite, which is suitable for wheel chairs and prams, and compacted gravel which may not be suitable for wheel chairs and prams in sections.  Where possible a separate bridle path is provided for horses.
---
For more information please visit the Great Victorian Rail Trail website.
Photos and GPX files courtesy of Darryl Simms 
Popular Sections - GPX Files
Cathkin to Alexandra (13.7km)
Total distance:
13738 m
Max elevation:
285 m
Min elevation:
181 m
Total climbing:
209 m
Total descent:
-169 m
Download GPX File
Yea to Cathkin ( 22.5km)
Total distance:
22580 m
Max elevation:
298 m
Min elevation:
172 m
Total climbing:
326 m
Total descent:
-357 m
Download GPX File
Hikes Nearby