Field test and review
Field tested – 18/06/2019
Heading out on a hike can reward you in more ways than you may anticipate. During any adventure, you rely heavily on your clothing to keep you warm and your footwear to transport you comfortably from point A to B. Footwear is important so that your rewards don't come after kilometres of discomfort so take the time to consider your options before purchasing the best hiking boots/shoes for you.
Hiking shoes, as opposed to boots, are generally lightweight, comfortable and flexible. Basically, they are like your favourite pair of trainers or walking shoes but give you a lot more support and stability while on the trail. They won't offer the protection and ankle support of a bigger, more cumbersome boot, but when that's not required, they can be much more comfortable.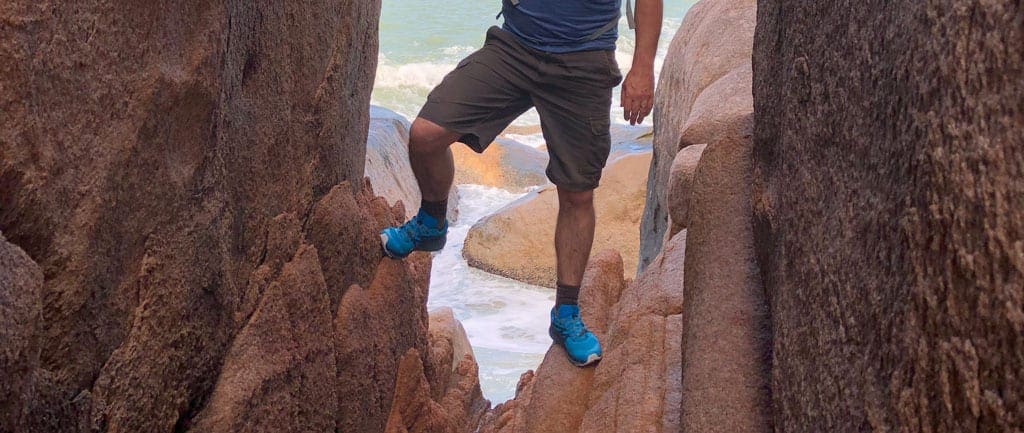 For years I never considered hiking shoes as part of my kit as I felt that boots were what a hiker needed, for strength, durability and above all, ankle support. Then one day, trail running appeared in the outdoor adventure space and the choices available in hiking/train running shoes increased dramatically. The thought of running the trails rather than walking them was really appealing to me as you could cover so much more ground in the same amount of time, and this meant more spaces I could explore. There is a flipside to this of course, that you aren't going slow enough to truly experience the beauty of nature as the detail quickly passes by. That's my excuse for not pursuing trail running as a passion, sounds better than the reality of my old sporting injury flaring up whenever I try to run.
My failure at trail running aside, I went out and bought myself a pair of Salomon Speedcross 3 trail runners. They were so unbelievably lightweight and comfortable compared to my hiking boots and for months they are all I wore. Over rock, sand, gravel and mud they carried me effortlessly with the amazingly grippy soles hanging on to the steepest of rock faces as I scrambled. I love them, at least for six months until I realised that I must have left all the tread behind on the rock faces I was scrambling on. Ok, so soft and cushioning also means not that long lasting. The uppers were still brand new, just all the tread had gone. I was so disappointed but also felt like I had used them beyond their intended purpose, so fault of the owner really.
Trail running has come a long way over the years and so too has the gear to accompany this pursuit, so I was excited when I was sent a pair of Salomon Sense Ride 2 Trail Runners to field test. These shoes have been designed for trail running, not hiking, but I don't really see much difference other than pace. If anything, hiking should have less impact on footwear so was keen to give them a go.
Salomon advertise these shoes will maximize comfort on the trails. With enough cushioning to push the mileage, an 8mm heel drop and proven fit, and an even more flexible, comfortable upper, you'll be ready to go all-day, every day. Couldn't wait to put that to the test.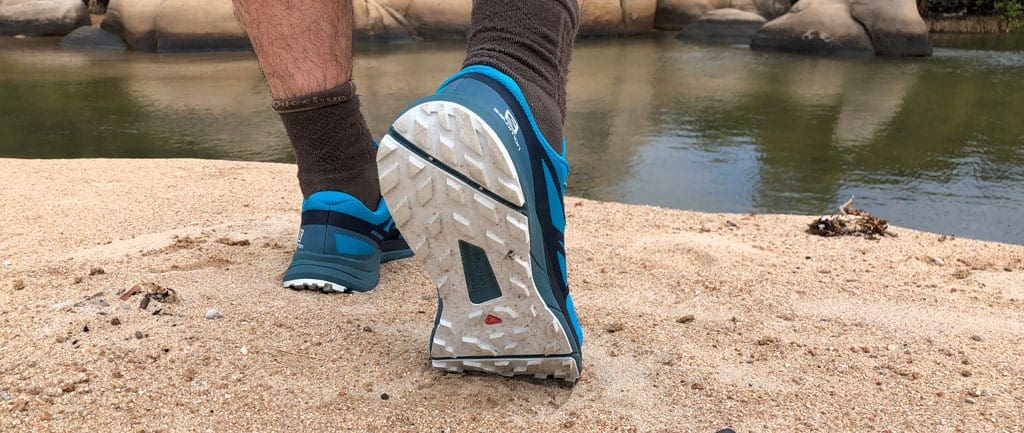 The welded upper is amazing, providing a glove-like fit and feel. I wear a US9 (EU43) and when I first slid my foot into this shoe, I must admit I thought I had purchased a size too small but after only a few hours on the trail they seemed to adjust to hold my foot well. The upper is much softer and more breathable than the Speedcross 3 I had previously experienced. It is not waterproof at all, but I have come to believe that waterproof shoes are not as practical as you might think. Nothing is ever waterproof and once your feet get wet, a waterproof shoe can take ages to dry. Waterproofing also impacts on breathability and if your feet perspire like mine sometimes do, then moisture can be trapped inside. A lightweight, breathable upper such as these can dry fast and after purposefully walking through a creek, they only took a few hours to dry while I continued to hike. I know if my waterproof shoes had been filled with water the same way, they would still be wet the following day.
Next up is Salomon's SensiFit™ which is designed to cradle the foot. The entire upper actually feels secure and supportive without feeling tighter. The upper also comes with Salomon's EndoFit™ which is an internal fit sleeve, designed to hug the foot in exactly the right places. This is a great feature with the shoes hugging my feet so well I hardly felt like I was wearing them. This is important over uneven terrain as you don't want to feel that your shoes are slipping or not heading in the same direction as your feet are.
I am pleased that Salomon are still manufacturing their shoes with the Quicklace™ system. This mean no laces to tie and retie when you have forgotten to tie that super special knot that prevents them from constantly coming undone.  Simply pull the buckle once to tighten and squeeze to loosen. The upper even comes with a built-in lace pocket to tuck the buckle out of the way of those pesky twigs that work hard to untie your laces as you move. I did find that after a few hours on the trail I had to stop to readjust the lace tension but I don't see this as a negative as I have to do that with any hiking shoe/boot and the Quicklace™ system actually makes this a breeze to do. There's a thought, auto tightening laces where you can dial in the tension and never have to touch them. One day we will see this no doubt!
At the work surface where my feet met the trail, the Salomon Sense Ride 2 provided plenty of cushioning, flexibility and arch support as I clambered over rocky, steep, sandy and technical terrain. The tread is soft but notably firmer that the Speedcross 3 and after four day-hikes, all over rocky abrasive terrain, I am pleased to say they show no signs of wear yet. The upper is soft and thin and is designed that way to minimise the weight for trail running (270g a pair), so I do question how well it will perform following extended use. Particularly after taking a few scruffs from rocky outcrops I'm scrambling over. I'll be sure to update on this in the future as durability is an important factor in choosing the right footwear.
For now, Salomon Sense Ride 2 have become my new go-to hiking shoe for day-hikes. If the upper and tread perform well in terms of durability, Salomon has created yet another great low-profile shoe with a nice balance of performance and comfort. I can only assume that trail runners will come to the same conclusion. Hiker or Trail Runner, I am confident they will handle any of your on-trail needs. If you are just after a nice-looking pair of shoes to wear around for daily use, they will also serve that purpose well. I must confess; I wear mine all the time.
Tech Specs
INTENSITY OF USAGE: Training and racing
WATERPROOFNESS: None
TERRAIN: All types of terrain
ANATOMICAL FIT: Standard fit
BIOMECHANICAL FIT: Midfoot strike
SENSATION: Cushioning
LACING SYSTEM: Quicklace®
WEIGHT: 270g
DROP: Regular Drop (>=8mm)
MIDSOLE TOE HEIGHT: 19mm
MIDSOLE HEEL HEIGHT: 27mm
INLAY SOLE (MCL): Textile /Synthetic
LINING (MCL): TEXTILE 100%POLYESTER
OUTSOLE (MCL): Rubber
UPPER (MCL): Textile / Synthetic
---
Field Tested by
Darren Edwards > www.trailhiking.com.au
As a field-tester, the reviews I prepare are based on my own on-trail experiences and represent an unbiased account of the gear I use and trust. Some reviewers will not bother to take gear into the field and will search the internet for existing reviews before writing a comparative account. If you are a retailer or manufacturer and would like me to field-test your gear please get in touch.