Field tested – 04/01/2016
Field test and review
For two years or more I have been the proud owner of the Helinox Chair One and always take them with me on every pack carry. While to some this may add unnecessary weight to your pack believe me, there is nothing more soothing to your body, feet and soul than to recline back in your lightweight chair at the end of a hard day on the trail.
Comfort while hiking and camping is worth a few grams as the Helinox Ground Chair takes outdoor comfort to a new level of lightweight portability.
With the Helinox Ground Chair, that's all you'll have to sacrifice for the most comfortable camp chair I have experienced. 320 grams lighter than even the famed Chair One, the Ground Chair weighs in at 640 grams (packed weight) and folds down to a fourth of the size of your standard camp chair, fitting into its own bag.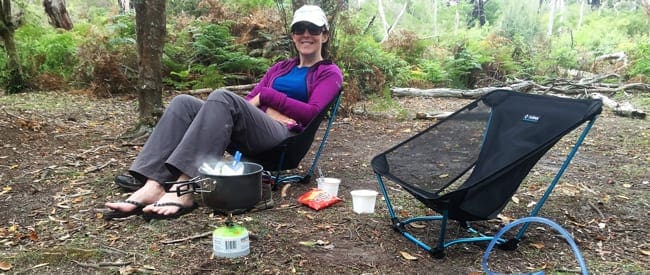 So, how easy is it to use?
At first glance, setting up the chair can look to be a daunting task. However I am pleased to report that it could not be simpler. When you open the bag, the various 'limbs' simply pop out in all directions. The Helinox frame is comprised of a single piece (though it breaks down much like folded tent poles) and once free of its carry bag, it pops into place nearly on its own. You simple fit the various poles into place and you have your framework in place. The mesh and fabric seat portion fits over the frame with four reinforced end pockets.
One feature I enjoyed about the Ground Chair over the Chair One is the solid fabric seat and mesh sides. I felt that the seat was warmer on my back than the Chair One which has a mesh back and solid sides.
Having used a Chair One before I already had experience in setting up the Helinox chairs. As such I'm happy to report I can easily set up the Helinox Ground Chair in around 20 seconds.

Durability
Ground Chair uses the same super-strong alloy as Chair One but sits lower to the ground and a little more reclined. The frame sections are linked with shock-cord for the same super simple and quick assembly.
Ultralight weight
Super compact
Simple assembly
The Helinox durable seat fabric includes mesh panels to allow air flow for a very breathable chair. The fabric resists snags, tears, and even fire pit sparks nicely. The chair sits very low to the ground and leans fairly far back.

How the Helinox differs from other ground chair brands
To be completely honest I haven't tried a lot of others on the market, preferring to always buy what I believe to be the best for my needs. The Ground Chair is at the higher end of the price range, so it's worth noting the difference.
Construction of competing chairs is similar, as is quality in some cases. However, when comparing weight, and lets be honest, that's what interest a hiker the most, the Ground Chair is by far the lightest. We're only talking a few grams here, but for the keen hiker and other outdoors-enthusiasts, that few grams makes all the difference..
Due to its low stance, the Helinox has come in handy for me not only while hiking, but while camping and other outdoor events. I love the low position of the Ground Chair as it puts me closer to my food prep/cooking surface (the ground).
The ground chair (and chair one) are so handy we leave them in our car any time when we are not hiking.
In my opinion, Ground Chair is a must for every hiker. For camping and other events I prefer the Chair One simply because of the increased seat height.
Buy direct from Helinox for $124
RRP: $152
Tech Specs
Assembled: 52 cm wide x 44 cm deep x 50 cm high.
Packed: 30 cm long x 11 cm wide x 11 cm high.
Ground to seat base: Approx. 12 cm
Weight: 615 grams (assembled), 640 grams (packed weight)
Capacity: 120 kg.
Color: Black fabric with cyan blue frame and black tote bag.
---
Field Tested by
Darren Edwards > www.trailhiking.com.au
As a field-tester, the reviews I prepare are based on my own on-trail experiences and represent an unbiased account of the gear I use and trust. Some reviewers will not bother to take gear into the field and will search the internet for existing reviews before writing a comparative account. If you are a retailer or manufacturer and would like me to field-test your gear please get in touch.