Field test and review
When heading out on a hike you will be required to pack and carry a range of gear, suited to the style, length and environment you are hiking in. Your packing list will vary considerably for short walks, day walks, overnight hikes and multi-day treks. When planning your overnight adventure, one item you will always require (unless you plan on sleeping on terra firm, accommodation or remote serviced huts) is a sleeping pad. Pads have come a long way over the past five years. What used to be not too far removed from the traditional yoga pad has now evolved into a sophisticated selection of pads, available in short, regular mummy, regular, regular wide, long wide, inflatable, insulated and non-insulated sleeping pads. We really are spoilt for choice.
In terms of which style you choose, well that is completely up to you as all our body shapes are different, the tents we sleep in have different footprints that often dictate the shape of the pad and your target total pack weight will also dictate the style of pad you choose, especially if you are wanting to trim off fabric to keep your pack weight down.
Personally, I prefer a regular mummy pad as it is wide enough across the chest and hips to keep my body contained and well away from the ground and narrow enough across the legs to help reduce the weight I am carrying. Given a choice, I will also opt for an insulated pad as the cold rising from the ground can often impact on what could otherwise be a good night's sleep.
Selecting the right pad for you is a decision worth taking seriously as a good night sleep on the trail will be the difference between an enjoyable overnight/multi-day experience and one you would prefer to forget. I have seen many a hiking buddy wake up sore, cold, cranky and tired all because their sleeping pad failed to provide them with a restful and energy replenishing sleep. And believe me, when facing days and many kilometres on the trail you do want to wake up each day feeling like you have bounce in your step.
When inflatable sleeping pads first hit the market, I was one of the early adopters who raced out and bought a light weight, compact, $800 pad that was going to change the way I slept. Compared to my yoga mat, the comfort provided by this pad was amazing and I was excited to show everyone how I could easily inflate it in 20 breaths. As for a good night sleep, forget that, I am pretty confident in saying that it must have been manufactured from recycled chip packets. Every time I so much as breathed; the pad would crinkle under me like some inconsiderate person at the movies diving into their bag of fantales. So, I lay there most of the night, as stiff as a board, trying not to annoy others around me with my chip bag sleeping pad.
Now I have a strict selection criteria when considering any sleeping pad for myself or family members.
Is it large enough?
It is comfortable?
Is it quiet?
Does it insulate the user from the ground?
It is compact and light to carry?
Is it durable?
Is it affordable?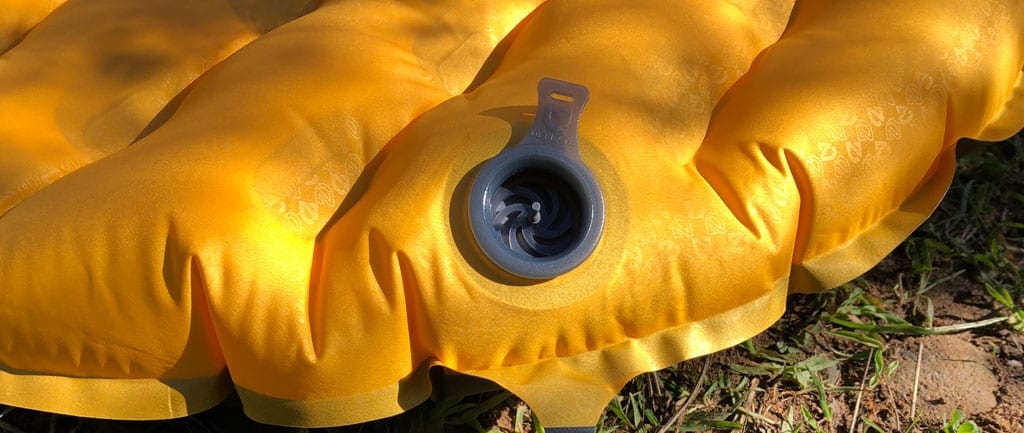 Recently I was sent a newcomer to the outdoor space, the Nemo Tensor™ Ultralight Insulated Mummy Sleeping Pad. According to the Nemo Equipment website, the Tensor™ offers a quieter, more supportive sleep at a tiny packed size. Spaceframe™ baffles offer unparalleled stability, weight distribution, and a quieter sleeping experience by using low-stretch die-cut trusses to eliminate springiness and keeping your elbows and hips from poking through to the ground. Insulated versions are updated with two layers of suspended Thermal Mirror™ metalized film, resulting in a lighter, remarkably quiet sleeping pad as compared to the competition, which can be noisy and crinkly at night.
This last claim on being remarkably quiet certainly caught my attention so I was keen to take this pad on the trail and see how well it performed. I decided that an overnight hike would be a good place to start rather than risk a multi-day during testing. Don't want a tired and cranky me walking around out there.
A lot of quality sleeping pads will come complete with a pump sack which is essentially the stuff sack, converting to a manual pump to allow you to inflate the pad. The reason behind this is that the air around us is somewhat mostly drier than the air we exhale, and the pump sack's purpose is to minimise moisture (which results in mold) from entering the pad.
The Nemo Tensor™ has a different approach to the pump sack and have named it the Vortex™. In order to inflate the pad, all you need to do is remove the upper cap of the pad valve and securely connect the Vortex™ pump sack. Opening the pump sack, you then hold the opening approximately 15cm from your mouth and blow gently, quickly inflating the sack. Closing the opening you then roll the sack towards the pad to push air into the pad's baffled cavity, in record time. Two puffs it all it took to completely inflate the pad. Wow! I was so impressed I had to deflate the pad and try it again. No more head-spins trying to inflate the pad at the end of the day.
The Nemo Tensor™ uses a premium 20D fabric which offers a soft luxury feel and shaves off grams for a minimal packed size and weight. As with any ultralight pads using low-denier fabrics, I am always careful to avoid punctures and abrasions so made sure my tent floor was clean before unrolling the pad. I rolled out the pad and quickly inflated the Tensor™ inside my tent using the Vortex™. You don't always have to use the Vortex™ to inflate the pad so I deflated the pad so that I could inflate it by blowing directly into the vent. 8-10 breaths were required for full inflation. I have a large lung capacity for it may take 12-14 breaths for the average person.
Laying down on the pad, I found the Tensor's mummy's length, width and cut more than adequate for my height and size. The 8cm inflated thickness, supported by the Spaceframe™ baffles provided great weight distribution and stability and felt supportive across my shoulders, elbows and hips compared to thinner ultralight air pads I have used. Even when rolling over in my sleep, the pad worked well as distributing my weight and maintaining support. I never once felt as though I had to put one arm or leg out to keep myself positioned firmly in the centre of the pad. Speaking of rolling over, guess what? No chip bag rustling as I turned in my sleep, what a relief for me and those around me. Looks like my Therm-a-Rest will continue to remain on the shelf.
Insulation is an important factor in pad design and when I tested this pad, the lowest overnight temperature I experienced was 5 degrees Celsius. Certainly not cold enough for me to comment on yet for snow camping but for general use in three-season climates, the two layers of suspended Thermal Mirror™ metalised film worked well to prevent cool ground air from passing through the pad. Nemo haven't published an official R-value* for the Tensor series but they do reference a -12 to -7C degree rating for the insulated models so I will be interested to see how this performs in the snow. Combined with my down sleeping bag, I had a comfortable night sleep. *R-value is a measure of resistance to heat flow through a given thickness of material.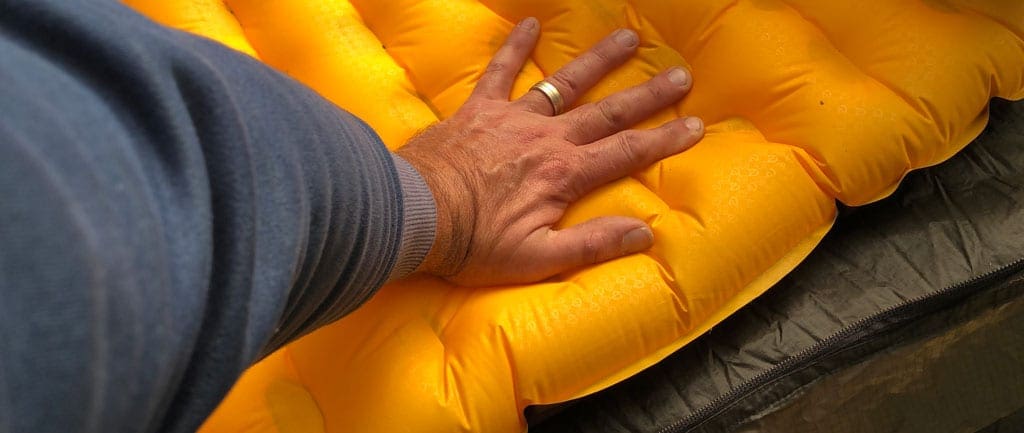 Packing down to 20x8cm and weighing just 490 grans when packed, this pad is one of the lighter and more compact pads I have carried and was easily stowed in my overnight pack. I used it more as a space filler than having to find room for it.
So, looking back at my selection criteria. Here is how the Nemo Tensor™ Ultralight Insulated Mummy Sleeping Pad performed.
Is it large enough? Yes, the regular mummy was perfect for my needs, weight and size. The pad also comes in a wide range of sizes, so you are sure to find one that suits you.
It is comfortable? Yes, the 8cm cushioned loft provides adequate support.
Is it quiet? Yes, no more crinkly noise when shifting in the night
Does it insulate the user from the ground? I haven't tested this in sub-zero temperatures yet but at an overnight minimum of 5 degrees the insulation worked well.
It is compact and light to carry? Yes, it most certainly is. One of the more compact and lightest I have used.
Is it durable? As I have only used this pad on a few overnight hikes I cannot honestly comment on durability at this stage. I am always careful to protect my inflatable pads so hope to see many years of use from this one.
Is it affordable? At $269.95 it is certainly not the cheapest pad on the market and appears at the top end of the pricing spectrum when compared to similar spec pads.

Conclusion
The Nemo Tensor™ Ultralight Insulated Mummy Sleeping Pad is one the lightest pads on the market, it includes 8cm of stable cushion loft comfort, and packs down neatly to around the size of a water bottle. It provided me with a comfortable and silent sleep with the pad insulating well at three-season temperatures (yet to test in the snow). Available in five different shape/length configurations, insulated and uninsulated versions and with NEMO's lifetime warranty, this pad will certainly be a welcome addition to any pack. If you are in the market for a new sleeping pad, check these out.
For more information or to find your closest dealer visit nemoequipment.com/dealer-locator/
Tech Specs
Fabric: 20D PU Polyester
Insulation: Aluminized Film
Minimum Weight: 410g
Packed Weight: 490g
Packed Size: 20x8cm dia
Temp Rating: -12 to -7C
Thickness: 8cm
Dimensions: 183x51x8cm
Shape: Rectangular Mummy
What's Included
Velcro Strap
Repair kit
Vortex pump sack
Drawstring stuff sack
NEMO's lifetime warranty
---
Field Tested by
Darren Edwards > www.trailhiking.com.au
As a field-tester, the reviews I prepare are based on my own on-trail experiences and represent an unbiased account of the gear I use and trust. Some reviewers will not bother to take gear into the field and will search the internet for existing reviews before writing a comparative account. If you are a retailer or manufacturer and would like me to field-test your gear please get in touch.