Hike Packing Checklists
Now available as digital downloads
Regardless of your level of fitness, there are some essential items you should always carry in your pack for your own safety when hiking. I have provided a more detailed information under preparing your pack but wanted to summarise what I believe to be the minimum items you should carry on both day and overnight adventures.
If you are a commercial operator, a member of a club, an online group, blogger or commercial website and wish to use any information from this site, my eBooks or printed publications you are required to first seek written permission from the copyright owner. Please read the Terms of Use, Copyright and Title of Ownership information here.
---
Day Hike Checklist
This one-page checklist covers the Ten Essentials that should be considered as a standard inclusion in every day pack.
Download, print and get packing.  
---
Overnight Hike Checklist
As well as including the Ten Essentials, this two-page checklist provides a detailed overview of all items that should be considered on overnight or multi-day hikes.
Download, print and get packing.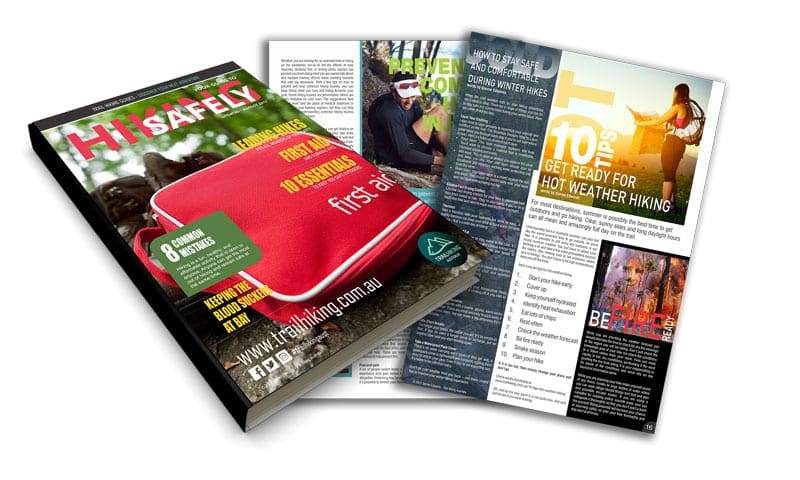 Hiking Guides
There are now five guides in the series covering everything from beginner basics through to skills, safety, navigation techniques and hiking gear.
Tips
Ideally, unless you are an ultralight hiker, pack weight should be between 13-15 kg + 0.5 kg of food per day.
Major items of overnight camping equipment can be borrowed or hired until you decide exactly what you need. Specialist hiking shops hire equipment and can also help with advice. Many clubs have equipment available for hire to members. Sharing equipment between walkers can considerably lighten your load.
Taking care to clean, dry and air equipment after a hike as it will increase its reliability and lifespan.
---
Trail Hiking Australia is not a commercial initiative. I have personally designed, funded and developed this website and eBooks for you. Any support you can offer is greatly appreciated. I would also love to receive new hiking trails, tips, articles or financial donations; all which will help further develop these tools for you.