Field test and review
Field tested – 23/09/2021
Most hiking and camping stores stock a lot of synthetic clothes and the technological advances that have been made over the past few years are quite astonishing. Synthetics were always my go-to hiking gear.
Despite these technical advances, my mates kept telling me there are many benefits of merino wool and I had to try it out. Merino provides:
Body temperature regulation
Thermoregulation and moisture control
Superior wicking abilities
Odour free
Static free
Flame resistant
High level of built in UV protection
Dries quickly
Breathable and elastic
Exceptional comfort in the outdoors.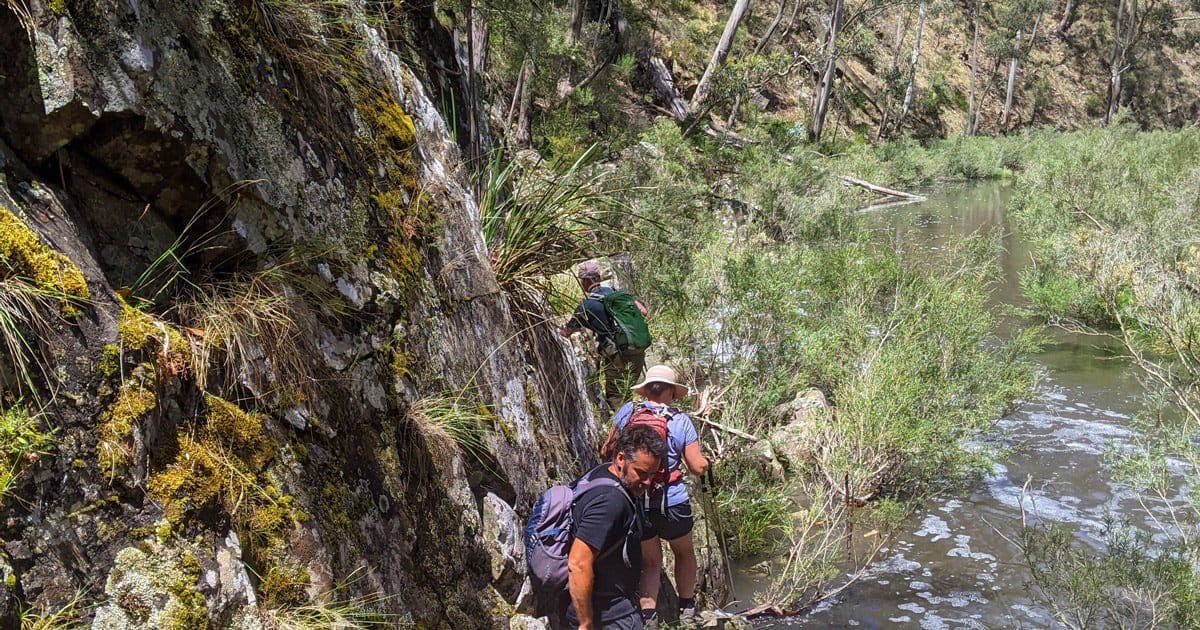 So, several years ago, I succumbed to peer pressure and replaced some of my synthetic base layers with natural merino wool. Sadly, my early introduction to merino was not successful at all. This was not because I chose to skimp on price either. Most of my tops developed tiny holes following a few days of use. I was extremely disappointed as these items were not cheap. After informing the manufacturer, I was thankfully sent replacements only to have the same thing happen to them. When I paid more than $50 for a t-shirt, I expected a great deal more.
As my merino base layers wore out, I replaced them with synthetics or merino/synthetic hybrids that some brands started experimenting with. The hybrids were even more expensive but quite impressive from a performance standpoint.
I had lost faith in the durability of merino until the day I was contacted by Ktena Knitting Mills. If you have never heard of them, Ktena is a 100% Aussie owned and operated knitting mill located in Oakleigh, Victoria. They authentically manufacture Australian merino wool garments. Ktena merino thermal underwear, wool thermals and wool spencers are made from the finest Australian pure merino wool, the softest, finest, most luxurious yarn in the world. Of course it is, it's Australian.
I was sent a handful of items from Ktena's Merino Skins® Sports Active Range to test out on the trail. As you'd expect, the Merino Skins® range comes with all the benefits you would expect from merino base layers. What is unique to this range is they are made from a unique fabric known as 'interlock'. Interlock is a type of double-knit fabric made with two layers. This type of knit results in thicker, stronger, stretchy, and more durable fabric than other types of knit fabric.
Durable! I like the sound of that.
According to Ktena, even though their fabric is double knitted, the yarn they use is so fine, the thickness of the garment is not compromised and is still around the same thickness of other gear on the market. The main difference between the Merino Skins® compared to others base layers I have tried is the strength and durability. Ktena says this is due to the criss-cross structure of their fabric. It seems it is made to last and was informed that it's so strong it is worn by the Australian Antarctic division where clearly staying warm and dry is a matter of life and death.
All sounds good so was time to put it to the test. Not long after receiving the gear, COVID hit and my field-testing opportunities became limited, so I started wearing the 'Skins' around the home, to bed, outdoors in the back yard and eventually back on the trail. Apart from when I wore the gear to bed, I tried not to wash it as I wanted to test the odour resistance. Performed well in my view and after 15 days wearing the same top on hikes and around home, it did not smell too bad. Although my wife may disagree. This exceeded earlier stink tests when I wore the same merino clothing (socks, jocks, and t-shirt) for 11 days straight on a hike.
Washing the Skins was as simple as throwing them in the wash with everything else. There are no special washing requirements, just wash, dry, and go. The merino fabric doesn't seem to mind hot water, cold water, no water, sun dry, wind dry or clothes dryer. According to Ktena, they have already been pre-shrunk so can shrink no more.
As for durability, as this is what I was really interested in, the Merino Skins® Sports Active Range has performed exceptionally well. Despite the limitations of COVID, I have worn the Skins on eight rugged day hikes now, all close to home in the Lerderderg State Park and Werribee Gorge. Battling through thick undergrowth, cold weather, rainy days and with a fair amount of rock scrambling, I am pleased to report no holes and the Skins have held their shape well.
On cold, wet days, they kept me warm and dry under my mid-layers and on warmer days when I just wore the t-shirt, the merino breathed well and kept any perspiration well away from my skin. I am hoping we can get out on overnight and multi-day hikes soon so I can truly test the long-term performance and odour resistance qualities.
Ktena have reignited my faith in merino wear. Merino Skins® will certainly be my go-to base-layer for the unforeseeable future. I love the fact these are Aussie made as the quality is testament to what we can produce in Australia.
Check out the Merino Skins® Sports Active Range for yourself at ktena.com.au/merino-skins
Merino Skins – Merino Base Layer
Unisex Merino Skins are made from the finest, softest, Australian merino wool, Merino Skins urban active garments are the perfect, contemporary collection, merging exclusive designs with the benefits of wool's remarkable natural properties. Merino Skins are available in a range of styles:
Short Sleeve Crew Neck
Long Sleeve Crew Neck
Long Sleeve Half Zip Front
Long Johns
Update September 2021: It is fantastic to hear that Ktena have recently launched a USA website for merino skins: merinoskins.com
According to Ktana, American's are loving them as well. Merino Skins sports thermals have appeared in various Olympic events, featuring in the Opening Ceremony of the 2000 Olympic Games in Sydney and as the preferred thermals for the Australian Winter Olympics Team at the 2002 Salt Lake City Winter Olympic Games. 'Aussie Aussie Aussie, Oi Oi Oi'
Field Tested by
Darren Edwards > www.trailhiking.com.au
As a field-tester, the reviews I prepare are based on my own on-trail experiences and represent an unbiased account of the gear I use and trust. Some reviewers will not bother to take gear into the field and will search the internet for existing reviews before writing a comparative account. If you are a retailer or manufacturer and would like me to field-test your gear please get in touch.